Parker, CO – May 23, 2013- Plan a fun, family weekend in a picturesque outdoor setting at the Colorado Horse Park (CHP) on Friday, May 31-Sunday, June 2. There you can watch horses and riders compete in the Olympic sport of dressage at the High Prairie Dressage I, II and III shows, a series of one-day events produced by the CHP and managed by Glenda McElroy of Cornerstone Event Management.
You can also catch some exciting three-day eventing, watch a local hunter/jumper show, do some serious shopping, enjoy lunch and snacks−all within the Colorado Horse Park grounds, located just minutes from Parker, CO. Visitors can enjoy the beautiful Colorado Rocky Mountain surroundings and access to miles of trails and open space.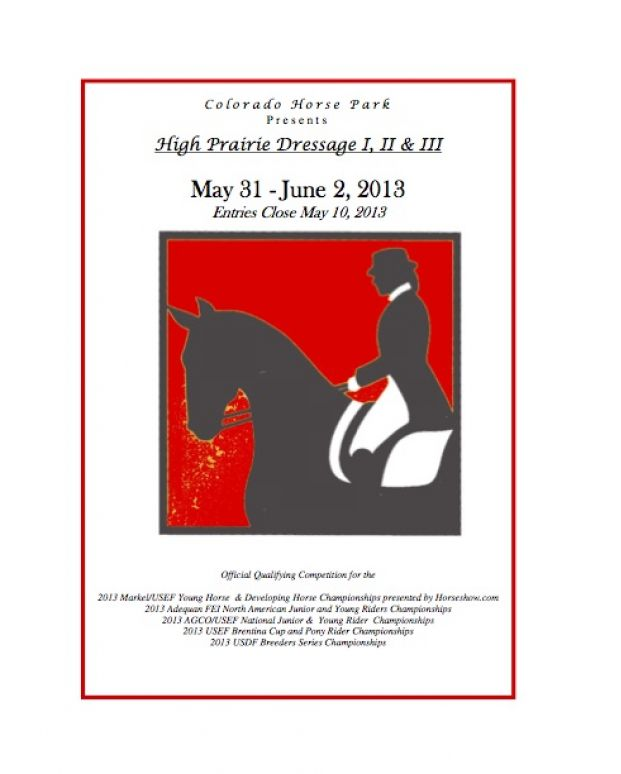 "One very unique thing about the ColoradoHorsePark is its size," McElroy said. "The dressage show is being held with a Three Day Event CCI* and a local hunter/jumper show on the same weekend.  Because it is such a large facility, these three events work very well together and give the spectators a unique opportunity to see three different equestrian sports on the same weekend."
While at the High Prairie dressage shows, you can expect a full range of divisions including amateur, open, Juniors, Young Riders and masters (for the over 45 set). Classes span Training Level through Grand Prix, offering horses and riders at all levels a chance to compete. Additionally, High Prairie Dressage offers special USEF qualifying classes for the North American Junior and Young Rider Dressage Championships, the Markel/USEF Young and Developing Horse Dressage National.
A $750-plus add back "Rising Star" Challenge is offered for 4-, 5-, and 6-year-old horses competing. "We hold this class at both High Prairie Dressage and Dressage in the Rockies to encourage the development and participation of young horses in the sport of dressage," McElroy said.
The Colorado Horse Park recently added significant improvements to the facilities including top-notch European GGT footing in many of the 13 riding rings, new lunging pads, a 16,000-square foot party pavilion, an updated sound system and brand new turn-out paddocks. The CHP has a capacity for 1,000 horses, a Linda Allen designed Derby field and a David O'Connor designed cross-country course.
In addition, you and your family can catch the Great American Insurance Group/USDF Sport Horse Breed show showcasing in-hand as well as under-saddle classes on Saturday, June 1 as well as the CHP Three Day Event CCI*, Training Three Day and Horse Trails held Friday through Sunday. Add to that the Jump Into June 2013, a hunter/jumper show on Saturday, June 1-Sunday, June 2.
There's plenty to do and see at the ColoradoHorsePark May 31-June 2, so add a weekend enjoying the competition, horses, shopping, food and the Colorado scenery to your family's calendar. For more information about the CHP and events next weekend, log onto coloradohorsepark.com.
About the Colorado Horse Park
Celebrating its 20th Anniversary, the ColoradoHorsePark was founded by visionary Helen Krieble who acknowledged the need for a high-volume horse show and horse boarding facility to serve Colorado.  The ColoradoHorsePark welcomes more than 75,000 visitors per year and hosts over 40 competitions annually.  CHP features a derby arena designed by Olympic-designer Linda Allen and a cross-country course designed by Olympic Gold Medalist David O'Connor and eventing super-star James Atkinson. There are 300 permanent stalls with capacity for more than 1,000 stalls.
The picturesque property, located only minutes from the town of Parker, hosts international equestrian events in multiple disciplines. Visitors enjoy the beautiful ColoradoRockyMountain surroundings and access to miles of trails and open space.  The ColoradoHorsePark is committed to supporting equestrian education and amateur athletics, preserving open space, fundraising for local charities and supporting the community.
Visit CHP at: http://coloradohorsepark.com/
The Colorado Horse Park High Prairie Dressage I, II & III Fast Facts
What: 
High Prairie Dressage USEF Level 3 Show
Event Dates:
May 31- June 2, 2013
Prize List: 
Click here
Contact Information: 
(until May 28, 2013)  818-841-3554
 (May 29 – June 2, 2013)  303-841-3892
Tentative Schedule:
Friday – Sunday: Unofficial Times will be mailed to all exhibitors prior to the show, and will be available on www.cornerstonedressage.com or click here . Official times will be posted every morning one hour before the first scheduled ride.
Helmet Reminder: Effective April 1, 2013, for dressage: Anyone mounted on a horse must wear protective headgear.
Directions:
Address: 7375 E Bayou Gulch Rd, Parker, CO 80134
From North: I-25S exit Ridgegate Parkway – go east under the freeway.  Ridgegate Parkway to S. Chambers Road, approximately three miles (Traffic light) – turn right/south onto Chambers Road. At end of Chambers Road turn left/east onto Hess Road.  Hess Road to Parker Road/Hwy 83 – turn right/south onto Hwy 83 approximately four miles to Bayou Gulch Road. (Traffic light). Follow signs to ColoradoHorsePark.
From South: I-25N, exit Founder's Parkway.  Founder's Parkway to Highway 86, approximately four miles (traffic light). Turn east/left onto Hwy. 86 to Franktown/Hwy 83. At Franktown go north on 83 approx. 7 mi. to Bayou Gulch Rd. (Traffic light), turn right/east onto Bayou Gulch Rd. Follow signs to Colorado Horse Park.
Sponsors:
Animo
http://theanimoexperience.com/
Bessemer Trust
ComfortSuitesCastle Rock
www.comfortsuites.com/hotel-castle_rock-colorado-CO154
DaysInnCastle Rock
www.daysinn.com/hotels/colorado/castle-rock/days-inn-suites-castle-rock/hotel-overview
Equine Sport Solutions
http://www.equinesportsolutions.com/
KBC Foundation
Guaranty Bank
Hampton Inn Parker
hamptoninn3.hilton.com/en/hotels/colorado/hampton-inn-and-suites-parker-DENPAHX/index.html
Hertz
Hilton Garden Inn
Holiday Inn
http://www.holidayinn.com/hotels/us/en/parker/denpr/hoteldetail
Horse Connection
http://www.horseconnection.com/
LittletonEquineMedicalCenter
http://www.littletonequine.com/
Murdoch's Home and Ranch Supply
Norstar Industries
Nutrena
ParkerAdventistHospital
Platinum Performance
http://www.platinumperformance.com/select/
Sidelines
Super 8
www.super8.com/hotels/colorado/parker/super-8-parker-se-denver-area/hotel-overview
Suzy Sweitzer/Remax Alliance
Trappers
Media Contact:
Phelps Media Group, Inc.
12012 South Shore Boulevard
Wellington, FL33414
561-753-3389 (phone)
561-753-3386 (fax)
pmginfo@phelpsmediagroup.com
www.phelpsmediagroup.com