The Texas-based professional gallops to a convincing victory in the $2,500 CMJ Sporthorse 1.40m Speed Stake at Flintflields Horse Park.
Traverse City, MI – July 18, 2013 – Martien van der Hoeven may be just getting to know Zeldenrust Z, but their relationship proved strong enough to generate a commanding victory in the $2,500 CMJ Sporthorse 1.40m Speed Stake, the featured jumper class today at Horse Shows by the Bay.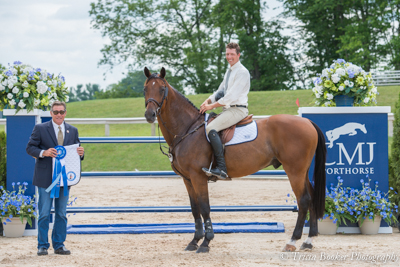 Martien van der Hoeven and Zeldenrust Z receive their awards from judge James Zulia
Van der Hoeven, of Augusta Pines Farm in Spring, TX, went second-to-last with Zeldenrust Z in the 13-horse field and topped speedsters David Beisel and Ammeretto for the blue ribbon by 1.3 seconds.
As the only competitor to accomplish an inside turn late in the course, van der Hoeven made short work of the Michel Vaillancourt-designed track that featured a variety of challenging cutbacks and a long gallop to the final oxer.
"I didn't watch anyone else go. [The turn] was something I walked," he said. "You know, when you're just trying to get to know a horse these classes are great to try a few of those different things. So, if you need to, you know how to do them.
"Michel Vaillancourt always does a fantastic job," van der Hoeven continued. "He always seems to have a good feel for the field and who's in it and what he needs to accomplish. And these classes, the 1.40m that Horse Shows by the Bay offers, are really nice."
Zeldenrust Z and Martien van der Hoeven
Van der Hoeven began riding Donald Cheska's Zeldenrust Z, a 13-year-old Zangersheide gelding (Zandor–Idiena), in May. Cheska and van der Hoeven have been good friends and done business over the years, so through that friendship the horse became available and Cheska thought the two would be a good match.
"Donald had him for some time and brought him a long, and he obviously did a great job," said van der Hoeven. "It's just me getting to know him and how he goes. I'm thankful to Don and Cara [Cheska] for giving me the opportunity to ride and show him."
During the Horse Shows by the Bay series they've earned ribbons at various heights, but this is their first blue. In fact, as "Z" checked passersby for treats while he walked up from the ring and posed for photographs, van der Hoeven smiled and said, "We didn't bring any treats to the ring. We weren't expecting this!"
Van der Hoeven said this class was their best result so far. "The grand prix classes we've done have been close, just a mistake here and there, 4 faults, 8 faults," he added. "We're just a little bit on the learning curve. Hopefully, this gets us over the hump, and we can have more successes the last two weeks here."
This is van der Hoeven's fourth year at Horse Shows by the Bay, and he stays for the entire four-week Hunter/Jumper series.
"We like it here; it's a great getaway," he said. "Obviously, Houston, Texas is extremely hot, so the weather is more enjoyable for us, the horses and the clients. It's very far away, so we come here and camp out, and it allows the clients to come and go and show as they please and enjoy some of the other amenities that Traverse City has to offer."
Selma Garber has also enjoyed her time in Traverse City, and her frequent walks to center ring of the R.L. Polk Family Main Hunter Ring have been especially rewarding. "It's still thrilling. I get goose bumps," she said.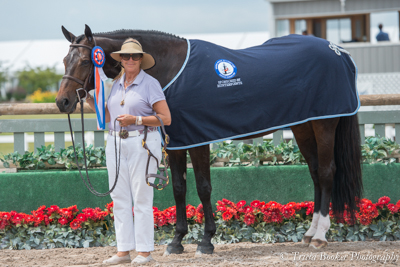 Quotable and Selma Garber
This week she accompanied Quotable to collect the Hunterpointe Grand Conformation Hunter championship after he earned the Lisa A.H. Cudahy Green Conformation title with Kelley Farmer aboard.
"It's very exciting. The horses have stepped up and participated with verve, even in the heat today," she said. "It's a great team, they do a great job, the rider, the trainer the horses, the grooms. It's been an exciting trip."
Quotable, an 8-year-old warmblood who currently leads the United States Equestrian Federation Green Conformation Hunter standings in money-won and points, is a particular favorite for Garber. "I got him in late December, and he was a Christmas present. I bought him for me!" she said laughing.
Farmer's domination of the open hunter sections at Horse Shows by the Bay continued on as she guided Jessica Stitt's 12-year-old warmblood On The Hour to the Hunterpointe Grand Green Hunter championship and the Top Call LLC Second Year Green Hunter championship.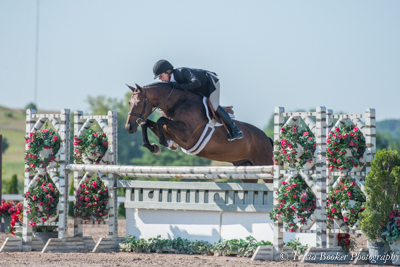 On The Hour and Kelley Farmer
"He overcame my bad riding today. He's always good," said Farmer. "He's one of those little horses with a ton of ability, and he tries so hard every time. I like them like that."
Farmer said owner Jessica Stitt, of West Palm Beach, FL, is planning to travel to the show to watch him compete in Friday evening's $20,000 USHJA International Hunter Derby, hosted by The Gochman Family.
"She's supposed to be coming to watch the Derby tomorrow, and I'm hoping she does," said Farmer. "I think she's desperate for a horse fix! She told me she wants to come see her horses, and that would be great. We miss her. She loves her horses, and she'll get to see him go in the juniors with Kirklen [Petersen]."
Farmer is on the list with seven mounts for the $20,000 USHJA International Hunter Derby, from veterans such as Taken and Skorekeeper to newcomer Verbatim, making his derby debut.
Cookie Beck, of Mequon, WI, concluded her day with a variety of tricolor ribbons, including the Equisport Insurance Agency First Year Green Hunter championship with Artisan Farms, LLC's Antwerp. She also collected the Second Year Green Hunter reserve championship with Hidden Creek Farm's Graffito and the Missy & Doug Smith High Performance Hunter reserve championship aboard Lisa A.H. Cudahy's Last Call.
Peter Pletcher, of Magnolia, TX, once again guided Alexandra Crown's KN Nemo to top honors in the High Performance Hunter section, taking the championship for the second time in the three-week Horse Shows by the Bay series.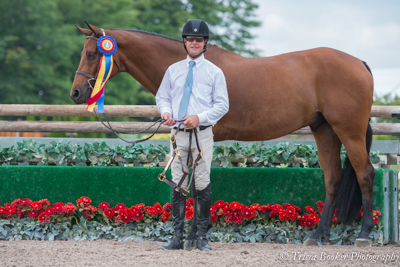 KN Nemo and Peter Pletcher
The grand prix show jumper turned show hunter is finding his niche and figuring out his new career path.
"The horse always tries really hard to jump high. He's super brave, and I'm looking forward to riding him in the derby classes," said Pletcher, who is scheduled to ride KN Nemo as well as San Angelo and Charlie Brown in tomorrow's USHJA International Hunter Derby.
In the Missy & Doug Smith Regular Conformation Hunter section, Russell Frey captured championship honors aboard Alexis Cohen's Ferrari after winning both over fences classes today.
Callucci and Courtney Calcagnini topped the PJP Farm Inc. USHJA Pre-Green Hunter Incentive Stake today for owner Kendall Whitt, taking the blue over Jamie Jarvis' Pearl Street, who once again dominated the Bethel Farm Low Pre-Green Hunter section, sweeping every class on the way to the championship and earning the Hunterpointe Grand Pre-Green title.
Callucci is also having a successful time during the Horse Shows by the Bay series. With Whitt aboard, the 6-year-old warmblood gelding won the Series I Roc USA NAL/WIHS Children's Hunter Classic and earned the Sugar Run Farm Children's Hunter Championship.
Other featured winners today included:
High Junior/Amateur-Owner Jumper Power & Speed, sponsored by Kilkenny Insurance & QBE – North Face Farm's Udo DV, ridden by Erin Haas
Low Junior/Amateur-Owner Jumper Power & Speed, sponsored by Kilkenny Insurance & QBE – Old Willow Farms LLC's Cavalier Knight, ridden by Emma Heise
Westview Farm 3'3″ Performance Hunter Championship – Kallisto, owned and ridden by Kim Calamos and Cloverlane Farm LLC's Beyond Belief, ridden by Greg Crolick
Canterbury Farm High Pre-Green Championship – Susan Baker's Q, ridden by Peter Pletcher
Diana Hadsall Photography Baby Green Hunter Championship – Animal Eye Consultants' Asscher, ridden by Tammy Provost
Follow the action on July 17-21 during Horse Shows by the Bay Series III. Competition will be held in all five rings, with the Grand Prix Ring and R.L. Polk Family Main Hunter Ring streaming live thanks to ShowNet LLC and this week's free streaming partner, Alltech Equine TV. They're bringing the action right to your screen every day, beginning at 8 a.m. Go to www.horseshowsbythebay.com and click on "Watch It Live."
Horse Shows by the Bay Series III
Featured events for July 19-21:
$10,000 Positive Step Farm Open Jumper Welcome Prix – Friday, July 19
$20,000 USHJA International Hunter Derby, hosted by The Gochman Family, Friday, July 19
$5,000 NAL Low JR/AO Jumper Classic – Saturday, July 20
$10,000 SJHOF High Junior/Amateur-Owner Jumper Classic, Saturday, July 20
$2,500 USHJA National Hunter Derby, sponsored by Walgreens – Sunday, July 21
$2,500 The Harvey Family NAL/WIHS Children's Jumper Classic – Sunday, July 21
$2,500 Olde Welbourne Farm NAL/WIHS Adult Jumper Classic – Sunday, July 21
$30,000 Grand Prix of the Great Lakes, Sunday, July 21
Special Exhibitor functions this week include the Wine & Cheese Social on Thursday, with wines from Bel Lago Vineyard and Winery in Cedar, MI, sponsored by Northern Pines Farm/Melissa Hirt, Maureen Wendon and Robin Vilter. The ice cream socials will be sponsored by the Harvey Family on the weekdays & the Gochman Family over the weekend. The Outback Derby Dinner, sponsored by Wrenwood Farm, will take place on Friday evening., and the Morgan Stanley VIP/Sponsor Luncheon will be held on Sunday afternoon.
For full show results, please visit www.horseshowing.com.
For daily updates and photos, please visit the Horse Shows by the Bay Facebook Page.
For more information, schedules, directions, or to Watch It Live, please visit www.horseshowsbythebay.com.
Horse Shows by the Bay – Flintfields Horse Park – 6535 Bates Road – Williamsburg, MI 49690