Media Contact: Sara Lowenstein
 614.416.7100
 McLain Ward and Tina La Boheme Claim The New Albany Classic
Event reaches $30 million raised for The Center for Family Safety and Healing
[New Albany, Ohio] September 25, 2016 – In a highly competitive field that included three Silver Medal-winning members of the United States Show Jumping Olympic team, McLain Ward and Tina La Boheme emerged from the group of 25 riders to claim the Authentic Cup and their share of the $125,000 prize money at the 19th annual New Albany Classic Invitational Grand Prix & Family Day.  This marks the fourth win for Ward at The New Albany Classic (including 2004 on Goldika, 2011 on Pjotter Van De Zonnehoeve, 2012 on Pjotter Van De Zonnehoeve).
Founded and hosted by Abigail Wexner at her home in New Albany, Ohio, the FEI CSI 2* and USEF 5* rated competition drew over 15,000 attendees and generated more than $1.7 million to support family violence initiatives in central Ohio provided by The Center for Family Safety & Healing.
This year's class was formidable, with 9 riders of the 25 combinations going clear over the Richard Jeffery designed course. The picturesque Ohio autumn day contributed to the great turnout and the crowd took every opportunity to appreciate the performance of the duos, cheering on the competitors as they navigated the course.  In a very tight finish, Ward of Brewster, New York emerged as the winner in a no fault finish aboard the 9 year old Selle Francais,Tina La Boheme, owned by McLain Ward and Arthur Hawkins.  The pair bested Beezie Madden and Abigail Wexner's Breitling LS by 1.43 seconds. Shane Sweetnam and Chaqui Z finished third, with Leslie Howard and Gentille Van Spieveld in fourth and Andrew Bourns aboard CHS Inception in fifth, all clear in the jump off.  Kent Farrington was sixth with four faults on Gazelle.
"We were so honored to have three of the U.S. Olympic medal-winners here to compete and they certainly did not disappoint," said Abigail Wexner upon conclusion of the grand prix. "It was another great day of show jumping in New Albany made even more gratifying because of the significant support generated to help families in central Ohio who need our attention. I'm so very proud of the enthusiastic participation of the riders and owners, as well as the results of our collective effort to provide a memorable day for families."
Sean Kissane, groom to Tina La Boheme, was recognized with the Groom's Award.  The complete class results are as follows: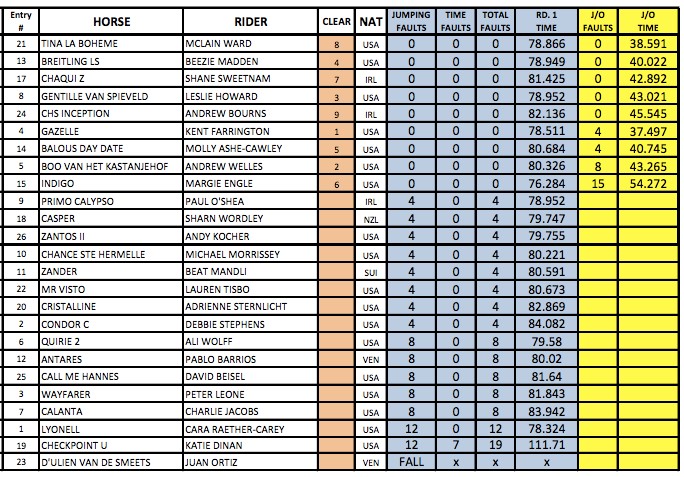 The 2017 New Albany Classic is scheduled for Sunday, September 24, 2017.
About The New Albany Classic Invitational Grand Prix & Family Day
The New Albany Classic Invitational Grand Prix and Family Day CSI 2* presented by JPMorgan Chase & Co. took place on Sunday, September 25th from 10:00 a.m. to 5:00 p.m. at the Wexner home in New Albany, Ohio. Annually, the event raises more than $1.7 million for The Center for Family Safety and Healing and features a lively country fair for families, Concert at The Classic presented by Justice, an ascena retail company, and an internationally-sanctioned show jumping competition among the world's leading equestrians and their mounts competing for $125,000 in prize money. Since its inception, The Classic has raised nearly $30 million to support family violence initiatives in central Ohio.
About The Center for Family Safety and Healing
The Center for Family Safety and Healing fully addresses all aspects of family violence, including child abuse and neglect, teen dating abuse, domestic violence, and elder abuse. Our multidisciplinary team approach includes a one-stop, coordinated response to family violence for individuals and families through partnerships with law enforcement, child protective services, prosecution, and a wide range of community resources along with an expanded forum for education, advocacy, and ongoing research. Partners include CHOICES for Victims of Domestic Violence, A member of the Lutheran Social Services, Columbus Division of Police Special Victims Bureau, Franklin County Children Services, Franklin County Prosecutor's Office, Nationwide Children's Behavioral Health Services, and Nationwide Children's Division of Child and Family Advocacy.
About JPMorgan Chase & Co.
JPMorgan Chase & Co. (NYSE: JPM) employs 19,000 people in Columbus and central Ohio, making it the region's largest corporate employer. It is a leading global financial services firm with assets of $2.4 trillion and operations worldwide. The Firm is a leader in investment banking, financial services for consumers and small businesses, commercial banking, financial transaction processing and asset management. A component of the Dow Jones Industrial Average, JPMorgan Chase & Co. serves millions of consumers in the United States and many of the world's most prominent corporate, institutional and government clients under its J.P. Morgan and Chase brands. Information about JPMorgan Chase & Co. is available at www.jpmorganchase.com.
About Justice
Justice, a division of Ascena Retail Group, Inc. (NASDAQ-ASNA), is the largest tween lifestyle specialty retailer in the world. Known as the premier destination for fashion-aware tweens, Justice provides the hottest fashion merchandise and accessories for tween girls, ages 7–14. Justice celebrates tween girls through an extraordinary experience of fashion and fun in an everything-for-her destination. Today, Justice operates over 950 stores throughout the United States and Canada, along with an international presence in Asia, Mexico, Latin America, and the Middle East. Visit shopjustice.com for store information and to shop online.