DEVON, Pa.—Two time Olympic team gold medalist McLain Ward will defend his Leading Open Jumper Rider title at the Devon Horse Show and Country Fair, which runs May 23 to June 2.
Ward of Brewster, N.Y., has entered last year's Devon Open Jumper Champion Antares F, the horse he rode in the 2012 London Olympic Games.
Ward also won last year's $100,000 Wells Fargo Grand Prix of Devon on Antares F, a class he has won six times in the last 10 years.
Devon benefits Bryn Mawr Hospital, with proceeds to the Hospital approaching $15 million, over $50 million when adjusted for inflation.
Again at Devon, however, Ward will have plenty of competition, including his Olympic team gold medalist partner Beezie Madden of Cazenovia, N.Y., and Laura Chapot of Neshanic Station, N.J., who has been Leading Rider at Devon five of the last eight years.
Besides swapping turns as Devon's Leading Open Jumper Rider, Ward and Chapot have another thing in common.
Both made incredibly quick recoveries from devastating injuries, Ward last year and Chapot this year.
Last year, Ward fractured his knee in 20 pieces just four months before Devon, but, determined to show in Devon's Olympic trials, Ward pushed himself through agonizing therapy sessions and not only was able to compete but also won himself a place on the London Olympic team with his performance at Devon.
Chapot, who suffered a serious fall on Feb. 2 at the Winter Equestrian Festival in Wellington, Fla., which resulted in her breaking her pelvis in four places and her clavicle, also made an incredibly rapid recovery, returning to competition in just six weeks.
She, too, underwent intense therapy and spent hours in the gym to speed her return.
She celebrated her return to competition by winning two classes her first weekend back and went on to win two circuit championships, despite having missed almost half of the 12 week series.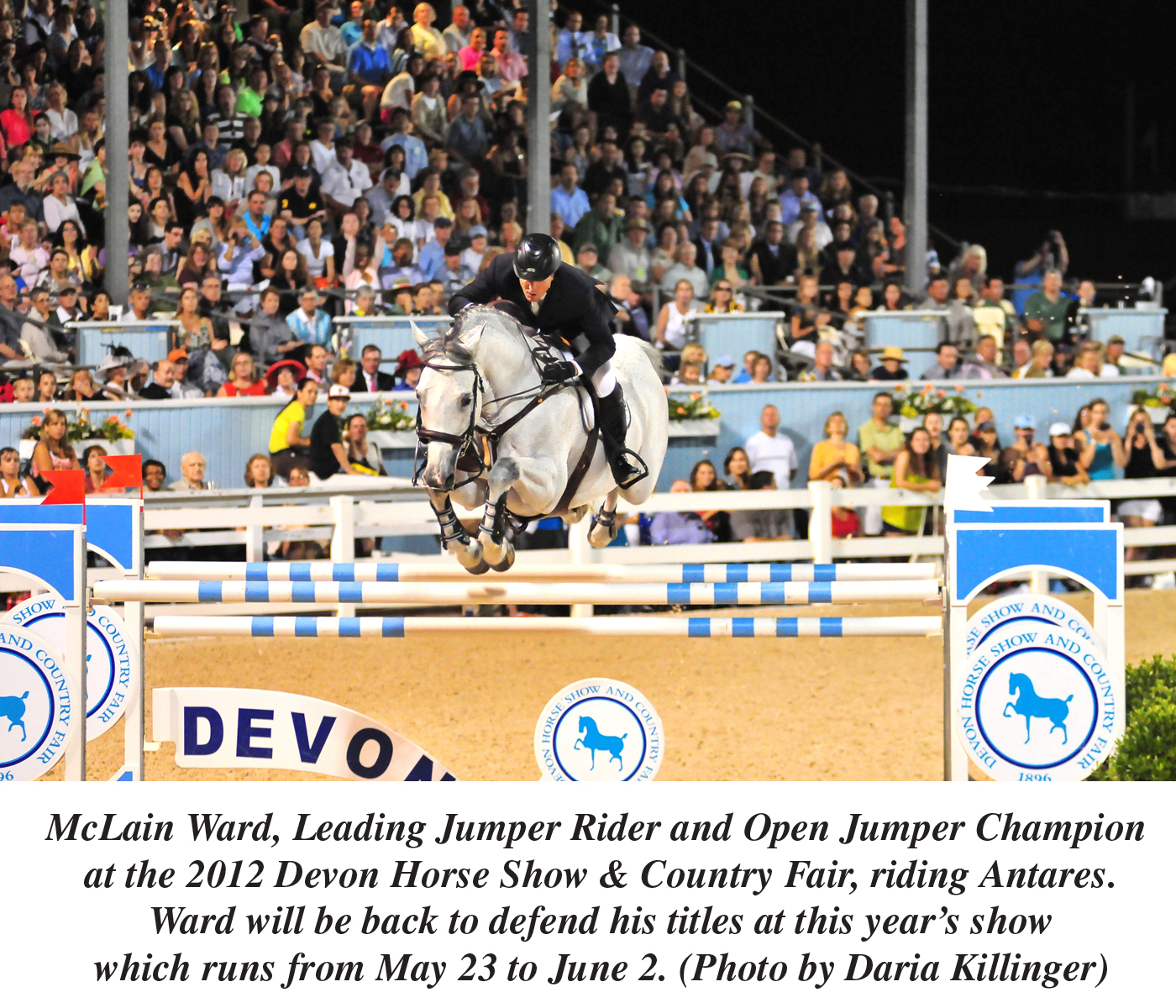 Ward, who is an annual competitor at Devon, has praised Devon for the new footing throughout both the Dixon Oval, the Gold Ring and all the schooling areas and says he loves the enthusiastic crowds.
Other Olympic veterans who will show at Devon include Margie Engle of Wellington, Fla., Lisa Jacquin of Unionville, Pa., and Kevin Babington of Gwynedd Valley, Pa., who competed internationally for Ireland.
Other top competitors included Pan American Games team bronze medalist Todd Minikus of Wellington, Fla., Sarah Segal of Pittstown, N.J., Ken Berkley of Flemington, N.J., and Callan Solem of Chester Springs, Pa.
Junior weekend opens with three days of equitation, ponies, hunters and jumpers, followed on Sunday with the Carriage Pleasure Drive, which arrives at the Dixon Oval at 2 p.m.
Open jumpers compete Tuesday, May 28 through Saturday, June 1, with the featured $100,000 Wells Fargo Devon Grand Prix Thursday evening at 8 p.m., and the $50,000 Idle Dice Stake the last class Saturday afternoon.
Pony jumpers show Sunday, May 26, with adult jumpers on Sunday and Monday.
Five and six year old jumpers are Tuesday and Wednesday, with amateur/owner jumpers on the closing Friday and Saturday.
Hunters show Monday through Wednesday, with the $25,000 International Hunter Derby at 10 a.m. on Sunday, June 2, and hunter breeding classes on Thursday.
Four-in-hand coaching is competed Sunday through Friday, while Saddlebreds, hackneys, harness horses and roadsters show Wednesday, May 29 through Saturday, June 1.
The Country Fair is open days and evenings throughout the 11 days, with a wide variety of foods, boutique shopping and rides and games.
From hot dogs, hamburgers and pizzas to gourmet dining complete with a selection of red and white wines, there is food for every palette, including the famous Devon fudge, tea sandwiches and lemon sticks.
Boutiques carry men's and women's clothing, paintings and prints, gold and silver jewelry, dog toys, salad bowls, souvenirs and collectibles.
The Ferris wheel towers over the area of games and rides and offers a compelling view of the Devon show grounds.
The ticket office is open Monday through Friday from 10 a.m. to 5 p.m., and Saturday from 10 a.m. to noon.
General admission is $10, with $5 for children and seniors. Reserved seating tickets range from $10 to $55, depending on the day and session.