The Connecticut-based professional travels to Flintflields Horse Park for 
the blue ribbon she lost last year.
Traverse City, MI – July 20, 2013 – Molly Ashe returned to Horse Show by the Bay this year on a mission. After a disappointing performance in last year's $20,000 USHJA International Hunter Derby, she sought redemption.
And she got it. Ashe guided Kennzo to victory on July 19, in Traverse City, taking the top call in this year's edition, hosted by The Gochman Family. The two-round hunter competition was Friday evening's featured event.
"Last year I sort of felt like I let him down. [The class] was handed to me, and I didn't pick up the gift," she reflected. "I didn't ride well in the handy; I never got going, and I was too slow. It wasn't a good ride on my part, and I could have won it and I didn't."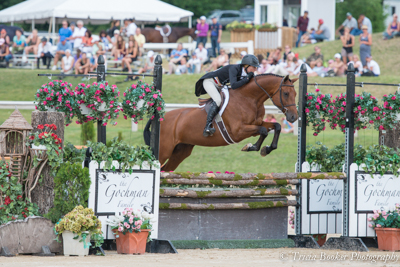 Kennzo and Molly Ashe in the Classic Round
This time, Ashe, of Newtown, CT, placed second aboard Kennzo in the Classic Round, just behind Kelley Farmer aboard Mythical. Then, when Ashe went in for the Handy Round, things were much different.
"From the first round to the second round, [Molly] came in the ring and galloped the first jump and didn't take a couple of cautious jumps and start to get comfortable with the course, which I think separated her in both rounds," said judge Chris Wynne. "She showed us right from the beginning that she was trying to win, which she ended up doing."
Although Ashe was satisfied with her Handy Round ride–which gave her a two-round total of 370 points–she knew with Farmer yet to come aboard the phenomenal Mythical, victory wasn't a given. Ashe chose not to take an inside turn option to the Riviera Gate after the hand gallop, instead electing a straight approach around the Mackinac Bridge oxer.
"I could have been beaten, but it was safer for me to go outside," she said. "It backfired a little bit. Reitz, my first horse, did it beautifully, but it surprised Kennzo a little, and he shook his head afterward, but it all worked out."
Farmer, the leader in the USHJA Lifetime Derby Rider Money-Won standings, went all out aboard Mythical to try for the overall victory. But the ambitious inside turn to the Riviera Gate–which she'd successfully accomplished on earlier mounts–proved to be their downfall, dropping them to 12th with a refusal.
Farmer, of Keswick, VA, with six rides in the class, wasn't without ribbons. She placed second aboard Quail Run Partnerships' Skorekeeper (362.5), third with CH Farm LLC's On Q (360) and fifth with Jessica L. Stitt's Taken (355).
Peter Pletcher, of Magnolia, TX, guided Alexandra Crown's KN Nemo to fourth (356) and Spruce Meadows' Charlie Brown to sixth (352).
Ashe said she'd thought about this class all year long and was thrilled that she could finally put the mistake behind her.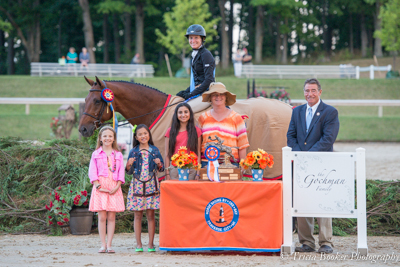 Molly Ashe and Kennzo receive their awards from, right to left, Sophie and Mimi Gochman, Francesca Dildabanian, show manager Alex Rheinheimer and judge James Zulia
"I was mad at myself, and I really wanted to shed that feeling," she said. "Now, I feel better. And then poor Kelley here, trying the inside turn on Mythical. I know how she feels. I felt bad for her, but I needed that win for me. So, that one's gone and shelved now, and I don't have to think about how I messed up the handy for another year. So I'm happy!"
This year's featured derby class, designed by Blake Alder, Scott Starnes and Robbie McGregor, attracted a field of 39 competitors to the Horse Shows by the Bay expansive Grand Prix Ring. Spectators filled the Morgan Stanley/VIP tent, the bleachers and lined the berms, enjoying the Outback Derby Dinner and a lovely Northern Michigan evening.
Four judges presided, with Panel 1 consisting of Jimmy Lee and Chris Wynne, and Panel 2 with Hap Hansen and Tony Sgarlata.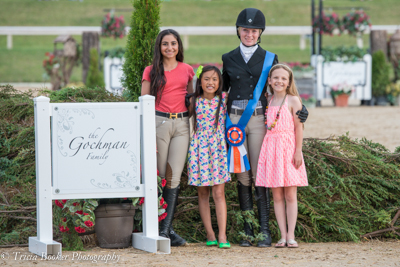 Kelsie Brittan received the high-score Junior Award in the Derby from, right to left, Francesca Dildabanian, Mimi Gochman and Sophie Gochman
After the Classic Round, the highest-scoring Junior and Amateur riders were recognized, with Kelsie Brittan taking the Junior award for her performance aboard Argentum, and Callie Seaman earning the Amateur ribbon with Aha.
In addition to the awards from the United States Hunter Jumper Association, Ashe will also have her name engraved on the Stanley W. Rheinheimer Perpetual Trophy, donated by Valerie Rheinheimer, widow of Stanley W. Rheinheimer, and given in his honor.
The winning horse, Kennzo, is an 11-year-old Finnish Warmblood (Coriano-Anita) owned by Kristen Abbatiello-Neff. Ashe has enjoyed many derby successes with the bay gelding, including victory in the $50,000 USHJA International Hunter Derby at the Hampton Classic in New York in 2012.
"I'm so thankful to have this horse and thank my owners and sponsors for making this possible," said Ashe, whose children Taylor, 5, and Connor, 3, were also ringside to cheer her on. "Everyone's been supportive through thick and thin. It's nice for them that he keeps doing to so well.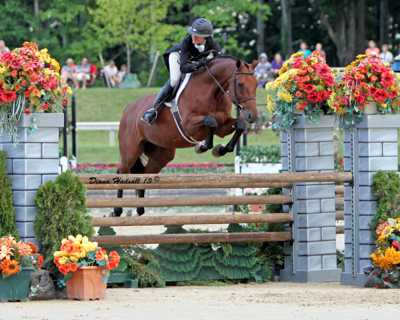 Kennzo and Molly Ashe in the Handy Round
"Kennzo is really good at the derbies, and this one last year was the second one he'd ever done," she added. "He's really become reliable. He's good at it, he's trustworthy and he has the scope and now he knows the game a bit, so it's a lot of fun."
Ashe also placed ninth overall aboard Elisee P. Browchuk's Original Du Rietz, an 11-year-old Selle Francais, making his derby debut.
"Rietz was a jumper, and he was adorable in the jumpers to a certain level, but it got harder for him as the jumps got bigger and bigger," she said. "And so I said, 'Let's try him in the hunters.' This was his maiden voyage in the derbies, and I thought he was pretty darn good."
Judge Jimmy Lee, of Virginia, was impressed with the quality of the competition and the top performances he saw.
"I thought it was a wonderful class with a lot of quality," he said. "And I thought it was nice to see some juniors and amateurs in it stepping up, and that's always encouraging and exciting. The quality of the horses and the rides were great.
"The horse that won is a quality horse, and he had a beautiful round," Lee added. "She rode him terrific, and Peter Pletcher, Kelley Farmer and Greg Crolick, those top riders, all rode well. They had some really outstanding rounds, there were some really high scores and deservedly so. I thought it was a very special class, a great evening and fun to do."
To watch Ashe's winning rides aboard Kennzo, please click here.
$20,000 USHJA International Hunter Derby Overall Top 12
Horse/Rider/Owner/Score
Kennzo/Molly Ashe/Kristen Abbatiello-Neff/370
Skorekeeper/Kelley Farmer/Quail Run Partnerships/362.5
On Q/Kelley Farmer/CH Farm LLC/360
KN Nemo/Peter Pletcher/Alexandra Crown/356
Taken/Kelley Farmer/Jessica Stitt/355
Charlie Brown/Peter Pletcher/Spruce Meadows/352
Grey Street/Greg Crolick/Adrienne Marciano/341
Comprende'/Greg Crolick/Courtney Schwabauer/334.5
Original Du Rietz/Molly Ashe/Elisee P. Browchuk/329
Ferrari/Russell Frey/Alexis Cohen/324.25
Laredo/Maria Dritsas Rasmussen/Whitney Sinclair/316
Mythical/Kelley Farmer/Larry Glefke/279
In the $10,000 North Face Farm Leading Hunter Rider Cash Bonus Award standings, Michigan professional Greg Crolick holds on to the lead with 150 points. But by virtue of her second-placed finish in the USHJA International Hunter Derby, Kelley Farmer leapt up the standings to 147.5, and Molly Ashe, the International Derby victor, now holds third with 140.
Caitlyn Shiels stands fourth (75), Peter Pletcher is fifth (57.5) and Hayley Barnhill is sixth (55). Hunter riders can earn additional points toward the award in tomorrow's USHJA National Hunter Derby.
In the $10,000 Hagyard Leading Jumper Rider Cash Bonus Award standings as of July 20, the top six riders include: Yann Candele (205 points); Aaron Vale (163.25); Ali Wolff (94.5); Sharn Wordley (65); Erin Haas (49); and David Beisel (47). With 90 points on the line for victory in the $30,000 Grand Prix of the Great Lakes tomorrow and the top four riders on to other shows, competitors lower in the standings will have the opportunity to close the gap.
Follow the action on July 17-21 during Horse Shows by the Bay Series III. Competition will be held in all five rings, with the Grand Prix Ring and R.L. Polk Family Main Hunter Ring streaming live thanks to ShowNet LLC and this week's free streaming partner, Alltech Equine TV. They're bringing the action right to your screen every day, beginning at 8 a.m. Go to www.horseshowsbythebay.com and click on "Watch It Live."
Horse Shows by the Bay Series III
Featured events for July 21:
$2,500 USHJA National Hunter Derby, sponsored by Walgreens – Sunday, July 21
$2,500 The Harvey Family NAL/WIHS Children's Jumper Classic – Sunday, July 21
$2,500 Olde Welbourne Farm NAL/WIHS Adult Jumper Classic – Sunday, July 21
$30,000 Grand Prix of the Great Lakes, Sunday, July 21
Special Exhibitor functions this week included the Wine & Cheese Social on Thursday, with wines from Bel Lago Vineyard and Winery in Cedar, MI, sponsored by Northern Pines Farm/Melissa Hirt, Maureen Wendon and Robin Vilter. The ice cream socials will be sponsored by the Harvey Family on the weekdays & the Gochman Family over the weekend. The Outback Derby Dinner, sponsored by Wrenwood Farm, will take place on Friday evening., and the Morgan Stanley VIP/Sponsor Luncheon will be held on Sunday afternoon.
For full show results, please visit www.horseshowing.com.
For daily updates and photos, please visit the Horse Shows by the Bay Facebook Page.
For more information, schedules, directions, or to Watch It Live, please visit www.horseshowsbythebay.com.
Horse Shows by the Bay – Flintfields Horse Park – 6535 Bates Road – Williamsburg, MI 49690