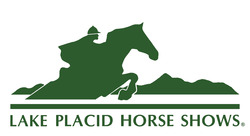 Lake Placid, New York—July 1, 2013—A win by Paul O'Shea of Ireland in the $75,000 Equine Insurance Services/Great American Grand Prix of Lake Placid was the culminating highlight of the 44th annual Lake Placid Horse Show, Presented by Sea Shore Stables, LLC.
Riding Michael Hayden's Primo De Revel, O'Shea was one of six entries from the starting field of 34 to reach the jump-off by riding without penalty over the 14-jump first round course designed by 2008 Olympic course designer Steve Stephens.  U.S. Olympic veteran Margie Engle of Wellington, FL, seeking a record eighth Grand Prix win in Lake Placid, took an early lead in the jump-off with a fault-free ride in 39.409 seconds on Royce, a 9-year-old, Oldenburg gelding.
Her lead held until O'Shea, 36, returned on Hayden's 12-year-old, Belgian Warmblood.  He finished clean in 38.189 seconds to claim the win.  Engle placed second and Heather Caristo Williams of Saugerties, NY finished third on Evening Star with 4 jump-off faults and a time of 41.795 seconds.
"I watched Margie go and when I saw her do six strides between fences 2 and 3 I changed my strategy to do the same," he said.  "I had thought at first that it would ride longer.  I rode as fast as I could without overdoing it."
Engle said that her first concern was to go clean.  "I didn't ride all out because, going early, I knew I had to be clean to have a chance.  I knew there were places that I could get caught and Paul did a beautiful job."
The win by O'Shea of Kildimo, Ireland marked the fourth straight year that a rider from Ireland has won the event, following wins by Darragh Kenny in 2010, Jonathan McCrea in 2011 and Kenny again last year.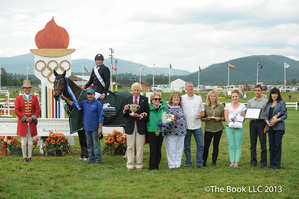 Paul O'Shea and Primo De Revel — champions of the
$75,000 Equine Insurance Services/Great American GP of Lake Placid
"I thought Steve built a fair course and a good course," O'Shea.  "He built the course for the Grand Prix we won in Wellington in April.  Maybe I should just follow him around!"
This is the first time that O'Shea has competed at Lake Placid.  "We came over for a few shows last year," said Hayden who bought the horse for O'Shea six years ago.  "We heard so much about how great it is in Lake Placid that we knew we just had to come.  Needless to say, we are very glad we did."
O'Shea echoed the sentiment.  "It really is a fabulous place to bring the horses," he said.  "The riding trails are great for them and I really am in love with this horse show."
Caristo-Williams, the former Young Rider and USEF Prix de States Gold Medalist who has come to Lake Placid virtually every summer of her life, noted that she has had her 11-year-old horse since he was five.  "My mom showed him in the Adult Hunters.  It's amazing to have him doing so well in a Grand Prix like this!"
Prior to the Grand Prix, Victoria Colvin rode Don Juan to victory in the $10,000 North Star High Junior Jumper Classic and Karen Polle rode With Wings to the win in the $10,000 Mirror Lake Inn High Amateur-Owner Jumper Classic.  Both Classics are member events of the Show Jumping Hall of Fame Jumper Classic Series which features classes at approximately 100 horse shows across the country with year-end championship finals at the Alltech National Horse Show in Lexington, Kentucky and at the Las Vegas National Horse Show in November.
Colvin earned her win with two fault-free rides and a jump-off time of 26.095 seconds.  Placing second was Michael Hughes who had two fault-free rides and a jump-off time of 28.077 seconds on Luxina.  Third place went to Chloe Reid on King of Hearts.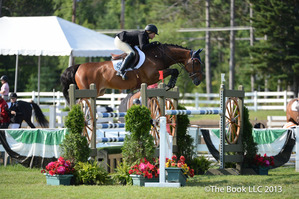 Victoria Colvin and Don Juan
In the Amateur-Owner Classic, Polle earned the win with two clean rounds and a jump-off time of 32.705 seconds.  Adrienne Sternlicht was second with two clean rides and a jump-off time of 33.731 seconds on Hathaway.  Leah De Martini had the only other clean ride in the jump-off to take third on True Love.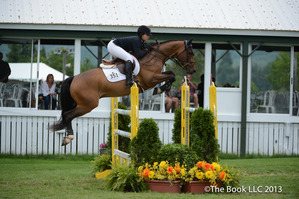 Karen Polle and With Wings
Sunday's other winners included Lilly Higgins on Danny Cool in the Price Chopper NAL & WIHS Children's Jumper Classic (14 & under) and Cloe Hymowitz on Caleta in the Price Chopper NAL & WIHS Children's Jumper Classic (15-17); as well as Margaret Oberkircher on Jukebox Hero in the MME NAL Adult Hunter Classic and Jane C. Brooks on Lifeline in the MME NAL Children's Hunter Classic.
Sunday's activities also included the Juliam Farm Lead Line class and the C.M. Hadfield's Saddlery Parade of Champions which honored the horse show's champions such as Scott Stewart of Wellington, FL who was honored as Grand Hunter Champion for his stellar performances with Concept in the Green Conformation division.  Stewart also won championships in the First Year Green and High Performance Hunter divisions on Loyalty and in the Performance Hunter division on Declaration.  Also honored was Stewart's student, Victoria Colvin who earned Grand Junior Hunter Championship honors on Ovation, as well as many others who excelled during the week.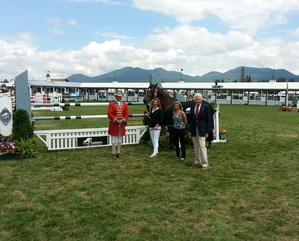 The C. M. Hadfield's Parade of Champions honored the weeks champions
including Vicki Lowell and Tippitoo, Adult Jumper champions (over 40)
 Other feature class winners during the Lake Placid Horse Show included:
Laura Chapot on Castellana, Johnathan Corrigan on Avenir L and Candice King on Antigone Quality in the three sections of The Wild Center Jumper 1.30m jumper Class; Laura Chapot on Umberto and Johnathan Corrigan on Olympic de Chamant  in the two sections of the Hollow Brook Wealth Management 1.35m jump-off classes; and Spencer Smith on Courant in the Platinum Performance Show Jumping Talent Search.Laura Chapot on Bradberry in the High Peaks Resort 1.40 meter speed class and on Umberto in the WPTZ News Channel 5 1.30 meter class.
Rachel Glicklich on Lady Lin in the Crowne Plaza Resort NAL Adult Amateur Jumper Classic (18-40); Vicki Lowell on Tippitoo in the Crowne Plaza Resort NAL Adult Amateur Jumper Classic (over 40); Charlotte Jacobs on Cyrina Z in the Whiteface Mountain Low Junior Jumper Classic; Benjamin Simpkins on Colony in the J. Lohr Vineyards & Wines Low Amateur-Owner Jumper Classic; Olivia Dorey on Galina 177 in the Saratoga Eagle 1.30 meter Jumper Class; and David Jennings on Nandy Fontaine in the Beacon Hill Horse Transportation 1.35 meter Jumper Class.
Following an off day on Monday, the 36thannual I Love New York Horse Show follows at the North Elba Showgrounds, July 2-7.
The Lake Placid and I Love New York Horse Shows host all levels of competition ranging from young children on ponies to grand prix competitors and Olympic medalists, all competing for over $535,000 in prizes. The horse show begins at 8:00 am each day, with competition running in four rings simultaneously.
Highlighting the I Love New York Horse Show is the $100,000 Woodlea Farms Grand Prix on Saturday, July 6.  Another highlighted competition is the $15,000 USHJA International Hunter Derby presented by Eastern Hay & Grain and Purina Animal Nutrition. This event, held in the Richard M. Feldman Grand Prix Field on Sunday, July 7, features jumps that resemble natural obstacles seen in the hunt field with a variety of challenges including stone walls, hedges, logs, banks and ditches.
Also featured are perennial show favorites such as the annual Doggie Costume Contest, sponsored by Animal Planet and The Brown Dog Cafe & Wine Bar. The doggie costume contest, scheduled for Saturday, July 6, features a line-up of dogs dressed up in hilarious costumes and it is a favorite event of both exhibitors and spectators.   Everyone, whether part of the horse show or not, is invited to participate.  Every canine contestant goes home with a bag of treats and every spectator goes home having had a wonderful time.
A generous thank you to this year's horse show sponsors including: 17 Hands Gallery, Abba Vet Supply, Adirondack Flying Service, Adirondack Life, Animal Planet, Anonymous, Arbor Hill Farm (The Boggio Family), Bainbridge Farms, LLC, Beacon Hill Farm, Beacon Hill Horse Transportation, Inc., Beval Saddlery, Debbie & Jim Burrows, C.M. Hadfield's Saddlery, Inc., Carr-Hughes Productions, Casella Waste Management, Champlain Valley Equipment, Jane Forbes Clark,Clifton Park Rental Center, CMJ Sporthorse, Community Bank NA, Crowne Plaza Resort & Golf Club, Dartbrook Rustic Goods, David R. Fowler Custom Tack Trunks, Deeridge Farms, Der-Dau Custom Made Boots, Devoucoux, Inc., Eastern Hay & Grain, Equifit, Inc., Equine Insurance Services/Great American, FarmVet, Inc., Golden Arrow Lakeside Resort, Hannaford Supermarkets,High Peaks Resort, Hollow Brook Wealth Management, LLC, The Hooker Family, Horse Watch, Horseshoe Trail Farm, LLC, Hunt LTD, J Lohr Vineyards & Wines, Jamaica Tent Company, Janney Montgomery Scott LLC., Jetway Private Air, Juliam Farm, The Keith and Shilen Families, KJ Robinson, Lake Placid CVB, Lake Placid Lodge, Lake Placid Summit Resort Hotel & Suites, The Levy Family, Dan & Cynthia Lufkin, Michael Morrissey Enterprises LLC, Mirror Lake Inn / The Cottage Cafe, Mountain Horse, North Star, Northwoods Inn, On A Fence Designs, ORDA – Whiteface Mountain, Pepsico, P.F. Farm, Price Chopper, Purina Animal Nutrition, Quiet Hill Farm, Ruthie's Run, Sand Castle Farm, Michael Schultz, Sea Shore Stables LLC, Sidelines, Dennis Sisco & Alexine Lesko, Storm Ridge Capital, Stretton Enterprises, Inc., The Brown Dog Deli & Wine Bar, The Tack Shelter, The Whiteface Lodge, The Wild Center, Time Warner Cable, Town of North Elba Park District, Woodlea Farms, WPTZ News Channel 5, and Y-106.3 FM.  Special event sponsors include: Hannaford Supermarkets (Horse Club Junior Day); Beval Saddlery Ltd. (Golf Tournament); Animal Planet, The Brown Dog Deli & Wine Bar (Doggie Costume Contest); Horse Watch (Young Riders Clinics); and Juliam Farm (Lead Line Class).
For the first time ever, show jumping fans across the country and around the world are able to watch competition from the Lake Placid Horse Shows live as it happens.  HRTV, The Network for Horse Sports, is offering free live webcasts of all classes in the horse shows' Grand Prix Field.  The live webcasts, produced by ShowNet, are available free of charge at www.hrtv.com and through a link at the horse shows' website at www.lakeplacidhorseshow.com.
Further information on the Lake Placid Horse Shows presented by Sea Shore Stables, LLC is available by calling the Lake Placid Horse Show Association at 518-523-9625 or on line at www.lakeplacidhorseshow.com.