Swail Goes 1-2 in $50,000 ATCO Structures & Logistics Cup 1.50m;
Draw Is Determined for BMO Nations Cup
Calgary, AB, Canada – September 5, 2013 – The Spruce Meadows 'Masters' continued today with two top competitions in the International Ring. Taking the top prize in the $125,000 CANA Cup 1.60m was Penelope Leprevost (FRA) and Dame Blanche van Arenberg. The luck of the Irish was with Conor Swail today when he finished first and second in the $50,000 ATCO Structures & Logistics Cup 1.50m on Martha Louise and Lansdowne. The Spruce Meadows 'Masters' Tournament hosts the best show jumpers in the world through Sunday, September 8. The highlight events of the week are the $350,000 BMO Nations' Cup on Saturday and the $1 Million CN International, part of the Rolex Grand Slam of Show Jumping, on Sunday.
The $125,000 CANA Cup 1.60m had 39 entries, but only five were able to find the clear track to the jump-off. The course designer for this week is Leopoldo Palacios of Venezuela. First in the jump-off was Olympic gold medalist Steve Guerdat (SUI) on Carpalo. They had eight faults in 43.99 seconds for fifth place.
Leprevost, who has won silver medals at European Championships and FEI World Equestrian Games, and Dame Blanche van Arenberg, a 10-year-old Belgian Sport Horse mare by Clinton x Codexco, were next in and set the winning pace in 43.78 seconds with a clear rounds.
Leprevost revealed, "This is the first time I've gone fast with my mare. The dressage and the control is not perfect, but she always tries. My problem is in the turn; she doesn't do them so good. The mouth is difficult. But in a straight line, she can go fast. She's very careful. I tried to do my best."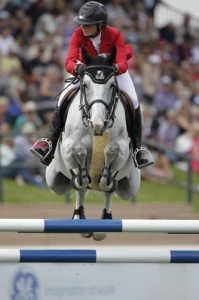 Penelope Leprevost and Dame Blanche van Arenberg.
Photo © Spruce Meadows Media Services.
World Number One Ben Maher gave it a try on Cella, but a rail in 45.52 seconds left them in third place. The only clear round in the jump-off gave second place to Olympic gold medalist Eric Lamaze (CAN) and Powerplay. They were just off the pace in 44.56 seconds. Beezie Madden, also an Olympic gold medalist, was the last one in with Cortes 'C'. After an early rail, they slowed down to finish in 48.40 seconds for fourth place.
This was Leprevost's first time competing at Spruce Meadows, and she has only ridden this horse for four months. However, she felt confident that Dame Blanche van Arenberg would be able to handle the atmosphere of the International Ring. "I'm surprised she went so fast. I'm not surprised that she won. She has a super mind," she described. "She jumped for the first time in Aachen (too) and was great, so I wasn't worried about it."
Regarding Spruce Meadows, she complimented, "It's unbelievable. We heard a lot of super things about this show, but the difference when you can ride and come in the ring, it's amazing."
For Lamaze, setting a plan with his young, talented horse is paramount. "I have to be patient," he acknowledged. "I don't know have so many at the moment at this level. I have to do everything right and I have to get to know him and make him a better horse than he is today. I still have to take my time and be realistic about what I do, have a very solid plan, and stick to it. I have a good plan for this horse and so far it's working."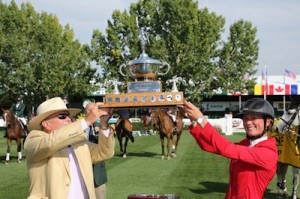 Penelope Leprevost in her winning presentation with John Simpson, Chairman,
CANA Group of Companies. Photo © Spruce Meadows Media Services.
When he went in the jump-off today, he was not thinking of getting the most speed out of Powerplay. He explained, "To be honest, Powerplay is going to learn to go a bit faster, but it's never going to be his forte. He's not much of a racehorse. He spends a bit of time in the air, and he has a big stride. But he's learned a lot. I basically didn't see Penelope go, but I just rode the plan that was challenging enough for my horse, but wasn't going to destroy my Nations Cup either. For me, I was happy with the pace."
Final Results: $125,000 CANA Cup 1.60m
1. DAME BLANCHE VAN ARENBERG: 2003 Belgian Sport Horse mare by Clinton x Codexco
PENELOPE LEPREVOST (FRA), Megret Genevieve: 0/0/43.78
2. POWERPLAY: 2004 Holsteiner gelding by Casall x Limbus
ERIC LAMAZE (CAN), Artisan Farms LLC: 0/0/44.56
3. CELLA: 2002 BWP mare by Cento x Chin Chin
BEN MAHER (GBR) Jane F. Clark: 0/4/45.52
4. CORTES 'C': 2002 BWP gelding by Randel Z x Darco
BEEZIE MADDEN (USA), Abigail Wexner: 0/4/48.40
5. CARPALO: 2001 Holsteiner gelding by Contender x Cicero
STEVE GUERDAT (SUI), Urs E. Schwarzenbach: 0/8/43.99
6. FLAMING STAR: 1999 AES gelding by Fairman x Unknown
CHARLIE JACOBS (USA), CMJ Sporthorse LLC: 1/75.87
7. EREGAST VAN'T KIEZELHOF: 2004 Belgian Warmblood gelding by Thunder van de Zuuthoeve x Latano
SHANE SWEETNAM (IRL), Spy Coast Farm, LLC: 1/76.15
8. VERDI III: 2002 Dutch Warmblood gelding by Hors la Loi III x Cantus
TIFFANY FOSTER (CAN), Artisan Farms LLC:1/76.35
9. OBIWAN DE PILIORE: 2002 Selle Francais gelding by Diamant de Semilly x Achmael
MARC DILASSER (FRA), Haras de la Morsangliere: 1/76.73
10. LACAN 2: 2003 Oldenburg stallion by Lando x Contender
PATRICK STUHLMEYER (GER), Bernfried Erdmann: 1/76.76
Swail Leads the Way with Two Horses
In a great display of horsemanship, Ireland's Conor Swail guided both of his horses to the top of the leaderboard in the $50,000 ATCO Structures & Logistics Cup 1.50m. There were 41 entries in the class, and 14 in the jump-off. Swail went fifth in the order on Lansdowne in the jump-off and with a daring approach to the final oxer, he took the lead with a clear round in 37.06 seconds. Six horses later, Swail was back on Martha Louise, and with efficient turns and an open stride, they brought the winning time down to 35.80 seconds for the win. Fellow Irishman Dermott Lennon rode Keonan Stables Ltd's Hallmark Elite to third place in 37.13 seconds. In fourth was Hans
Dieter Dreher (GER) with Magnus Romeo with a time of 38.51 seconds, while Nicola Philippaerts (BEL) and Early Morning Mist placed fifth with a time of 39.17 seconds.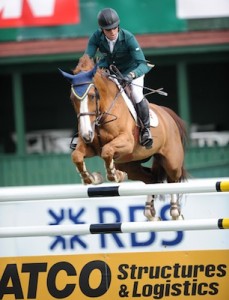 "I had an awesome day today," Swail acknowledged with a big smile. "The two horses were absolutely fabulous. To come first and second in front of the international riders, the fantastic riders that are here, is really special. It's lovely here and there was a nice crowd here today. It's always lovely to win at Spruce Meadows."
In addition to his 1-2 in the International Ring, Swail also won the $15,000 Oxford Properties Group Cup 1.30m with Arista and the $25,000 Phillips, Hager & North Cup 1.40m on Game Ready in the All Canada Ring.
While Swail was quick with Lansdowne, he did feel that Martha Louise (left), a nine-year-old Swedish Warmblood mare by Maoubet de Pleville x Wolfgang, had a good chance of catching him. He explained, "Lansdowne is a big mover, but he's a little slower than Martha. I knew Martha could probably be a little quicker around the same. I was surprised when she was so fast actually. She was smoking. The first bit was so fast and she turned so well after the wall that I knew all I needed to do was be patient at the last four jumps. She had it done by then."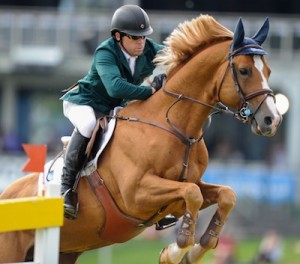 Martha Louise has been a proven performer this year for Swail, who sold her to his owners, Susan & Ariel Grange, after the winter circuit. She placed in 11 of 12 classes during the Spruce Meadows Summer Series, and went on to finish in the ribbons at the Dublin CSIO and the three-star events at the P.S.I. FEI European Jumping Championships before coming to the 'Masters'. She was third yesterday and picked up the win today. "Her record has been absolutely phenomenal here," Swail affirmed. "She looks like she could be pushing Lansdowne for the top spot, the way she's been going."
Conor Swail and Lansdowne. Photo © Spruce Meadows Media Services.
Swail was pleased with the way Lansdowne has rebounded after jumping in the European Championships in Denmark just 10 days ago. "It was as big as I've ever jumped and as big as he's ever jumped. He struggled a bit and I'm really happy how he's come out of it. This is the next big test," he said.
While he plans to show Lansdowne in the BMO Nations Cup on Saturday and the $1 Million CN International on Sunday, his feeling on Saturday will be the deciding factor. "We'll see how Saturday goes," he pointed out. "If he handles himself well, I'll be looking forward to Sunday. If he doesn't, I don't have to go. I'm not going to go if I don't think I can win. There's always other years, and there's going to be a lot of years left in that horse. He's growing all the time. I think hopefully he'll be a horse to watch out for in the next three or four years."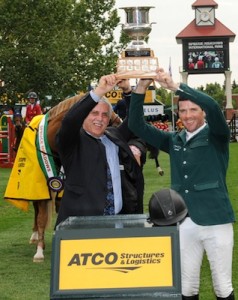 Conor Swail raises his trophy with George Lidgett, Chief Operating Officer,
Americas, ATCO Structures & Logistics. Photo © Spruce Meadows Media Services.
Swail added, "I have to thank my owners. I'm so lucky I have some fabulous horses. I'm #36 in the world now, which is the highest ranking I've ever been; 37 was my highest before!"
Final Results: $50,000 ATCO Structures & Logistics Cup 1.50m
1. MARTHA LOUISE: 2004 Swedish Warmblood mare by Maloubet de Pleville 1039 x Wolfgang
CONOR SWAIL (IRL), Susan & Ariel Grange: 0/0/35.80
2. LANSDOWNE: 2003 KWPN stallion by Guidam x Wolfgang
CONOR SWAIL (IRL), Ariel & Susan Grange: 0/0/37.06
3. HALLMARK ELITE: 2000 Zangersheide gelding by Lord Barron Z x Renville
DERMOTT LENNON (IRL), Keonan Stables Ltd: 0/0/37.13
4. MAGNUS ROMEO: 2001 Argentine stallion by Royal Feu x Hans Anders Z
HANS DIETER DREHER (GER), Gestut Grenzland/Hans Brandlin & Paul Bucheler: 0/0/38.51
5. EARLY MORNING MIST: 2004 Warmblood mare by Lancaster V x Kannan
NICOLA PHILIPPAERTS (BEL), Ludo Philippaerts Horse Trading bvba: 0/0/39.17
6. QUOD'COEUR DE LA LOGE: 2004 Selle Francais stallion by Ideal de la Loge x Tenor de la Cour
ROGER-YVES BOST (FRA), Equiblue et Bosty Jump: 0/0/39.21
7. STAR POWER: 2001 Dutch Warmblood gelding by Quick Star
IAN MILLAR (CAN), Team Works: 0/0/39.35
8. EROS H: 2004 Belgian Sport Horse gelding by Emilion x Saygon
MICHAEL WHITAKER (GBR), Graham Gillespie: 0/0/39.75
9. OHLALA: 2003 Swedish Warmblood mare by Orlando x Cardento
LAUREN HOUGH (USA), Lauren Hough: 0/4/36.45
10. QUINTENDER 2: 2000 Hanoverian stallion by Quinar x Contender
LUDO PHILIPPAERTS (BEL), EM Horses: 0/4/37.55
Draw and Teams Are Determined for Saturday's $350,000 BMO Nations' Cup
The eight Chefs d'Equipe for the nations competing in Saturday's BMO Nations' Cup gathered tonight to declare the riders for their teams and find out what the team order will be for the competition. Below is the order of the teams and the riders that are listed for each team (but not the rider order):
1. Belgium
Pieter Devos
Francois Mathy
Judy Ann Melchior
Olivier Philippaerts
2. Canada
Eric Lamaze
Ian Millar
Tiffany Foster
Mac Cone
3. United States
Beezie Madden
Lauren Tisbo
Kirsten Coe
Lauren Hough
4. Switzerland
Romain Duguet
Martin Fuchs
Steve Guerdat
Werner Muff
5. Ireland
Conor Swail
Shane Breen
Dermott Lennon
Shane Sweetnam
6. Great Britain
Michael Whitaker
Ben Maher
Guy Williams
Robert Smith
7. France
Kevin Staut
Roger-Yves Bost
Eugenie Angot
Penelope Leprevost
8. Germany
Christian Ahlmann
Daniel Deusser
Hans Dieter Dreher
Lars Neiberg
The Spruce Meadows 'Masters' continues tomorrow with the Mercedes-Benz "Evening of the Horse." It will feature "Name the Foal" contest awards, the $205,000 Encana Cup 1.60m, the $75,000 ATCO Electric 'Circuit' Six Bar competition, the German State Studs Stallions Spotlight Performance, and a Symphony of Fireworks. For full results and more information, please visitwww.sprucemeadows.com.
Based in Calgary, Canada, Spruce Meadows is the brainchild of the Southern family who built a Show Jumping complex at the foothills of the Alberta Rocky Mountains. It was in 1976 that the first Spruce Tournaments were held, with annual spectator attendances reaching over 50,000 by the end of the decade. Today, Spruce Meadows boasts one of the greatest outdoor equestrian venues in the world and offers an incredible experience for riders and fans alike. Spruce Meadows focuses on the organization and hosting of show jumping tournaments of unmatched quality for junior, amateur and professional athletes in a manner that reflects basic family values in a clean, green and welcoming environment that celebrates the horse and encourages the breeding and training of quality sport horses and the teaching and development of athletes. For more information on Spruce Meadows, please visit www.sprucemeadows.com.
Photos © Spruce Meadows Media Services. They may only be used in relation to this press release and with photo credit.