Hampton Falls, NH – August 9, 2013 – In a rain shortened schedule on Friday at the Silver Oak Jumper Tournament in Hampton Falls, NH, Ramiro Quintana and his talented young jumper Bialda raced to his second victory in as many days, topping a field of just sixteen to win the 1.30m Jumpers Time First Round class on the grand prix field at the Silver Oak Equestrian Center.
A not heavy, but steady rain fell throughout the day across New Hampshire and was forecast to end early this evening with clearing skies overnight.
"To be honest, a little rain is probably the best thing for the grass field for the weekend," said Show Chairman Jeff Papows. "So, a bit of a light competition day today in exchange for a great forecast for Saturday and Sunday in something I can live with. Tomorrow is supposed to 82 degrees and sunny and Sunday 76 and sunny. We're hoping for huge crowds on the weekend," he stated.
Ramiro Quintana and Bialda win the 130m Jumpers in the rain at Silver Oak. Photo credit Tony DeCosta
Quintana didn't let the rain damper his performance though. Racing through the Olaf Petersen, Jr. speed course in 64.473 seconds, Bialda, owned by St. Bride's Farm, was almost a second and a half faster than second place finisher Candice King aboard Bellissimo LLC's VDL Maleklou, who tripped the timers in 65.922 seconds. King was third on another Bellissimo LLC mount. Riding Qasqai, she was well off the pace, finishing up in 68.291 seconds. Opening day winner, Maria Burgal and Arann DV took home fourth place honors in 69398 seconds.
With two wins in three classes, Quintana and Bialda secured the 1.30m Jumper Championship and picked up one of four sets of keys. One of those keys will start the ignition of a brand new Piaggio Typhoon 50 which will be awarded to one of the champions from the Adult Jumpers, A/O Jumpers, Masters and Open Jumper divisions. Herb Chambers, with 50 total dealerships throughout New England is the Official Automobile and Truck Sponsor at Silver Oak and has donated the Typhoon 50 to the show.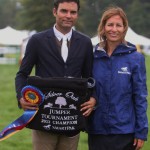 Ramiro Quintana scores the 130m Championship, presentation with Susan Tuller of SmartkPak. Photo credit Tony DeCosta.
Saturday's session features a number of exciting show jumping competitions, including the Show Jumping Hall of Fame Classics for top Junior and Amateur Owner Jumpers and the $15,000 DG Ventures Speed Derby, a challenging test over 18-20 obstacles in a race for the title.
The $75,000 Equestrian Estate Planning Group Grand Prix dominates the Sunday schedule in Hampton Falls as an elite group of top riders will vie for big prize money in the class and the $25,000 Boston Strong Bonus. The $25,000 cash prize will go to any horse and rider combination that win both the $75,000 Equestrian Estates Planning Group Grand Prix at Silver Oak and the Grand Prix at Fieldstone next week. Sunday's Grand Prix is preceded by the $15,000 Agero Speed Classic.
209 – Open Jumper 1.30m II2.1 – 16 entries
1 247 Bialda St Bride's Farm Ramiro Quintana
2 150 Vdl Maleklou Bellissimo Llc Candice King
3 144 Qasqai Bellissimo Llc Candice King
4 118 Arann DV Maria Brugal Maria Brugal
5 248 Capone 21 St Bride's Farm Francisco Eamudio
6 126 Carissimo Olivia Jack Molly Ashe-Cawley
7 214 Catharina 9 Tequestrian Farms Llc Lauren Tisbo
8 187 Lucky Lord 20 Harris Equestrian Llc Jennifer Goddard