Lexington, KY – August 16, 2013 -It really was déjà vu all over again for Scott Stewart. For the third consecutive year, Stewart claimed victory in the Classic Hunter Round of the $160,000 USHJA International Hunter Derby Championship.
This time, his winning mount was Rose Hill Farm's Garfield, and their scores of 90, 92 and 92 for a 286 total was unmatched after a field of 89 horses contested today's course in the Kentucky Horse Park's Rolex Stadium.
"I haven't ridden him since the National Horse Show [last November]," said Stewart of the horse he's competed off and on for the past five years. "He's been doing the juniors with Cloe [Hymowitz.] He was the best he's ever been today, so relaxed. I didn't really have to do anything."
Although the pair has a 10-point lead going into tomorrow's Tier I Handy Hunter Round, Stewart, of Wellington, FL, faces some serious competition. Just as last year, he has two Derby veterans right on his heels-Liza Boyd and Brunello and Jennifer Alfano and Jersey Boy-sitting in second and third places, respectively.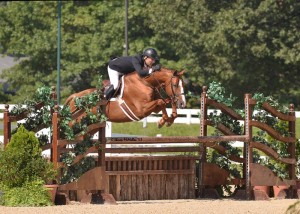 Scott Steward and Garfield
Photo Credit: Shawn McMillen Photography
"They asked me if I wanted to do [the Derby Championships], and I wasn't sure at that point," said Stewart. "But we entered the horses, and I got to stay home and practice for two weeks so I felt comfortable enough to do it. To be honest, I haven't ridden so well this year; I've been a little off. So, I felt good last week and thought we'd give it a go."
The decision paid off, with Garfield, an 11-year-old Holsteiner, and Stewart continuing their partnership stronger than ever. "He likes me to just ride him once in a while, I think," said Stewart with a smile. "He was super today."
The Classic Hunter Round featured a track of 13 obstacles that simulated the fences found in the hunt field-such as logs, straw bales and stonewalls-with heights ranging from 3'6″ to 4′. The course offered riders an opportunity to pick up bonus points by taking any one or all of the four optional fences set at a minimum of 4'3 in height (no maximum height).
The judges included Ralph Caristo, Rick Fancher, Danny Robertshaw, Jimmy Torano, Carleton Brooks and Don Stewart, who were split into panels of two and placed in strategic positions around the Sheila C. Johnson Ring.
Boyd said 15-year-old Brunello felt better than ever and enjoyed the course, achieving scores of 88, 90 and 86 for a total of 276 and second place.
"I think you needed some scope out there and a super careful horse," said Boyd, of Camden, SC. "He [Steve Stephens] would do a big oxer and a careful vertical and then another big oxer. He led you into getting a little sloppy, and I think you saw some rails and rubs because of that. Brunello had a light rub out of the oxer-to-oxer in-and-out. It was my fault; I think I leaned a little bit with my body. And then once I sat up, he 'skyed' them. I was thrilled."
Alfano, of Buffalo, NY, and Jersey Boy, the defending champions, may have had a rough time in the schooling area, but, when it counted, the 11-year-old warmblood stepped up and delivered. Their scores of 88.50, 87 and 87.50 put them third with 275 points.
"I thought he was great. He made me a little nervous when I trotted in, because he was pretty spooky," said Alfano. "I trotted toward the third jump, and he acted like he might want to spin around and go the other direction, which he can do. So, I was maybe not all that confident heading toward the first jump, but once he got going he was really great."
Kelsie Brittan, of Westlake, TX, won the top Junior Owner Rider Award in today's Classic Hunter Round. She finished fourth aboard Silver Oak Farms' Argentum, with scores of 86, 85 and 85.50 for a total of 268.50.
Alliy Moyer, of Carmel, IN, jumped to 22nd place and earned the top Amateur Owner Rider Award with her Safari.
Virginia-based professional Kelley Farmer, the 2012-13 Derby Series Money Won victor and the first hunter rider to reach $1 million in earnings, was one of the busiest riders today and qualified Mythical and On Q for tomorrow's Tier I Handy Round, placing sixth and 21st respectively.
New this year is the Tier I and Tier II Handy Hunter Round format. The top 30 pairs return for action in the $120,000 Tier I Handy Hunter Round, with 14 Tier I entries qualified and 16 Tier II entries qualified. The $40,000 Tier II Handy Round includes a field of 25 riders, with nine jumping for Tier II money only.  The scores for the 16 Tier II entries in the Tier I Handy Hunter Round carry over to the Tier II Handy Hunter Round.
The remainder of the field was invited to contest the $10,000 Consolation Round, and 48 entries are on the order of go for tomorrow.
"I thought it was exciting today," said Ron Danta, Chair of the USHJA International Hunter Derby Task Force. "The excitement will continue on tomorrow. In the Tier I class, Scott's in the lead, but it's close and there are a lot of points up for grabs in the Handy Round. There will be lot of strategy, riders trying to gain more bonus points. They're going to have to be extremely handy to catch him, and I think we'll have a true horse race."
To view the full results and to see the orders of go for tomorrow's Handy Rounds, please visit www.ushja.org.
The USHJA, in partnership with the USEF Network, is providing a free live webcast of the evening's activities, beginning at 4 p.m.
The 2013 USHJA International Hunter Derby Championship is generously sponsored by: Major Sponsor Dietrich Equine Insurance; Official Cooler: Blue Ribbon Custom Blankets; Consolation Prize Money Donor: Moyer Farm LLC; Awards Sponsors:Essex Classics, Dover Saddlery, Grand Prix, McGuinn Farm, Gifted Paddock,SmartPak, Equine Land Conservation Resource; Gift Donors: Janet Peterson and Practical Horseman; and Jump Sponsored in honor of Semper Fi Fund. The USHJA Official Sponsors include: Rood and Riddle Equine Hospital and Charles Owen. USHJA Contributing Sponsors include: Nutrena and Crown Equine Services.
United States Hunter Jumper Association 
3870 Cigar Lane
Lexington, KY 40511
P: 859.225.6700
F: 859.258.9033