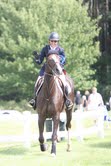 HAMPTON FALLS,NH—December    13, 2012—SilverOakEquestrianCenter inHampton Falls,NH will host a USEF-recognized all-jumper horse show, August 7-11, 2013.
                   Silver Oak was home of The Jumper Classic for the last five years and will now continue to bring world-class show jumping competition to New England under the leadership of Silver Oak proprietor David Birdsall, who will be President and CEO of the new event, and Dr. Jeff Papows, who will be the event's Honorary Chairman, a position he held with The Jumper Classic for    14 years.
                   "We are thrilled and honored that the USEF has recognized our commitment to putting on a first-class event and to presenting the sport of show jumping in the best possible manner," said Birdsall.  "Our plan is to utilize the outstanding features of the facility to attract the nation's best horses and riders and to add exciting entertainment attractions that will continue the tradition of attracting large crowds of enthusiastic supporters to Silver Oak.  We are committed to making this event a showcase for our sport in every regard."
                   Focusing strictly on jumpers, the event will offer divisions for children,    adults, juniors and amateurs in addition to an international open jumper division for North America's leading Grand Prix riders.  The horse show will benefit the Children's Wish Foundation International and all classes will be USEF recognized.
                   "Silver Oak is an outstanding facility," said two-time Olympic Gold Medalist McLain Ward.  "Dave Birdsall and Jeff Papows are both well    liked  and both have outstanding reputations.  There is no doubt that their horse show will be a premier world-class event.  I look forward to riding there next summer!"
SilverOakEquestrianCenter has built a reputation as one of the leading equestrian sports venues inNew England.  For the past five years it has attracted top Olympic riders and other show jumping stars.  The 150-acre facility is dedicated to providing a first-class experience for equestrian com­petitors and spectators alike.  Its unique grounds offer one of the country's largest grass Grand Prix andDerby fields along with four all-weather rings featuring world-class GGT footing.
Located right off Route 95, less than 50 miles from Boston, Silver Oak features top quality jumping surfaces, first-class equine accom­modations and pristine fields and landscaping.  The HamptonFalls area is also home to many fine restaurants and hotels and is in close proximity to Boston, MA and Portsmouth, NH.
                   "The nation's leading riders and trainers have gotten used to coming to Silver Oak for a world-class horse show and we look forward to welcoming them back next August," said Jeff Papows, PhD.  "They will find a lot of what they liked when they came to Silver Oak in the past and, with the leadership of our new event, some changes that are sure to please them.  This will very much be a 'Riders' Horse Show.'"
 Further information is available at www.silveroakjumpertournament.com and http://www.facebook.com/SilverOakJumperTournament.