For Immediate ReleaseLaura Cardon for Jennifer Wood Media

Wellington, FL – February 23, 2014 – CDI 3* competition wrapped up on Sunday afternoon at the seventh week of the Adequan® Global Dressage Festival (AGDF). After a full week of CDIO and CDI 3* competition, the FEI Intermediaire-1 Freestyle, presented by Peacock Ridge, crowned its winner Sunday morning. Competition concluded for the week with the FEI Grand Prix Freestyle, presented by Stillpoint Farm.

Competition for AGDF 8 will resume on February 28 for the Palm Beach Dressage Derby CDI-W. The feature event of the week, the FEI World Cup Qualifier Grand Prix Freestyle, will be highlighted on the evening of Saturday, March 1.

The FEI Grand Prix Freestyle was a truly international class, seeing riders from Canada, the United States, Germany, Georgia, Brazil, and Italy. American Susan Dutta and her own Currency DC, a 14-year-old Oldenburg gelding, emerged victorious from the class with a score of 71.950%. Canadian Jacqueline Brooks rode to second place with D Niro on a score of 71.275%. Maria Kaldewei (GER) rounded out the top three with a score of 68.625% aboard Die Suesse.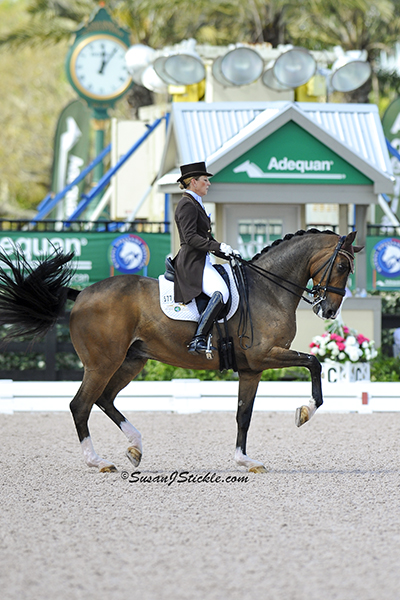 Susan Dutta and Currency DC
Dutta was very pleased with the improvements she saw in her test after making some adjustments to her choreography. "I've done this choreography a few times this year, and I kept having mistakes in the changes. We were finally like, 'Let's change the lines to make it so that we can have some success of a clean trip.' And it was good. It worked. So that was a nice feeling," Dutta explained.
She continued, "I'm just right now trying to get clean, technical tricks. That's a huge success for me. I've never been a fancy choreography rider. I always have great music, but I like to be a safe rider."
Dutta's "Slumdog Millionaire"-themed music was a natural choice, given her husband Tim's Indian heritage. She was particularly drawn to the lyrics, "jai ho," that repeat through her routine; they mean "blessings" in Hindi.
Of her choreography, Dutta commented, "I love the pirouettes on the short end [of the ring] because you can really ride into them. For me, it fixes the habit that I love to over prepare, and I just don't have the time, so they're always good. I love the ending, that fan in the piaffe. I could do those all day long."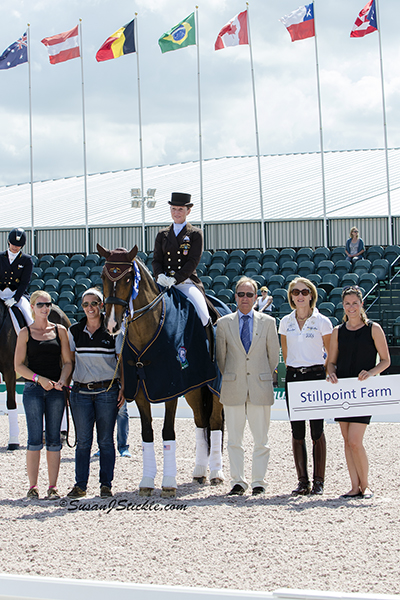 She continued, "I don't do anything too crazy tricky because the horse is pretty flamboyant in those movements, so you want [the judges and audience] to just be able to watch and enjoy him and not be too radical in the movements."
Second place finisher Brooks tried out a new freestyle with D Niro, which she felt went quite well. Her biggest victory was reaching a breakthrough in the gelding's self-carriage. "He's just mature now. He knows his job now. I finally feel like the fitness and the strength and understanding are all at the same level," Brooks remarked.
She elaborated, "This season, it's all about his strength and his self-carriage. That's a scary thing when you start saying to them in the ring, 'Now you go ahead and try to do this on your own,' and you try to give them a little bit less help so you can push them uphill. That I was extremely pleased with today."
A unique challenge of the AGDF for Brooks is tweaking the timing of her choreography to make up for the fact her horse moves differently on the footing of The Stadium. "On this amazing footing, it's different timing than in a normal sand ring. They stay on the surface a bit more here, they gain a bit more ground. You see people will usually finish a bit ahead of their music on this footing," Brooks described.
Brooks actually sees the difference in timing as an advantage with her new choreography, not a hindrance. "I'm really happy with where I'm using up that music. I can make it a bit more difficult. I can take my half passes really to the walls and back, which increased the degree of difficulty," Brooks expressed.
Alix Szepesi (USA) and Majco Thunder's Hattrick topped the FEI Intermediaire Freestyle-1 earlier on Sunday with a score of 68.542%. Second place went to fellow American Bent Jensen and Saracen, who earned a 67.833%. Sonia Zugel of Ireland rounded out the top three with Ungaro with a 67.083%.
Szepesi was quite pleased to see "Hattrick," a 13-year-old Knabstrupper gelding co-owned by Szepesi and Michelle Doucette, coming along nicely during his first year the CDI level.
"He came in, he had good energy. He was on the aids. I think we were right on the music. It was a lot of fun. I got a little over eager in one of the canter pirouettes. We were going into our first canter pirouette and I was thinking 'This is great!' and I didn't keep him connected enough, so he kind of had a little fumble coming out of it," Szepesi explained.
She continued, "Our first line of two tempis was really good, I think the three [tempis] were right on. I think I hit the music like right on. We had a little bobble in our second line of two tempis, but he felt great and it just flowed with the music."
Hattrick enjoys his freestyle music so much, he's memorized all of the markers in the music to transition between movements. Szepesi enjoys feeling him light up in anticipation of the next element of choreography.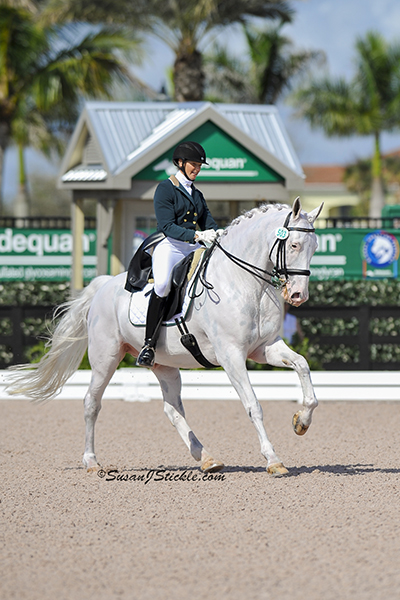 Alix Szepesi and Majco Thunder's Hattrick
Szepesi described that managing Hattrick in a CDI environment outside of the ring has been a big adjustment for the gelding, with the biggest test being how Hattrick would react to staying in FEI stabling instead of going home each day to several hours of turn-out after a National show.
"I really believe in turn-out and he's used to getting turn-out like four or six hours a day, even down here in Wellington. We found a place that has enough turn-out for the horses to go out and have grass and just be normal. What we'd done in the past, [for National shows], we just put him the trailer, did the class, and went home," Szepesi described.
Szepesi credited groom Emily LaGrave for making the smooth transition into CDI possible. "I have a wonderful groom, Emily LaGrave. She stays with him all day. She walks him, and she grazes him, so he's not just standing in the stall. It makes a huge difference," Szepesi expressed.
She continued, "She's been doing an incredible job with keeping him sparkling white. That is all Emily! She gets a lot of compliments on that."
Hattrick's gleaming white coat and spotted skin tends to turn heads amongst the sea of bay and chestnut horses often seen ringside. Szepesi admitted she didn't even know the Knabstrupper breed existed before watching a video of Hattrick, and the gelding simply happened to fall in her lap.
"A Danish dealer that we had worked with before just sent videos. I think he must have just had a video of this horse and he sent to everyone he knew, so we just got this video at the barn one day. We looked at the video and pretty much everybody in the beginning said, 'No, he's got spots,'" Szepesi described.
But a few weeks later, now co-owner Doucette came back to Szepesi to ask about the horse with the spots. The video had struck a chord with her and despite hearing he had already been sold, Doucette urged Szepesi to reach out to the dealer.
"We called the dealer and he said, 'As a matter of fact, the guy's sponsorship fell through and I have the horse back in the barn now.' It's one of those things that was kind of meant to be," Szepesi recalled.
The only trait that stands out more than his looks is Hattrick's remarkably laid-back attitude on the showgrounds. He stood calmly while being adorned with his blue ribbon and winner's cooler before quietly walking into the ring for the awards presentation. He's so quiet Szepesi doesn't even worry about putting protective wraps or boots on him for the victory lap.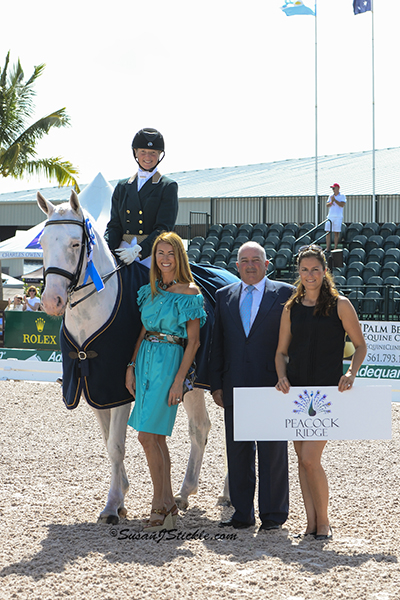 "He's always been like that! The woman that bred him [Ingrid Mikkelsen] actually did some Monty Roberts [natural horsemanship] stuff," Szepesi commented. "She sent us some foal pictures and there were ones of him with the big ball and walking under tarps."
Szepesi will continue to compete Hattrick in the remaining CDI competitions of the AGDF. By the end of the season, she hopes to ride him in an Intermediaire A class to continue to move towards an FEI Grand Prix debut.
Tanya Strasser-Shostak added another blue ribbon to her already impressive haul from AGDF 7 after winning the FEI Young Rider Freestyle, presented by Engel & Völkers. Strasser-Shostak and Action Tyme topped the class with a 70.292%.
Competition for the AGDF resumes Friday, March 28, for the Palm Beach Dressage Derby CDI-W presented by Martha W. Jolicoeur and Maria Mendelsohn of Illustrated Properties.
Full Results for FEI Intermediaire-1 Freestyle, presented by Peacock Ridge
Rider, Country, Horse, Age, Breeding: Judge E%, Judge C%, Judge M%, Total %
1 Alix Szepesi, USA, Majco Thunder's Hattrick, 13-year-old Knapstrupper gelding owned by rider, Jasmin x Thunder Boy: 66.375%, 72.375%, 66.875%, 68.542%
2 Bent Jensen, USA, Saracen, 12-year-old Oldenburg stallion owned by Michael Bitely, Damoiselle x Sciitar: 66.625%, 66.750%, 70.125%, 67.833%
3 Sonia Zugel, IRL, Ungaro, 17-year-old Belgium Warmblood gelding owned by rider, M. Lady One x Weltmeyer II: 67.250%, 66.500%, 67.500%, 67.083%
4 Samira Mayumi Uemura, BRA, Tamarindo XI, 10-year-old P.R.E. stallion owned by rider, Kiv x Maglco VI: 65.625%, 62.875%, 66.625%, 65.042%
Full Results for FEI Grand Prix Freestyle presented by Stillpoint Farm
Rider, Country, Horse, Age, Breeding: Judge E%, Judge H%, Judge C%, Judge M%, Judge B%, Total %
1 Susan Dutta, USA, Currency DC, 14-year-old Oldenburg gelding owned by rider, Cinderella x Clintino: 70.125%, 76.375%, 69.875%, 69.625%, 73.750%, 71.950%
2 Jacqueline Brooks, CAN, D Niro, 15-year-old Swedish Warmblood gelding owned by Brookhaven Dressage Inc., Alitalia x D Day: 71.875%, 74.125%, 70.000%, 70.750%, 69.625%, 71.275%
3 Maria Kaldewei, GER, Die Suesse, 12-year-old Oldenburg mare owned by rider, Wanda x Diamond Hit: 69.375%, 67.500%, 68.250%, 70.375%, 67.625%, 68.625%
4 Silvia Rizzo, ITA, Sal, 15-year-old Lusitano stallion owned by Silvia Rizo & Hof Marabunta, Maia x Mississipe: 64.750%, 67.250%, 66.125%, 66.750%, 67.760%, 66.125%
5 Joanne Vaughan, GEO, Prego, 17-year-old KWPN stallion owned by rider, Evelien x Zazou: 67.675%, 64.875%, 65.000%, 62.500%, 65.125%, 64.975%
Photo Credit: Photos © SusanJStickle.com. These photos may be used only in relation to this press release and must include photo credit.
About the Adequan Global Dressage Festival:
The Adequan Global Dressage Festival (AGDF) is one of the world's largest international and national dressage circuits featuring 8 FEI Dressage events, including a 5* and the only FEI Nations' Cup Series CDIO in the Western Hemisphere. The AGDF offers more than $400,000 in prize money for the six international competitions, making it one of the richest circuits in the world. The Stadium at Palm Beach International Equestrian Center facility includes the Van Kampen covered arena (made possible by Kimberly and Frederic Boyer and family) and four outdoor arenas with world-class footing, 200 permanent stalls, and a VIP seating area for the International Arena fully catered for relaxing and having an enjoyable experience.
Please visit
www.globaldressagefestival.com
or call 561-793-5867 for more information.
Adequan Global Dressage Festival is located at
The Stadium at Palm Beach International Equestrian Center
13500 South Shore Blvd, Wellington, Florida 33414