Lauren Hough and Böckmanns Lazio Win $25,000 Suncast® 1.50m Championship Jumper Classic; Ashton Alexander and Lordano Top Field in Small Junior Hunter 16-17 presented by EnTrust Capital
For Immediate Release
Lauren Fisher and Katie Macleod for Jennifer Wood Media, Inc.
Wellington, FL – January 10, 2014 – The crowds were out in full force at the Palm Beach International Equestrian Center (PBIEC) on Saturday night to watch the women's team earn their sixth consecutive victory in the FTI Consulting Winter Equestrian Festival's (FTI WEF) $75,000 Nespresso Battle of the Sexes. PBIEC also hosted a full schedule of competition during the day, with a win for Lauren Hough and Böckmanns Lazio in the afternoon's $25,000 Suncast® 1.50m Championship Jumper Classic.
Week one of the 2014 FTI Consulting Winter Equestrian Festival, sponsored by The Mar-a-Lago Club, concludes on Sunday, January 12, with the $30,000 Mar-a-Lago Club Grand Prix. The FTI WEF, held at the PBIEC in Wellington, FL, features 12 weeks of world-class competition through March 30, awarding close to $8 million in prize money.
Eric Hasbrouck is the course designer in the International Arena at PBIEC for week one competition and set the tracks for Saturday's classes. In the highlight $75,000 Nespresso Battle of the Sexes,the three-phase contest included speed rounds, match races, and a six-bar competition.
The women's team was captained by Candice King and also included riders Pippa Allen, Nicole Bellissimo, Danielle Goldstein, Brianne Goutal, Lauren Hough, Maggie Jayne, Laura Kraut, Catherine Pasmore, and Debbie Stephens.
Charlie Jayne led the men's team, which included riders Stefano Barcho, Mark Bluman, Lorenzo de Luca, Todd Minikus, Richie Moloney, Samuel Parot, Nick Skelton, Shane Sweetnam, and Hardin Towell.
The first round of competition was the speed round, with a 6 to 4 win for the men. The match races followed, with the men and women competing side by side over identical courses. The men and women tied in that round, each winning five races, to bring the total up to 11 points for the men and nine for the women.
The final six-bar competition was the deciding factor of the evening with the men leading by two points going in. Four men and four women returned from each team with the opportunity to earn two points per clear round. The competition started at 1.60m (5'3″) in height and moved up to 1.70m (5'7″) through two rounds.
Todd Minikus was the only man to jump a clear six-bar round and earned two points for the men, bringing their total up to 13 points, but he then had a rail down in the second round. Maggie Jayne and Catherine Pasmore each cleared round one to bring the girl's total up to 13 as well and tie the teams. The girls moved on to round two, but Jayne had rails down in her second attempt. It was all left to Catherine Pasmore, and she and Bibi Sijgje were the only pair to clear the six-bar in round two to clinch the win for the women.
Pasmore has ridden in the Battle of the Sexes for four years and was very proud to earn the final two points that put the women on top.
"It was so exciting," Pasmore remarked. "I was a little worried that I wasn't going to be able to pull it off, but I am really happy that I did. It is just such a great atmosphere. Everybody comes out and cheers us on. I think it is a really great class because even if somebody comes out to watch it who doesn't know horses, it is really easy to follow along and everybody gets really into it. It is a lot of fun."
Pasmore has had Bibi Sijgje for one year. The mare just turned eight, and Pasmore was very proud of her performance on Saturday night.
"Normally I jump her in her age division, so I have never jumped a six-bar on her and I have definitely never jumped her that big, but she has such a huge heart and she will just try anything," the rider acknowledged. "I wasn't sure what was going to happen, but I knew she would try and she just surprised me. She jumped it amazing."
Speaking about the team camaraderie, Pasmore added, "It was amazing. She didn't actually jump so well in the speed rounds, and I was thinking that I shouldn't go in the six-bar. I said to Laura Kraut, 'Do you think I should forfeit? I don't want to scare her or do anything that I shouldn't do. I don't want to let the women down,' and she said, 'Don't be ridiculous, of course you're going!' I am really happy that I did, and everybody in the schooling area was helping and giving advice, so it was great."
Candice King was very excited to captain the winning team this year. She has been on the women's Nespresso Battle of the Sexes team every year since the class began, and loves the camaraderie between the riders as well. She also thanked Nespresso for their support of the event.
"I had a lot of pressure on me tonight because we have yet to not win, and I am just glad we pulled it off and thank God for Catherine at the end," King stated after the competition. "It is a team effort and everybody contributes. It is just a lot of fun."
"It is a great event and the crowd loves it," King added. "The boys against the girls is great because we don't usually have that. It is fun because it is an individual sport, so we don't get to do a lot of team competition. It is fun to just get all together and support one another."
Michelle McFaul, Vice President of Community Affairs & Special Events for Nespresso USA, Inc. was happy with another exciting Nespresso Battle of the Sexes. She praised the riders for the great effort they put into it, noting that in addition to the winners, the men's team would receive Nespresso machines as well.
Final Results: $75,000 Nespresso Battle of the Sexes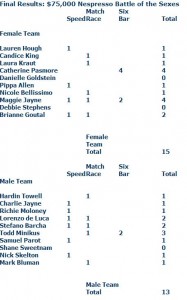 Lauren Hough and Böckmanns Lazio Win $25,000 Suncast® 1.50m Championship Jumper Classic
The $25,000 Suncast® 1.50m Championship Jumper Classic was held on Saturday afternoon with 13 entries and a six-horse jump-off that yielded four double clear rounds. Canada's Eric Lamaze qualified two horses for the jump-off and was first to go over the short course with Artisan Farms LLC's Quelmec du Gery. The pair had the fastest jump-off time of 30.398 seconds, but finished the course with eight faults to earn sixth place honors. Darragh Kenny (IRL) and Oakland Ventures LLC's New Look de Mescam posted the first clear round in 33.233 seconds to eventually earn the third place prize.
Shane Sweetnam (IRL) and Spy Coast Farm LLC's Diktator van de Boslandhoeve jumped next and had a rail down at the final fence with a time of 34.583 seconds to place fifth. Gemma Paternoster (GBR) had a clear round in 44.314 seconds aboard her own and Julia Harrison Lee's Osiris to place fourth. Up next, Lauren Hough (USA) and Karina Rotenberg's Böckmanns Lazio cleared the course in 31.643 seconds to take the lead. Eric Lamaze was last to go with his second mount, Artisan Farms LLC's Zigali P S, but finished just shy of the time to beat in 31.654 seconds to earn the second place prize.
Böckmanns Lazio is a 14-year-old Westphalian stallion by Lancer II x Cor de la Bryere. Lauren Hough just started riding the horse this fall and explained that he has experience showing under several international riders, most recently Cassio Rivetti of Ukraine and Gilles de Baranda of France. Her first show with the stallion was in the beginning of October at the Horse of the Year show in Birmingham, England. Then he flew to America, was in quarantine, and then jumped in Equestrian Sport Productions' New Year's Grand Prix with an unlucky rail.Yesterday they had one time faults in the $25,000 Ruby et Violette WEF Challenge Cup Round 1 as the first to go.
"He has had a lot of mileage, and I am lucky enough to have the ride now," Hough stated after her win. "He does everything so easy, and he is a super competitive horse. He is obviously a beautiful horse. He is a perfect model."
"He is very laid back at home; you can hardly make him go," Hough described. "He doesn't act much like a stallion. Then he is quite aggressive in the ring. He says, 'Okay, it's my job,' and he really takes you to the jump in a nice way and he just suits me perfectly. I am very grateful to the owners for allowing me to ride him."
Hough went in the jump-off knowing that she had the always fast Eric Lamaze still to follow, but managed to keep the winning edge. "I knew he was quite fast with his first horse," she noted. "I think I did one too many strides to the second to last jump because I was going to do one less to the last. I thought I left the door open a little bit, but I think that is also a new mount to him. I think I just got lucky. Even though there were only 13 in the class, it was quite competitive and I was happy to be a part of it."
Final Results: $25,000 Suncast® 1.50m Championship Jumper Classic
1. BÖCKMANNS LAZIO LAUREN HOUGH KARINA ROTENBERG: 0/0/31.643
2. ZIGALI P S ERIC LAMAZE ARTISAN FARMS LLC: 0/0/31.654
3. NEW LOOK DE MESCAM DARRAGH KENNY OAKLAND VENTURES LLC: 0/0/33.233
4. OSIRIS GEMMA PATERNOSTER GEMMA PATERNOSTER & JULIA HARRISON LEE: 0/0/44.314
5. DIKTATOR VAN DE BOSLANDHOEVE SHANE SWEETNAM SPY COAST FARM LLC: 0/4/34.583
6. QUELMEC DU GERY ERIC LAMAZE ARTISAN FARMS LLC: 0/8/30.398
7. CONTINO 14 JONATHON MILLAR MILLAR BROOKE FARM: 4/77.361
8. UNEX OMEGA STAR TIM GREDLEY UNEX COMPETITION YARD: 4/78.184
9. AD AMIGO B ALVARO DE MIRANDA VICTORY EQUESTRIAN & ALVERO DE MIRANDA: 8/75.331
10. FEROX B LORENZO DE LUCA MIKE COLLINS: 8/76.703
11. ROSANA DU PARK CARLY ANTHONY ARTISAN FARMS LLC: 8/79.171
12. AZIBANTOS GEOFFREY CASE GROUP C LLC: 12/81.066
Ashton Alexander and Lordano Top Field in Small Junior Hunter 16-17 presented by EnTrust Capital
Championship presentations continued in the Eugene R. Mische Grand Hunter Ring on Saturday morning, where Ashton Alexander and her 10-year-old mount Lordano, owned by Lynn Seithel, took home the championship ribbon in the Small Junior Hunter 16-17 division, presented by EnTrust Capital.
While the FTI WEF is nothing new for Alexander, it's a new experience being here with the big bay warmblood. "We just got him a couple months ago. This is the first time showing him in a while, so I'm glad he went well!" Alexander said.
Two firsts and two second places over fences along with a third place under saddle for Alexander topped the field, with Cloe Hymowitz and Rose Hill Farm's Enjoy, who were first, second, third, and sixth over fences and won the under saddle, in the one reserve champion spot.
Going into the show ring with Lordano was easy for Alexander, knowing that a simple ride is what he wants most from his rider. "Just sit there and enjoy the ride I think, let him do it," she said. "He knows what he's doing, so stay out of the way. I think he loves that the best."
Alexander has high hopes for the gelding after this week's success. "I'm hoping for him to stay good, and hopefully we can go for Devon and go from there! That's our plan," she noted.
FTI WEF week one, sponsored by The Mar-a-Lago Club, will conclude on Sunday with the $30,000 Mar-a-Lago Club Grand Prix in the International Arena and the presentation of championship honors to the Greenspoon Marder Law Large Junior Hunter 15 & Under in the Rost Arena. For full results, please www.showgroundslive.com.
Photo Credit: Photos © Sportfot, An Official Photographer of the FTI Consulting Winter Equestrian Festival, us.sportfot.com. These photos may be used only in relation to this press release and must include photo credit.
About FTI Consulting, Inc.
FTI Consulting, Inc. is a global business advisory firm dedicated to helping organizations protect and enhance enterprise value in an increasingly complex legal, regulatory and economic environment. With more than 4,000 employees located in 24 countries, FTI Consulting professionals work closely with clients to anticipate, illuminate and overcome complex business challenges in areas such as investigations, litigation, mergers and acquisitions, regulatory issues, reputation management, strategic communications and restructuring. The company generated $1.58 billion in revenues during fiscal year 2012. For more information, visit www.fticonsulting.com, and connect with us on Twitter (@FTI Consulting), Facebook, and Linked In.
About the FTI Consulting Winter Equestrian Festival
The 2014 FTI Consulting Winter Equestrian Festival has 12 weeks of top competition running from January 8 through March 30. The FTI WEF is run by Equestrian Sport Productions, LLC, and Wellington Equestrian Partners and held at the Palm Beach International Equestrian Center. All 12 shows are "AA" rated and Jumper Rated 6, and more than $7 million in prize money will be awarded.
Please visit www.equestriansport.com or call 561-793-5867 for more information.