Wellington, FL – March 15, 2013 – The Adequan Global Dressage Festival (AGDF) hosted an entertaining night of equestrian sport at the WEF Dressage Classic, CDI 3* presented by Today's Equestrian & Fellows on Friday. The night's schedule included an opening $10,000 Puissance won by Great Britain's Tim Gredley and Unex Valente, which led into the highlight class of the week, the FEI Grand Prix Freestyle sponsored by Horseware Ireland. The winning score of 74.625% was put up by Tina Konyot (USA) and Calecto V for their second freestyle win in a row at the AGDF. The CDI 3* continues through Sunday, March 17.
The judges for tonight's freestyle included: Carlos Lopes at E, Bo Ahman at H, Anne Gribbons at C, Isabelle Judet at M, and Janet Foy at B.
Konyot and Calecto V performed their fun and familiar freestyle in front of a crowd of enthusiastic spectators at The Stadium at Palm Beach International Equestrian Center. The judges scored them with 74.625%. Going last in the order, Jacquline Brooks of Canada and her 2013 Olympic partner D Niro had a spectacular freestyle to a cheering crowd for second place and a score of 71.425%. Mikala Munter Gundersen (DEN) and My Lady were third with a score of 69.800%.
Konyot described Calecto V, a 15-year-old Danish Warmblood stallion by Come Back II x Rastell owned by Konyot and John Byrialsen, as "not the nervous type," and she was very happy with her performance tonight. "He's very laid-back and you have to create a lot, but he's right there for you. He felt very nice this evening. I had a couple of little bobbles in my changes, (but) I had some very good things. At the end, I had a mistake, and I created a piaffe out of it, so it was okay! Improvising blended in. My horse is such a confident, comfortable horse. He enjoys the attention; he loves it."
Konyot needs one more score in order to qualify the FEI World Cup Finals and said she is preparing for the Finals and feels confident. "I'm comfortable with my planning right now. We all have to peak at the right moment, and I'm headed in that direction at this time," she said.
She added, "Jacqui was fabulous!"
Brooks and D Niro have come a long way since their first grand prix in late 2011. Since then, Brooks has seen her "nervous" and "tense" horse become comfortable in large, loud venues. She explained, "I was very careful with the venues I picked then to show him in. I didn't put him in any nighttime venues. I chose smaller, daytime shows with less crowds. That plan worked great going to the Olympics. After that is when I started chasing these shows. My plan now is to be in every big stadium that I can. Now I'm very confident in him that he can go into big stadiums and he enjoys it, probably more than the smaller venues now."
Brooks even feels that D Niro is "a big venue horse" now. "He really finds himself in there. Today he was very, very happy in there," she noted. "He wanted to do all that work. I have to say, of all those big venues, those have been my best tests. The Olympics was the best grand prix I've ever done on him."
Gundersen and My Lady are working towards getting more experience for their top scores. Despite a setback to a disturbance with another horse in the warm-up yesterday, Gundersen said that My Lady returned today as "happy and quiet again."
Of her test tonight, she explained, "My horse was excellent tonight. I made some major mistakes. I was behind the music and I got a little nervous and hectic about that. I tried to just ride my way around! I don't know how it happened; I know this music so well. This music wasn't made for her. I must have been riding very slow or something! (But) I was enjoying the moment. My pirouettes were wonderful. Lady was great."
After the winter season, Gundersen will travel and compete in Europe.
Gundersen believes that each experience helps her horse. "I think My Lady is still a little bit green here. She's still gets a little bit distracted by the surroundings. For sure she still needs to go and see a lot. That's why we're going to Europe. You have to go out and play with the big guys," she said.
Herslow and Rosmarin Are Tops in FEI Prix St. Georges
Earlier in the day, the FEI Prix St. Georges was held with victory going to Kim Herslow of New Jersey on Rosmarin. They scored a 73.728%; second place went to Caroline Roffman (USA) and Her Highness O with a score of 71.404%. Canada's Christilot Boylen and Dio Mio placed third with a score of 70.614%.
The judges for the Prix St. Georges were Sandy Phillips at H, Anne Gribbons at C, and Ulrike Nivelle at B.
Herslow found Rosmarin, an eight-year-old Hanoverian gelding by Rosentanz x Weltmeyer, as a three-year-old (coming four) and they worked together through the levels. They competed at the Fourth Level at last year's AGDF, and did their first Prix St. Georges at Devon last year with a fantastic second place finish. This was only their fourth time competing at Prix St. Georges, and they will continue in the Intermediaire-1 and Intermediaire-1 Freestyle tomorrow and Sunday.
Herslow remarked, "It's been a long process to get to this point, and it's been a long road and a lot of hard work. He's eight now, yesterday was his birthday. He's everything I could have ever wished for; he's the whole package."
"Today he was more with me and really focused on me. We're still developing strength and getting everything really solid. I'm totally thrilled with him," Herslow said of her test today.
Herslow looks forward to competing in the I-1 and I-1 Freestyle this weekend. "He's nicely been climbing the ladder and handling the work really, really easily. We have a really super partnership and I'm so grateful to have a horse like him now, that I've been able to make myself," she said.
Tim Gredley and Unex Valente Jump Great Heights in $10,000 Puissance
The $10,000 Puissance high jump competition was held on Friday evening at The Stadium at PBIEC prior to the FEI Grand Prix Freestyle presented by Horseware Ireland for the Adequan Global Dressage Festival. Great Britain's Tim Gredley and Unex Valente and Germany's Johannes Ehning and Salvador V went head to head over the wall in four rounds of competition with Gredley winning at a final height of 6'11" (2.10m).
The competition was held as a fun exhibition with slightly modified rules. The two competitors were allotted up to five rounds (first round and four jump-offs) with two attempts at the wall in each round if necessary. The wall began at 5'4″ (1.65m) in round one with both horses and riders jumping clear in one attempt. It then went up to 5'11" (1.85m) with two more clear rounds. In round three, Gredley and Valente cleared the 6'5″ (1.95m) wall on the first try and Ehning and Salvador took two attempts to jump the obstacle. Once the wall went up to 6'11" (2.10m) in round four, Gredley jumped clear, and Ehning opted to withdraw. Gredley earned the winning $7,000 for his effort and then, in an exciting twist, decided to jump higher.
Equestrian Sport Productions' CEO Mark Bellissimo offered up $10,000 more if Gredley could clear the wall at 7'6″ (2.31m) or $5,000 just for attempting it. Gredley and Valente made two valiant efforts but rubbed the blocks off the top in both tries. They still came out of the day with $12,000 and a great experience.
Unex Valente, owned by Unex Competition Yard, is an eleven-year-old KWPN gelding by Gentleman x Sit This One Out that Gredley has had since the horse was four. The pair has a lot of grand prix experience together, but has only shown in one other Puissance, winning over 7′ and also attempting 7'6″ in Kentucky this past fall.
"I did the indoors in Washington and Harrisburg and Kentucky and I just thought I would try it once in Kentucky and straight away, the first round, he felt like he was going to be a good one," Gredley stated. "This is only the second one that he has done, but both times he has just been unlucky at 7'6″. I know the horse; I have had him a long time and it makes a big difference when you can trust them a little bit."
"He is really easy actually," Gredley added. "Other horses that I have done in Puissance classes before, they normally start backing off, but he just keeps the same stride all the way down and he actually starts to take you, which makes it a lot easier. In hindsight, maybe I was a little bit off the first time. I was a little bit unlucky the second time, but he is just a really nice horse."
Johannes Ehining's mount Salvador V is a fourteen-year-old KWPN stallion by Calvados x Voltaire, owned by Nybor Pferde GmbH & Co. KG. The pair has had great grand prix success and this was their first time attempting the Puissance wall.
"For my horse, I rode him also once in a derby qualification in Hamburg and he is super brave, so I thought that maybe he could do it," Ehning stated. "This was the first time, but I wanted to try it once with him. He is fourteen years old now; he has enough experience for that, so there was reason to try it once."
"This is my best horse," Ehning said. "In the last few years he has had a lot of good results in the grand prix. He has won four and five-star grand prix. I rode a few six-bars with him and he won a lot of those, so it was a good thing to try it here. That is also the reason that I didn't go more rounds though, because he is my best horse and I didn't want to over ride him. Tim's horse looked really comfortable with the wall and mine was really getting a little bit hot. I didn't want to do too much with him."
Both riders enjoyed coming to the dressage facility at The Stadium at PBIEC for a change of scenery for their horses and a new experience. "It was really well organized, it was no problem at all," Ehning noted. "We talked about getting to ride in the really nice indoor and this ring is also nice, so it is something different."
Para-Equestrians Begin Competition
The Para-Equestrians started their competition today to garner their team scores. The winner of the FEI Para Team Grade 1a was Jody Schloss (CAN) on Inspector Rebus with a 63.913%. In Grade 1b, Ashley Gowanlock and Ferdonia 2 from Canada earned a 65.200%.
The Grade II winner with a score of 68.922% was Lauren Barwick (CAN) and Off to Paris. With a score of 57.456%, Eleanor Brimmer (USA) and Carino H were the top in the Grade III class. The Grade IV victory went to Lynne Poole (CAN) and Vasco E with a score of 64.048%.
The WEF Dressage Classic CDI 3* presented by Today's Equestrian & Fellows continues tomorrow with the FEI Grand Prix Special and FEI Intermediaire I highlight classes. The Para-Equestrians have their individual score classes, while the Florida Youth Championships presented by Dressage4kids and sponsored by PanaCavallo will begin as well. General admission at the Adequan Global Dressage Festival is always free, so come out to The Stadium to watch top dressage competition on Saturday and Sunday.
For full results and more information, please visit www.globaldressagefestival.com.
Final Results: FEI Grand Prix Freestyle
Rider, Country, Horse: Judge E%, Judge H%, Judge C%, Judge M%, Judge B%, Total%
1 Tina Konyot (USA), Calecto V: 72.625, 71.875, 76.750, 77.000, 74.875, 74.625
2 Jacquline M. Brooks (CAN), D Niro: 71.750, 67.500, 73.125, 71.500, 73.250, 71.425
3 Mikala Munter Gundersen (DEN), My Lady: 68.750, 69.375, 68.625, 71.750, 70.500, 69.800
4 Cheryl Meisner (CAN), Paganini: 66.500, 66.875, 67.250, 68.250, 68.250, 67.425
5 Jill Irving (CAN), Pop Art: 69.125, 66.125, 65.625, 68.875, 65.875, 67.125
6 Olivia LaGoy-Weltz (USA), Rifallino: 65.375, 62.375, 64.500, 65.750, 64.750, 64.550
7 Diane Creech (CAN), Devon L: 61.875, 62.250, 63.500, 64.375, 67.250, 63.850
Final Results: FEI Prix St. Georges
Rider, Country, Horse: Judge H%, Judge C%, Judge B%, Total%
1 Kimberly Herslow (USA), Rosmarin: 71.447, 73.684, 76.053, 73.728
2 Caroline Roffman (USA), Her Highness O: 70.921, 71.316, 71.974, 71.404
3 Christilot Boylen (CAN), Dio Mio: 68.421, 72.368, 71.053, 70.614
4 Silva Martin (USA), Rosa Cha W: 67.500, 69.868, 67.895, 68.421
5 Maya Markowski (CAN), Lumiere: 68.026, 67.763, 65.658, 67.149
6 Susan Dutta (USA), Lumberjack 12: 66.842, 67.632, 66.842, 67.105
Photo Credit: Photos © SusanJStickle.com and Sportfot, and Lindsay McCall. These photos may be used only in relation to this press release and must include photo credit.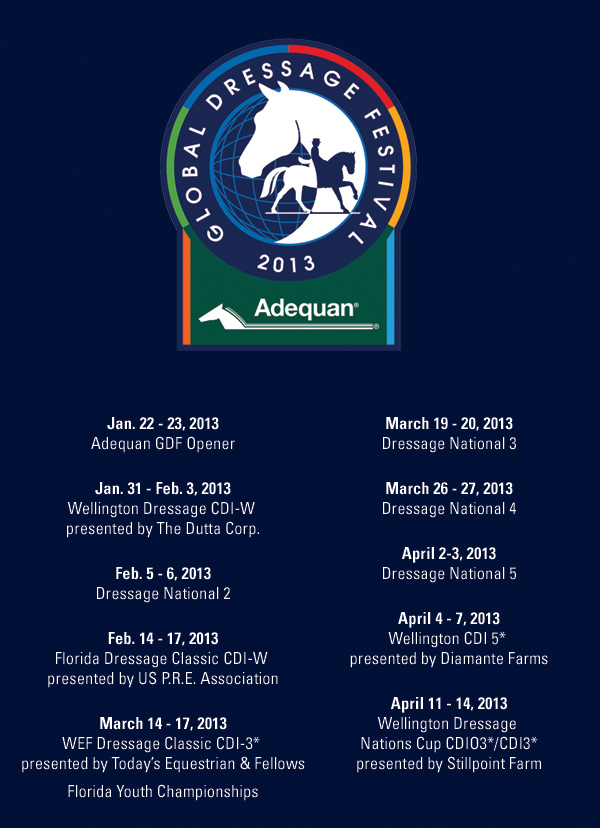 About the Adequan Global Dressage Festival:
The Adequan Global Dressage Festival (GDF) is one of the world's largest international and national dressage circuits featuring five CDIs, including a 5*, the first non-championship CDIO Nations' Cup in the Western Hemisphere, and nine U.S. national events.The Adequan GDF is offering more than $275,000 in prize money for the five international competitions making it one of the richest circuits in the world. In addition to the CDIs with national competitions, the Adequan GDF will feature six separate national shows to be held at the Stadium section of the Palm Beach International Equestrian Center (PBIEC) show grounds. The Adequan GDF encompasses almost 60 acres of the former Palm Beach Polo Grounds. The facility includes the Van Kampen covered arena (made possible by Kimberly and Frederic Boyer and family) and four outdoor arenas with world class footing, 200 permanent stalls, and a VIP seating area for the International Arena fully catered for relaxing and having an enjoyable experience.
First Founding Sponsors: Matt Varney, Chris and Rob Desino, Wellington Equestrian Realty; William Pearson and Janet Richardson-Pearson, Chesapeake Dressage Institute of Annapolis, MD; Devon and Terri Kane, Diamante Farm; Joe and Gaye Scarpa, Magnolia Farm; Tuny Page and Family, Stillpoint Farm; and Kimberly and Frederic Boyer, United States P.R.E. Association
Founding Sponsors: Ashley Holzer and Diane Fellows, Today's Equestrian; Bethany Peslar, Everglades Dressage; Betsy Juliano, Havensafe Farm; Carol and Rebecca Cohen, Two Swans Farm LLC; Janne Rumbough, MTICA Farm; Mike & Roz Collins; Suhail and PJ Rizvi, Peacock Ridge; and Tim and Susie Dutta, The Dutta Corp.
Corporate Sponsors:
Brown Distributing, Champion Equine Insurance, Charles Owen, Chronicle of the Horse, Custom Saddlery, Der Dau, Dever Golf Carts, Equestrian Services International (ESI), Elite Equestrian Magazine, European Dressage Connection, Everglades Farm Equipment, Gold Coast Feed & Supply, Horse Of Course, Horseware Ireland, Interagro Lusitanos, Moet Hennessy USA, Nespresso USA, Paddock Cakes, Palm Beach Equine Clinic, Pennfield, Piaffe Performance, Premier Equestrian, Ritz-Carlton, Palm Beach, Rolex, Sanctuary at PBIEC, Show Chic, Sidelines Magazine, World Equestrian Brands
Please visit:
www.globaldressagefestival.com
www.equestriansport.com
or call 561-793-5867 for more information.
Adequan Global Dressage Festival is located at
13500 South Shore Blvd, Wellington, Florida 33414