(SPRUCE MEADOWS, Calgary, AB): With a record five day crowd of 117,336 braving the heat, the 2012 Spruce Meadows 'North American' Tournament was wrapped up on the last day of the Spruce Meadows Summer Series. Murray Roth, Vice President Finance & CFO Akita Drilling presenting the winners' trophy to Daniel Bluman. (Photo by Spruce Meadows Media Services) With the Olympics fast approaching, the Sunday of the 'North American' Tournament marks the last International competition for many riders before the opening ceremonies in London.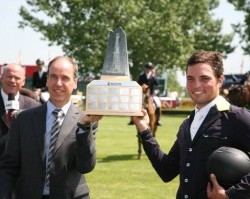 Read more at the source: 2012 Spruce Meadows Summer Series Wraps Up
Article excerpt posted on Sidelinesnews.com from Show World.
Double D Trailers Info