Hello everyone, I hope everyone had a wonderful weekend! A weekend away from the horses allowed me to discover my new favorite European city…HAMBURG!  The food Hamburg offers is absolutely amazing with so many choices I could eat at a different restaurant every night for a year! The people of Hamburg are friendly, warm, and extremely patient when it comes to someone learning a new language like ME! Hamburg has so many sites to see, this weekend I chose The Harbor Birthday Celebration and the Storage City. Hamburg's Harbor is the largest in Europe and is the main exit and entry hub for all the trading goods. The old Speicherstadt which literally means  "storage city" is an incredible city quarter of Hamburg. It used to be the inventory space for items traded like rugs, carpet, textiles, and tea.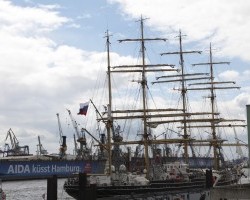 Read more at the source: A Sunday in Hamburg: The Harbor Birthday and The Storage City
Article excerpt posted on Sidelinesnews.com from An American In Germany.
Double D Trailers Info