Lexington KY – July 28, 2012 – The Rolex Stadium was alive with excitement as 34 entrants competed in the $40,000 Kentucky Summer Grand Prix at the Kentucky Summer Horse Show. It turned into a nail-biter as five competitors progressed into the jump-off with a clear first round effort. Trailblazer Pablo Barrios aboard Zara Leandra was the first to post a double-clear effort tonight, and it seemed as though no one would be able to best the talented team.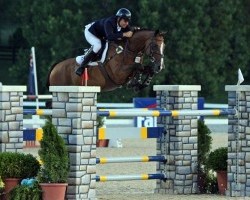 Read more at the source: Aaron Vale and Tibor Take $40,000 Kentucky Summer Grand Prix Victory
Article excerpt posted on Sidelinesnews.com from Show World.
Double D Trailers Info