By Laura Scaletti
Portraits by Melissa Fuller
In 2020, as the COVID-19 pandemic began wreaking havoc on the world, Bill Rube, like many of us, was looking for a reason to smile. After a five-year hiatus, Bill found his way back into the saddle again when COVID forced the Gleneayre Equestrian Program in Lumberton, New Jersey, to shutter operations.
"When the program shut down and the kids couldn't come out, we still needed to get the horses exercised. It was all hands on deck to keep the horses in work," Bill said. As executive director of the Gleneayre Equestrian Program, Bill happily answered the call for these "other duties as assigned" and quickly got back into his riding groove.
The pandemic not only rekindled Bill's love for riding, it also helped him reevaluate what he wants to do in life. "COVID forced everyone to hit a pause button. I've learned I no longer want to run around at 50 miles an hour. Instead, I want to leave a positive impact in everything I do," Bill said.
A lifelong equestrian, Bill has been involved in all aspects of the hunters from breeding to showing at the highest levels. Today, Bill hopes to share his love for the sport and its traditions with his fellow equestrians and future generations.
#RubeRidesAgain
While exercising the horses at Gleneayre, Bill realized riding was just what he needed to cope with COVID. An avid social media user, Bill started using the hashtag #RubeRidesAgain to share his journey with friends and followers.
It didn't take long for Gleneayre Equestrian Program Founder Ellen Healey and Managing Director Alison Johnson to convince Bill he needed to buy his own horse. "We found a horse, Elliot, for me in a backyard. I thought, Okay, I'll ride this horse for pleasure to fill the void," Bill said. "But I couldn't just ride around the farm. I'm a competitive person. I needed to get back into the show ring!"
When it came time to give Elliot a show name, Bill had the perfect name picked out. "I named the horse Reason To Smile because he gave me that opportunity. With him I was able to head back to shows and see my friends. To fill my cup, I need to be at shows, watching my horses improve and competing myself," Bill said, adding that his husband, Joe Miraglia, supports him every step of the way.
In March 2021, Bill headed south to World Equestrian Center — Ocala to join Reason To Smile and trainer Will Baker. As Bill was transitioning Elliot from his pleasure horse to show partner, Will had come to Gleneayre to give a clinic to the kids. "After I watched a few sessions of the clinic, I asked Will if he could get on my horse. He clicked both with Elliot and with training me," Bill said.
As Elliot was a green horse, Bill was prepared to simply enjoy watching his and Will's progress in the show ring, while taking a few lessons during his time in Ocala. However, his friends had other ideas.
"My friends Jake Parker Wymard and Ginger Wymard, with Ashcome Sporthorses, asked if I would show their horse Chatham. I asked them if they were sure, and told them I wasn't sure if I'd even be able to make it around the whole course. Everyone pushed me into it, and I had the time of my life," Bill said. "I felt like a kid again!"
Once Bill got back into the show ring, he was hungry for more. "At 65 years old, I only have about two rounds in me a day, so my goal is to do the 3' derbies and jump the high options. I've decided these days, I'm only showing at events where I can have fun," Bill said.
Bill isn't just finding his joy in the saddle, he's also inspiring others to do the same. "The number of messages I've gotten from people saying I'm an inspiration to them is amazing. You don't realize the impact you have on others. That's why I share my journey, the good, the bad and the ugly," Bill said.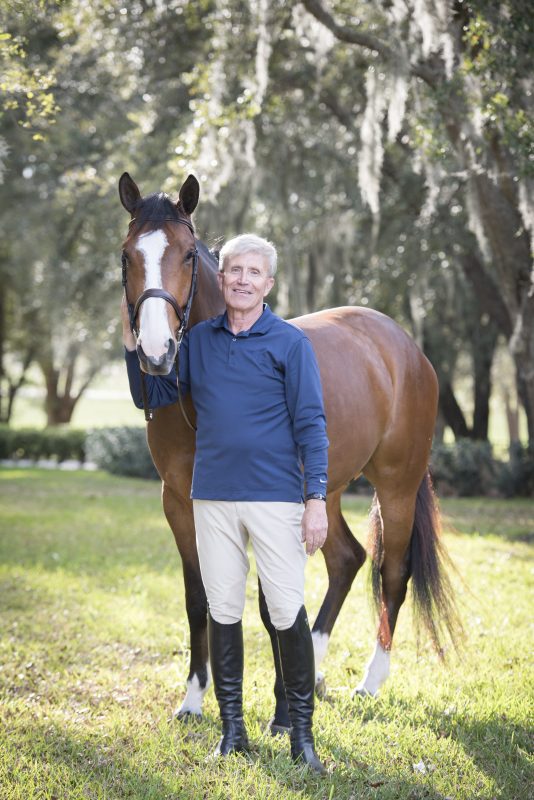 Bill Rube in Ocala, Florida
Giving It Away
When it comes to Bill, his life is an open book. He feels that sharing your experiences in life, your strength and hope, empowers you as well as others.
One aspect of his life that he freely shares is his ongoing sobriety journey. "On July 26, 1983, I had my last drink. Prior to that, I had been to rehab 25 times. They considered me hopeless, and I started to believe that," Bill said. "I will soon have 39 years of sobriety, God willing, and that means I will have spent over half of my life sober, as I turn 66 on September 15."
Someone gave Bill, a very spiritual person, a card back in 1983 that he has today. "It had the Footprints poem on it asking the Lord why when I needed you the most were you not there for me. He answered, 'When you only see one set of footprints, I carried you,'" Bill said. "I had heard that many times, but when I was given the card it was monumental in helping me get my act together."
Just like the poem, Bill has learned he can't be on this journey alone. "The self-help groups AA and NA have been huge for me. One addict needs to help another; you can't keep what you have unless you give it away," he said.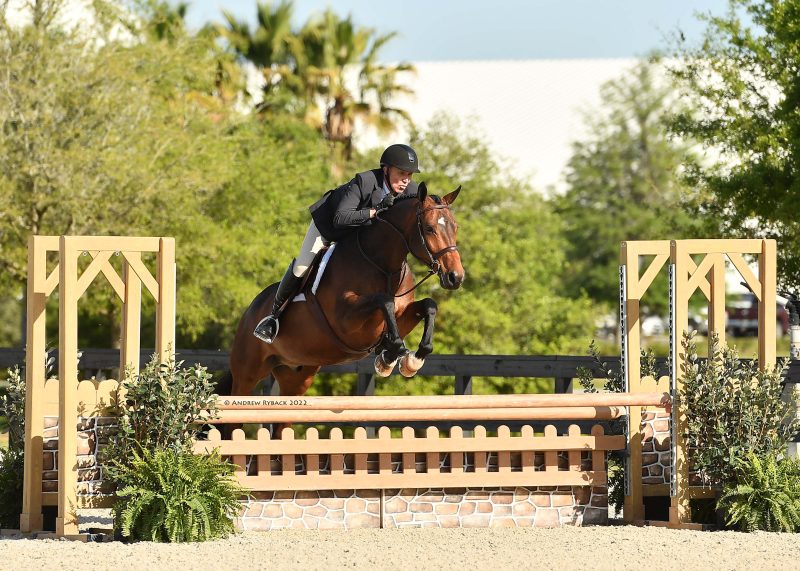 Bill competing at the World Equestrian Center in Ocala, Florida.
Photo by Andrew Ryback Photography
In helping others, Bill's also helping himself. "It's so important to me to stay active in the recovery community. I'm not a guru, but I want to be available to anyone who needs something, like so many were and still are to me," Bill said. "I need to pay it forward."
Bill not only helps those in recovery, he also spends time advising those who have a loved one who is struggling. "It's a fine line: You want to help your child, but you can't enable them. If you constantly pick up the pieces, they will never get better. Sometimes the best way to help someone is not to help and practice tough love," he said.
Through his own journey, Bill wants others who are struggling with addiction to know that nobody is hopeless. "There is always hope. There is a light at the end of the tunnel if you follow direction," Bill said.
Bill is the executive director of the Gleneayre Equestrian Program in Lumberton, New Jersey. Gleneayre is a special program where at-risk youth 10 to 18 years old participate as working students.
No Coincidences
Bill believes there are no coincidences in life. Everything happens for a reason. Many years ago, Bill owned a horse, Mystery Date, who wound up being donated and retiring at Gleneayre. "When he passed away, they contacted me and his other previous owners, to let us know," Bill said. Fast forward several years and Bill would find himself serving as the executive director for the program.
"Gleneayre is a special program where at-risk youth 10 to 18 years old participate as working students. They each get assigned a horse and are responsible for taking care of their horse, and learn horsemanship," Bill said. As the kids progress and grow, they get more advanced horses to work with.
Not only do the participants learn horsemanship, but they also learn skills to cope with society. "We have some kids who won't even make eye contact when they enter the program. To watch them start to make friends, grow and get comfortable interacting with me and each other, it rewards me every day," Bill said.
A kid at heart, Bill cherishes his time spent interacting with the kids. "These kids remind me of me. When I was growing up, I learned horsemanship and had to clean stalls to have lessons. It's so much fun going to the barn and just enjoying the horses with them," he said.
"Who knows how I would have turned out if I had access to a program like Gleneayre when I was a kid. I would have qualified for it and may have turned left instead of right," Bill said. "I'm so glad these kids have access to heal themselves via horses."
A strong believer in bringing children and horses together for the betterment of each other's lives, Bill spends a lot of his time networking with the equestrian community to obtain donations to keep the program in operation.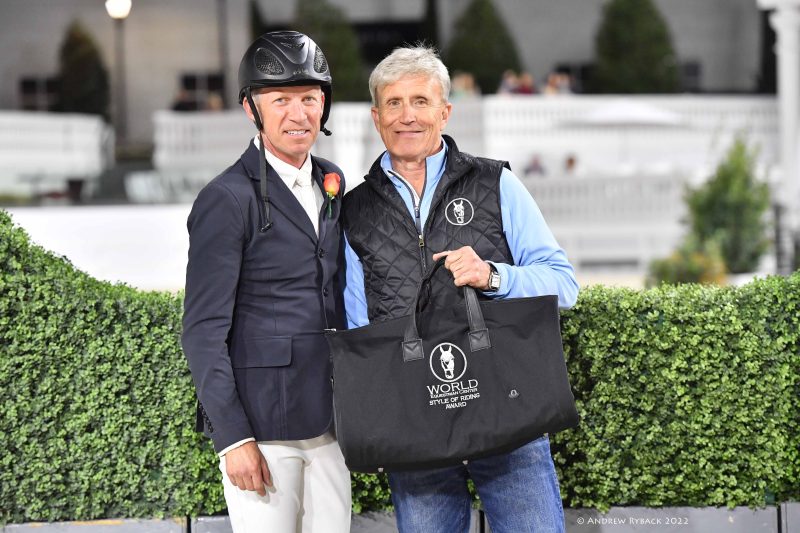 Bill awarding Jeff Gogul with the Style Of Riding Award at the World Equestrian Center in Ocala.
Photo by Andrew Ryback Photography
Honoring Traditions
Bill is passionate about preserving the history and tradition of the hunters. While he worked for the USHJA, Bill started the Wheeler Museum to pass the sport's rich history on to generations to come.
"I want to make sure future generations not only know the history of the sport, I want to see the art of horsemanship passed on. A lot of kids today depend on so many other people to compete. I want people to get back to the sport's roots and become more hands-on," Bill said.
That's why Bill created and started awarding his Style Of Riding Award at select horse shows around the country back in 2015. "I like to watch an entire class, watch people train in the schooling area, see the outcome in the ring and then watch how the rider interacts with their horse after showing," Bill said. "I like to award people who display the best style, have good sportsmanship, help people in the industry and treat the horses with respect.
"The most deserving recipient will be one who serves as a role model for preserving the integrity of our sport and maintaining a standard of excellence and tradition in their riding," Bill continued.  Each winning rider receives a rose pinned on their lapel and a duffel/garment bag to celebrate their accomplishment.
For his part, Bill hopes to keep active in the sport and honoring its traditions as long as he can. His immediate plans are to continue watching his two horses, Center Of Attention and Roulette, develop with Will. "I hope to start showing Center Of Attention soon. This winter I was very lucky to get the ride on Independence M and compete in a derby on him in the main ring at the World Equestrian Center — Ocala," he said.
No matter what the future holds for Bill, two things are certain: If you see him at a horse show, he will be there with a huge smile on his face, enjoying every moment.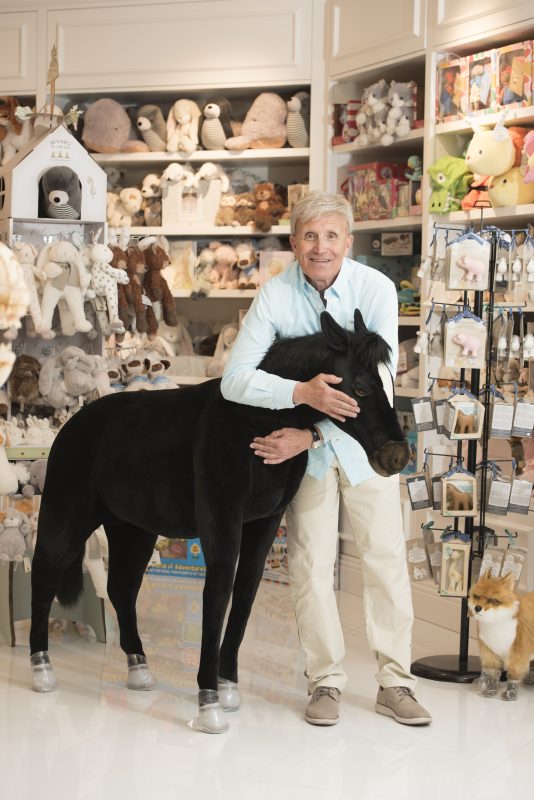 Bill, with a stuffed horse at the World Equestrian Center in Ocala, uses the hashtag #RubeRidesAgain to share his journey with friends and followers.
For more information, visit www.gleneayreequestrian.com and follow Bill on Facebook and Instagram
Photos by Melissa Fuller, msfullerphotography.com, unless noted otherwise
Double D Trailers Info