By Doris Degner-Foster
Portraits by Kathy Russell
Catie Staszak, broadcast journalist for ESPN, NBC and the FEI, may have had an entirely different life and career were it not for a sign on the side of the road.
She was only 3 years old when her family moved to South Florida from Philadelphia, Pennsylvania, but she remembers a particular drive near her home shortly after their arrival. Her mother noticed a sign on the side of the road advertising a horse show, which led to riding lessons for Catie, and helped to determine her career choice.
"I grew up in a very sports-oriented family," Catie said. "I first thought about getting into journalism when my dad and I would debate about sports. Our favorite show has always been 'Pardon the Interruption' on ESPN, but I learned I could combine journalism with horses when I was in a junior equitation challenge where participants had to ride, present a course design and write an essay. By winning the essay portion, I was given the opportunity to write a column for Sidelines where I conducted my first internship when I was in high school. That experience led to more opportunities, ultimately influencing my decision to major in broadcast journalism in college."
At the University of Miami, Catie became involved with the university's broadcast station where she produced, directed, edited, wrote and was on the air. Following her love for equestrian sports, she earned an internship at Gulfstream Park racetrack during her senior year, which turned into her first job just after graduation. Catie was the youngest handicapper in the country on the national simulcast and followed that with a job with ESPN West Palm, where more opportunities came her way.
Building Foundations
Although Catie accomplished one of her biggest childhood dreams of riding in the Medal and Maclay Finals in 2009 and 2010 and is currently ranked fifth in the country in the Ariat Adult Medal standings, she began riding in a low-key, relaxed manner. "I started out in a Western saddle with a bicycle helmet at a very small backyard barn," Catie recalled. "I was only 3 years old, so there wasn't all that much that I could do, but I showed in a few Western pleasure lead line classes." Catie loved the experience and when she was able to ride independently, her mother, Cathie Staszak, began to look for a place where she could learn more.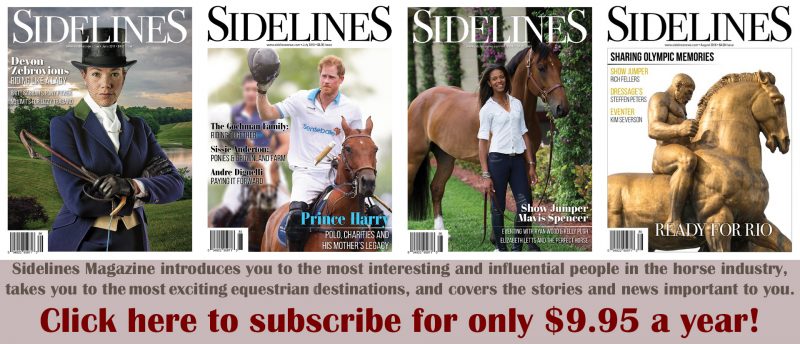 A more structured riding program began for Catie at Tan Line Stables in Delray Beach, Florida.
Then, to help her chase her dreams of top equitation competition, she began riding at Castlewood Farm in Wellington, training with Alan Korotkin and Susan Tuccinardi. "The trainers at Castlewood are the people who really took me to the next level," Catie said. "I always dreamed of doing the Medal and Maclay Finals. I love the equitation and the challenge of executing something very technical and doing it as close to perfection as possible. It's the foundation of American show jumping."
Catie discovered her dreams would be realized when she went to Castlewood Farm, because it wasn't a matter of if she would go to the Finals but when. Catie competed in 2009, and while not in the ribbons, she was especially proud of her ride in the 2010 USEF Medal Finals on L. Alta Vida — affectionately known as Pokey — whom she leased for her last junior year. "Going to all the Finals was my dream, and to be able to achieve that was huge for me. I was really proud," she said.
Being an Adult
Pursuing a university degree was always a priority for Catie. As she began college at the University of Miami, she continued to drive to Castlewood Farm in Wellington, but with the distance and with her class schedule, she wasn't able to get there as often as she liked. Susan helped set up a closer alternative for Catie with Tiffany Morrissey of East Wind Farms in Ft. Lauderdale, closer to the University of Miami. Tiffany helped Catie to continue riding around her busy academic schedule.
"Tiffany Morrissey at East Wind, as well as the entire Morrissey family, are a huge influence in my life professionally, personally and as a rider," Catie said. "Susan and Tiffany have been tremendous people who have helped facilitate so many of the great opportunities that have come into place for me. It's so helpful to have people like them in your corner."
Catie emphasized that her parents, Ray and Cathie Staszak, were, and still are, extremely supportive of her and her riding, but once she was in college, Catie began paying for her own riding expenses since her parents were financing her education and also dealing with the costs of some health issues in the family.
Not being able to afford her own horse or to lease extra horses for a weekend show helped make Catie even more appreciative of what she was able to do, and to refrain from comparing herself to others. "I'm a firm believer that it's not about how big you're jumping; it's how well you're jumping the fences," Catie said. "Everyone has something that they're going through; it may look amazing on the outside, but I'm sure everyone has their own struggles.
"My parents are my biggest fans, and I know if they could give me a barn with 10 horses, they would, but that's just not our situation," Catie said. "I believe that you can get to where you want to be; it just takes hard work and always appreciating what you have."
Career Focused
Catie graduated from the University of Miami at the top of her class and with a perfect 4.0 GPA. Armed with her hands-on experience at the university and aware that the traditional path for broadcast journalism would be to put in her time covering mainstream news before getting to do sports — and even longer before being able to specialize in horse sports — Catie interned, and was subsequently hired, at Florida's Gulfstream Park racecourse. She acquired valuable on-air experience as the youngest handicapper in the country on a national simulcast. She also spent time working at ESPN West Palm, where she covered mainstream sports and occasional equestrian competitions in Wellington for the local WPTV News Channel 5 and Fox 29. Catie was also a SportsCenter update anchor on ESPN 106.3.
Aware that her choice of career was very competitive, Catie tried not to let criticism bog her down, especially when someone wrote on the internet when she was working at the race track. "They said, 'She must know what she's talking about, because it's obvious she wasn't hired for her looks,'" Catie said. "I took that as a compliment because I want people to listen to me, not just look at me. It is challenging to take rejection, but sometimes it just means that it might not be the right time for that opportunity, and if I keep working I might get it the next time."
Through the Morrissey family, Catie did the commentary at the Great Lakes Equestrian Festival in Traverse City, Michigan, which led to her getting hired to do commentary at more shows. "I was at the American Gold cup two years ago and NBC was there doing the World Cup class," Catie remembered. "It's been my dream to work with NBC and I really do believe that even if the odds are stacked up against you, it's got to be somebody so why not you? With that thought in mind, I went up to Tim Singer, the director, and said, 'Hi, my name's Catie, I'm doing the commentary here for Show Net up until your World Cup class. If there's anything that I could possibly help you with please let me know, and if you ever need anyone here's my resume.'"
Although Catie admitted to feeling petrified before she took the plunge and approached him, Tim Singer sought her out within an hour and asked her if she would report for them. "I went on and did the reporting with NBC Sports for the Gold Cup that year," Catie said. "The next time I saw them was at the Palm Beach Masters and they asked me to be the commentator and do the color commentary there for the FEI and NBC Sports."
Being able to do one good job has led to more for Catie, and it has happened as a result of hard work and attention to detail. She is scrupulous about doing her own research, and talks with the course designers and walks the courses with the riders. As a rider herself, she better understands the course complexities and is well prepared before commenting on a class or reporting on a competition. She has accomplished another dream to join the Longines FEI World Cup Jumping North American League, working with them at all the World Cup shows. Catie has also been added to the Nations Cup circuit this year and was a moderator at the FEI Sports Forum in Lausanne, Switzerland. Her goal is to use her background in the equestrian, mainstream media and broadcast industries to help increase the exposure of the sport she loves most.
"Show jumping in America may never reach the popularity of the 'big four' sports —football, basketball, baseball and hockey — but we can certainly bring it closer," Catie said. "I hope to educate more people about the sport and to share the many inspiring stories in the industry to help new fans connect with horses and riders. That way, they'll want to keep following their journeys and maybe eventually want to get involved in the industry themselves. The other big part is excitement and passion, which I try to convey every time I'm on-air. If I'm not excited about what I'm talking about, how do I expect anyone else to be?"
Early in her career, Catie adopted the idea to be a "one-woman band." In addition to doing her own research, she often shoots her own video and edits her own pieces. She recently incorporated her business, Catie Staszak Media, Inc., where she offers producing, writing and media consulting in addition to her on-air talent.
"Other shows now hire me directly to do commentary," Catie said. "It went from me being afraid of when my next job was going to come to being really busy. I have bookings through next March and April so I'm really fortunate."
Combining Both Passions
Although Catie's career involves a lot of travel, she still works with Tiffany Morrissey to ride as much as possible. Catie admits that finances are a struggle since she is on her own and just starting out in her career, so she rides horses that are for sale at East Wind Farm. She started riding a grey mare called Agnes, a former school horse, simply because she was available and to everyone's surprise, it has worked out very well.
"I started riding her because we didn't have any sales horses at the time and Tiffany said, 'Well there's always Agnes,' and I really got along well with her," Catie said. "I showed her one time because there was nothing else in the barn and we put her in a medal class and she won, so we just kind of kept going. We had this connection and as she went she got better and better and really confident. She's so good at her job and so happy, she's like a really different horse."
Catie and Agnes have continued to strengthen their bond as time has gone on. They've competed at Capital Challenge the past two years, and in 2017, they were eighth in their first attempt at the Ariat National Adult Medal Finals.
"Being at the indoor finals with this mare was really special," Catie recalled. "I'll never forget the first time we went, Tiffany said to me, 'We're going to have to bring the horse to Capital Challenge, aren't we?' People who used to have her say they can't believe she's the same horse. One calls us soul mates!"
Catie and Agnes Augusta, the former school horse, are currently ranked fifth in the country for the Ariat National Adult Medal standings. Although Agnes is currently owned by East Wind Farms, Catie hopes to someday buy her and give her a home for life. "I get very attached to horses; the one horse that I do own — Sobrie — was my first horse when I was 6. We rescued him from neglect, and he turned 24 this year. That just goes to show you that it's very hard for me to let go!"
Catie is delighted to have successfully combined her work with her love of horses and riding. She said, "At Capital Challenge, I get to compete and be on air, which is great fun."
While it sounds quite busy, Catie wouldn't have it any other way. Last year at Capital Challenge, she completed her lap of honor on Agnes and immediately hopped off to run up to the media booth — still wearing her helmet — to do the commentary for the next class.
And to think it all started with a sign on the side of the road.
For more information, visit www.catiestaszak.com
Photos by Kathy Russell Photography, www.kathyrussellphotography.com
Double D Trailers Info