by Meagan DeLisle
Despite life's many twists and turns, Colleen Acosta used her determination and passion for the sport to help her grow. Through hard work and sacrifice, she has worked her way through the ranks in the equestrian industry. With grand prix dreams, Colleen went from riding whatever horse was thrown at her to running her own facility and seeing her dreams unfold thanks to her never-ending dedication to the sport.
Like many equestrians, Colleen began riding at a young age with her mother, a trainer. She bought her first pony, Sprinkle, for $100 from a sale yard. "He was as mean as he could be," Colleen laughed, "but he taught me so much." As she grew up, she had many opportunities to ride the sale horses that came in and out of her mother's barn. "I was never as fortunate to have the horses I have now in my barn; I didn't have horses like that growing up at all," she said. Colleen began showing in walk/trot at the age of 5 and continued showing in the local arenas, eventually moving up to A shows.
After graduating from high school, Colleen began selling horse trailers to make money and continued to ride, dreaming of the day she'd ride in the grand prix. "I idolized every single person who was competing at that level," Colleen recalled. "That was all I ever wanted, so I rode everything I could." It was at that point in her life when Katie Young of Coriander Farm in Jacksonville, Florida, took Colleen under her wing. To this day Colleen attributes her further riding-skill development to her time with Katie.
"I'm a very ambitious person," said Colleen, as she spoke of all of the hard work she put in during her formative years as a rider. "I am where I am just because I've been so hungry for it." That hunger, and a marriage of now 17 years, took the young couple to Texas when her husband, Tracy Acosta, reenlisted in the Navy to help better support their small family. There, she began working for Jim and Joan Henson of Foxglen Farms for a few years before moving on to work with Matt Cyphert for five years.
Great Opportunities
After many years of building up her resume, the opportunity came along for Colleen to run Showtime Farms in Southlake, Texas, owned by Dale Binder. "That step was quite scary. I'm a firm believer in hard work and doing things correctly and fairly, and I think everything comes back 10 times more if you do that," said Colleen. Five years later, the decision has paid off and Colleen is grateful to Dale for the opportunity.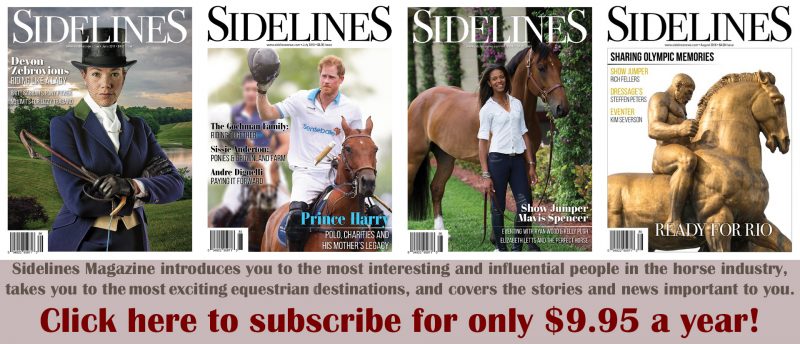 After moving to Showtime Farms, Colleen acquired several talented grand prix horses, including a special horse Diamond who was purchased for a student to show in the 1.30m classes. After an incident that bruised the rider's confidence, Colleen encouraged them to allow her to show Diamond and the father of the rider suggested she try him in the grand prix.
"I still tell him to this day that I thought he was crazy," Colleen laughed. "I knew the horse was willing, so I gave it a shot and he ended up winning his first two grand prix." Diamond continued to impress, ribboning in many classes winning two weeks in a row at Brownland and once at Gulf Port.
Unfortunately, Diamond passed away last February due to a bowel rupture, a devastating blow for Colleen. "That really set me back quite a bit emotionally," she said tearfully, "and I just wasn't sure if I could do it again." Knowing how heartbroken Colleen was, her equestrian family rallied around her and her good friend and fellow horseman Richard Cheska helped her find some quality imports from Belgium to help get her back into the show ring. "He was really trying to help me find another horse. Of course, another horse would never replace Diamond, but we were looking for a quality horse similar to him that would keep the program progressing."
Reaching Goals
While Colleen is striving toward marking off some bucket-list items such as riding in Europe, she appreciates the place she is now in her career. Colleen is quick to acknowledge that the strength and support of her hardworking team at Showtime Farms has definitely helped her in achieving her goals. Looking back on her past and remembering the hard times along the way, she has one piece of advice to her younger self and other young riders out there.
"Hard work pays off. Being honest and fair pays off," Colleen said. "Stick to the grindstone and stay motivated. There is light at the end of the tunnel. Even now when things are really good, you know something bad is going to happen and you have to be OK with it. Brush the bad things off and keep going."
Photos courtesy of Colleen Acosta, unless otherwise noted
Double D Trailers Info