By Dani Moritz-Long
Like so many before her, Jennifer Flanagan was born with the horse bug. She longed to feel the wind in her hair as she galloped through the fields, take in the scent of the velvety coat beneath her and end her day to the comforting sound of horses munching hay.
There was just one problem: mobility.
A spinal cord injury she suffered at 18 months old left her legs paralyzed — which complicated her cowgirl ambitions. Unable to walk on her own, Jennifer relied on crutches to get around in her youth. More recently, to alleviate the stress on her arms — which aren't meant for bearing the entirety of one's weight — she's begun to rely on a wheelchair.
Crutches and wheelchairs, however, have never defined Jennifer's life, and she's always managed to overcome any challenges her disability might create. Horseback riding, she knew, would be no different.
So, she begged her parents for time in the saddle, determined to find freedom aboard a horse. Unfortunately, while her parents avidly encouraged her to pursue other passions, like T-ball and 4-H dairy cattle showing, horses remained on the restricted activities list.
"I grew up showing in 4-H," she said, "but we showed dairy cattle because that's what my parents had done and their parents had done. I used to, during the 4-H shows, go watch the girls on the horses and go through the barns dreaming of being like them."
Today, while she very much remembers her frustration with being a ringside voyeur, she understands her parents' caution. "I think they knew I'd be galloping through the fields," she said. "And they were probably right. It was a safety issue."
Something Missing
While for many years she put her dreams of riding aside, Jennifer's innate love of horses couldn't be squelched forever. As she approached her mid-30s, she found something was missing. She had a successful job and a wonderful marriage, but, she says, she knew a part of her was broken.
And then she realized it. All these years later, she still longed for that feeling of freedom she knew she could only find on the back of a horse. She informed her husband, researched riding schools and found the perfect facility in Wisconsin, where she lived at the time. Looking for a place she could learn without her disability holding her back, she found the ideal facility to develop as a rider.
Just as she expected, it was love at first ride. Fear, apprehension and nervousness didn't feature in her initial encounter. Quite the contrary. As her feet slid into the stirrups and she found herself looking between her horse's ears, she found the peace, tranquility and the liberty she had been longing for since her days as a 4-H spectator.
"Riding feeds my soul, and it gave me this freedom of movement that I never had," she explained. "We could go trail riding through the woods, which is something I could never walk myself. It made me realize I'm free to move basically wherever a horse can take me."
Taking Things in Stride
For three years, Jennifer reveled in that freedom — very specifically at the walk and trot which, on its own, was a feat she was proud of. After all, learning to give horses commands with two dressage whips instead of legs is undeniably a praise-worthy accomplishment. Certainly, walking and trotting was something she was content with. Cantering, however, was a different story.
"It's a feeling of flying," she said, "which is terrifying when you're older and already injured."
But Jennifer's kind of talent shouldn't go to waste, and her trainer knew it. Satisfied with Jennifer's foundation and ability, her trainer encouraged her to take the next steps and ease into cantering.

Finally, Jennifer acquiesced — but only after she found the perfect training tool at the Minnesota Horse Expo. The local vaulting club was present with their vaulting machine that you could try for $5. It was a machine that simulated a smooth canter motion, and it was exactly the confidence builder that Jennifer needed.
"It allowed me to get the motion down without worrying about steering," she said. So, when Jennifer finally did pick up the canter aboard an actual horse, she was ready.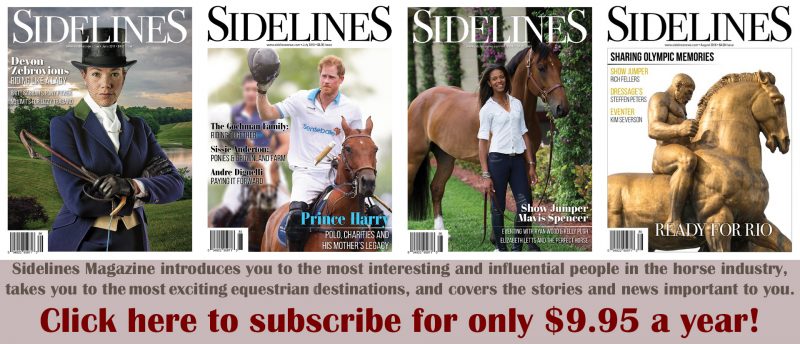 Down Centerline
After perfecting the walk, trot and canter, Jennifer was eager to take on the next challenge — which came in the form of competition. She now competes with the U.S. team for para-reining, but her true passion lies with the relatively new discipline of western dressage.
Western dressage, she says, is something that came naturally to her and, while she still relies on a reader to call out the test during competitions ("just in case"), she's always felt comfortable with the sport. "What I love most about western dressage is that there's so much opportunity for growth," she said. "It takes years of building that bond to get to that level [of quality performance]. You can start off small and stay at that level as long as you need it and when you're ready to move up the levels, you can."
She also enjoys the extensive feedback you receive as part of the sport. Like with classical dressage, each movement receives a score and tests often feature judges' comments.
"I love that you get this very extensive feedback on all your maneuvers," she said. "When judges comment and say, 'What a team, you really understand each other,' that's the greatest praise."
Western dressage is also a sport she can compete in in able-bodied divisions as well as in para divisions. In fact, during last year's Western Dressage World Show she emerged as World Champion for the physically challenged/heroes on horses division.
"All I could think was I never dreamed that I would be competing at the World Show," she said of her championship win. "It certainly wasn't what I planned when I started my horse journey, but I am so proud of the way it turned out. I am very grateful that the Western Dressage Association values the importance of making their show inclusive of all riders and making every level feel like a true athlete."
Giving Back
Today, while Jennifer continues to compete — she's excited to return to the 2017 Western Dressage World Championship in Oklahoma September 28 to October 1 — she's also starting a new chapter in Aiken, South Carolina, where she now resides. As the executive director of Great Oak Aiken Therapeutic Riding Center, a new-construction, 20-acre farm that will open its doors soon, she looks forward to paving the way for others to find freedom, confidence and joy aboard a horse.
"I've experienced firsthand having the type of encouraging environment where it doesn't matter what your disability is; it's what your ability is," she said. "Great Oak is giving me an opportunity to re-create that for the hundreds of people who are going to be coming through over the next years."
The facility will also, she laughed, be an opportunity to encourage others to join in on the fun of western dressage. "I'm not going to lie,'" she joked. "I'm going to be steering people into the western dressage world."
For more information about the Western Dressage Association of America and the WDAA 2017 World Show, visit www.wdaa.org.
Double D Trailers Info