In all horse sport, there's a risk that you might hit the deck. But if you're an event rider, that is pretty much guaranteed.
There's no doubt that eventers are a hardy breed, and while everyone may enjoy different aspects of the three phases of competition, the reality is that you don't event unless you like riding cross-country. I think I speak for many riders when I say there's no greater feeling than when you have successfully tackled a difficult cross-country course and you and your horse have come away tougher and stronger from the experience.
This feeling can certainly be an addiction, and I believe it's what keeps many riders in the sport for years! But as the saying goes, "Some days you're the windshield and some days you're the bug," and when you become the bug, you need to be able to deal with it.
I recently had a big fall on cross-country at a competition and it was the hardest one I've had for a few years. I've always prided myself for being someone that can take a hit. It's been a while since I have been actually broken and needed to go to the hospital, so of course I had some time for personal reflection. Very thankfully, my horse is totally fine, but I suffered some badly broken ribs, a mild concussion and a fracture to my foot among other things. On this occasion, it was a freak accident caused by poor ground at the end of the day, and we were ultimately both very lucky. He's a talented horse that just got caught out on the day—poor guy!
When this happened, it made me realize that there's a process I go through, both immediately after falling off and in the days and weeks afterward.
When I'm past the point of no return and have hit the ground, the first thing that I do is check if my horse is OK. It's important to make sure that someone has caught the horse and that the grooms have been connected with him or her so that they can care for the horse and check for any injury.
Then it's about having an honest assessment of myself. If I'm standing up, I always check to be sure I can move all of my limbs; if I've hit my head, am I dizzy; am I bleeding; can I breathe OK; and is anything obviously broken? I think being very honest with yourself immediately after a fall and knowing your own body means that you can be helpful to the hard-working medical team that supports us at each event. I'm also a big believer in having the best safety equipment for myself and my horses. I always wear an air jacket and I'm confident that it has saved me from significant injury over the last 15 years. I wear helmets that reach the highest safety standards, and I alwaysreplace my helmet if I have had a fall and hit my head.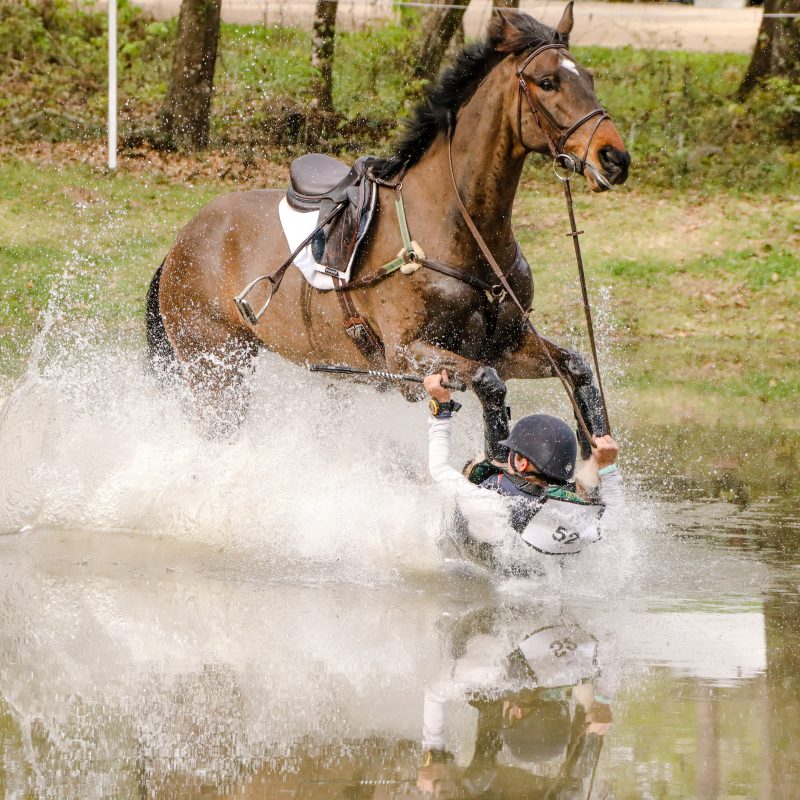 Thankfully, in most situations, falls that happen in competition are frustrating and disappointing rather than catastrophic. With this in mind, it's about the next steps for you and horse, and the path to the next competition. It's important to have a quick review of why the fall happened—this is a chance for you to be very honest with yourself and try to learn what could have been done better. My rule has always been to take what you can learn from the situation and throw the rest away. Dwelling on it will not help you or your horse in the future, but if you can learn from what went wrong, then it's a benefit. Equally important is thinking about what your horse needs after the experience.  Perhaps he or she has lost some confidence and you need to address the area in question before the next show. Maybe there are some things that you could improve on in your own riding and training to prevent another incident, or perhaps you need a different bit, tack, studs, etc.
The reality is that eventing is not a safe sport and sometimes falls happen, but the horses and people that do this sport do it because they love it. Being able to learn and improve from each situation is what makes you better in the long run. The important things are to be resilient and tough in your mind, to always put your horses first and to never give up when there are some bumps in the road.
Double D Trailers Info