By Laura Scaletti
Portraits by Melissa Fuller
You can't lose, you can only learn. It's this message from Jordan Gibbs' mother, Erin, that has made Jordan a rising star in the equitation and jumper rings at 14 years old. "I always keep that in the back of my mind when I enter the ring, because it's true. You might not always have a good day, but you can always learn from it," Jordan said.
Jordan and her brother, 2020 Maclay Finals Winner Dominic Gibbs, have been fortunate to share numerous good days as they have made their mark on the show circuit. "We've spent a lot of years together doing horse chores, squished together in trucks, entertaining each other on long roads trips and sleeping in the strangest places to chase dreams," Dominic said. "I love that I get to share the horse bug with Jordan. I adore her."
COLORADO ROOTS
Raised on a small horse ranch in rural Colorado with brothers Dominic and Patrick, Jordan's earliest experiences with horses were a bit more rugged than what she experiences on the show circuit today. "We had a lot of chores on the ranch–learning to drive the four-wheeler manure spreader, mucking, breaking ice in water troughs in the winter and being careful of rattlesnakes hiding in the hay," Jordan said.
An eventer herself, Erin started all the kids on her horse, Norsk. Dominic and Jordan quickly fell in love with horses and never looked back. "Patrick rode with us, about twice, and has never touched a horse since," Jordan chuckled.
Neither Jordan nor Dominic had to look too hard to find a ride at the ranch. "We seemed to collect rescue horses and ponies, in addition to my mom's retired eventer and two yearlings. There was always something for us to ride," Jordan said.
One of Jordan's fondest memories from their time on the ranch was going on trail rides that ended in picnics. "My parents would lead us out to the most amazing viewpoint on our ranch. We'd tie up the ponies, eat and then head back home," she said.
At age 6, Jordan made her debut in the show ring on her pony Slam Dunk (Duncan) in the walk/trot classes. Not only did Duncan help Jordan learn the ropes in the show ring, but he also gave her some fun experiences outside of the ring. "Together we did parades with the Pueblo Sheriff's Posse, a group my mom rode with. We also foxhunted with The Fort Carson Hounds, although we chased coyotes around the prairie rather than foxes," Jordan said.
In 2013, Jordan's parents realized the family needed to sell the ranch and move closer to civilization for school and work. Once they got settled into their new home in Colorado Springs, Jordan started working with Karen Catov-Goodell and was introduced to the world of A-rated horse shows. "Without the foundation we learned from Karen, neither Dominic nor I would be as successful as we are today," Jordan said.
Jordan's pony Party Time, a Paint mix from an Indian reservation, helped her get her feet wet in rated competitions. While Party Time helped Jordan first experience rated shows, Dominic's medium pony GF Elliot made Jordan competitive at the A-rated show level. "When Dominic outgrew GF Elliot, I took the reins," she said. "It was so much fun to have the opportunity to show a 'division pony'—even if it was in the cross-rail division."
Although there's a four-year age difference between Dominic and Jordan, when they were both showing ponies, they regularly had to compete against each other. "Since there are so few ponies in Colorado, the smalls, mediums and larges were always a combined division. It was really tough when I was on a small and Dominic was on a large, because I wanted to win so badly," Jordan said. "But he's always been an inspiration and shared his tips and tricks with me on how to ride his ponies or horses."
OPEN DOORS
Having a sibling who has achieved success in your sport can be both a blessing and a curse. "Sometimes I feel like I'm under extreme pressure to ride like him and I get scared of only being known as 'Dominic's sister' and riding his horses," shared Jordan. "It's nice to have his horses to ride and he's so supportive of me, but it does feel like I have big shoes to fill."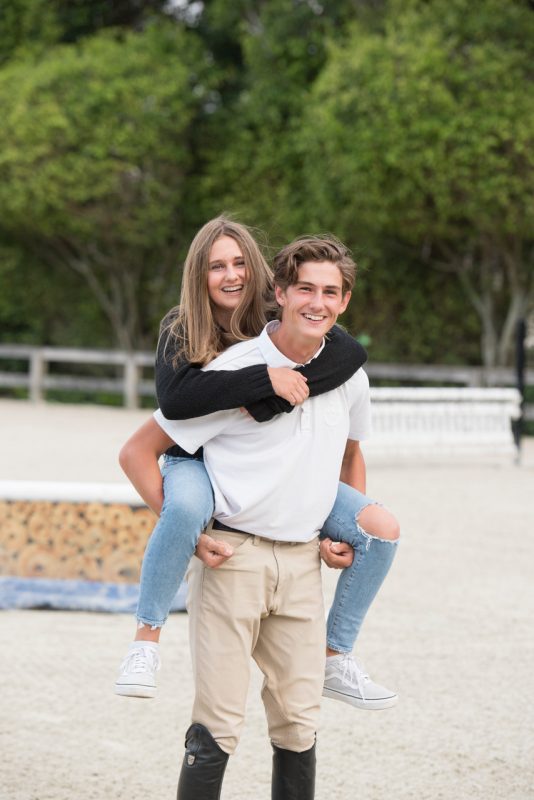 As much as Jordan appreciates the doors Dominic opens for both of them, she also wonders if she would be at the level she is without him. Dominic disagrees. "Jordan is doing things now, at her age, that I wasn't doing at her age," he said. "She handles the sport better than anyone I know. She's right on my heels and I love watching her move up in the sport."
In 2018, Dominic began working with Katie Monahan Prudent. While in Lake Placid that summer, Katie struck up a conversation with Stacia Madden encouraging her to take Dominic on and train him for the equitation ring.
At that time, Jordan was still in the pony division, but seeing Dominic work with Katie and Stacia motivated her to put the paddock boots and ponies away and move up to horses. "The following winter, 2019, we sold our ponies, and I completed my first Winter Equestrian Festival doing the children's hunters on Perseus YC," she said.
JUGGLING IT ALL
Prior to COVID hitting, Jordan was not only a competitive equestrian, but she was also a gymnast. Jordan was constantly traversing the country for either horse shows or gymnastics meets. Realizing she had to pick one sport to focus on, Jordan decided to step away from gymnastics. "I was state champion three years in a row, so gymnastics was hard to give up," she said.
Jordan jokes she doesn't even know what regular life is anymore. "Competing at this level for my brother and me, it's changed our whole world and the lives of our family and horses. We have all given up a lot so Dominic and I can train and be competitive," Jordan said.
One adjustment has been switching from traditional school to join the Score Academy. "They offer in-person learning in Florida and virtual classes when we are traveling or home. Score allows the flexibility to spend long stretches of time in New Jersey to train at Beacon Hill with Stacia," Jordan said.
Although Jordan won't have the "traditional" high school experience complete with dances and football games, she's excited about the opportunities that come from attending a smaller school where everyone knows each other. Jordan has even been able to start a new club, "Sock Out Cold Feet," at her school and made a difference in her local community.
"It turns out that socks are the most requested and needed items in homeless shelters. My club of high schoolers has reached out to companies to make connections and kickstart the effort," Jordan said. "Bombas Socks generously donated 500 pairs of socks, Horse Scents is covering the cost of shipping and LoveKess Clothing donated T-shirts for us to give as thank to anyone who donates $25 to our cause."
FORGING HER PATH
Dominic may have opened the doors for Jordan to have the opportunity to work with both Stacia Madden and Katie Prudent, but Jordan is forging her own path with in both the equitation and jumper rings. Currently she is showing in the equitation and hunter rings with Stacia, while she is working with Katie with her jumper Douwe.
In 2021, Jordan first walked into the Big Eq classes on Limitless, the equitation horse Dominic was on when Katie approached Stacia to take the reins of training Dominic. "He won the Hamel 3'3" Championship with my brother and made me feel proud every time we trotted into the ring."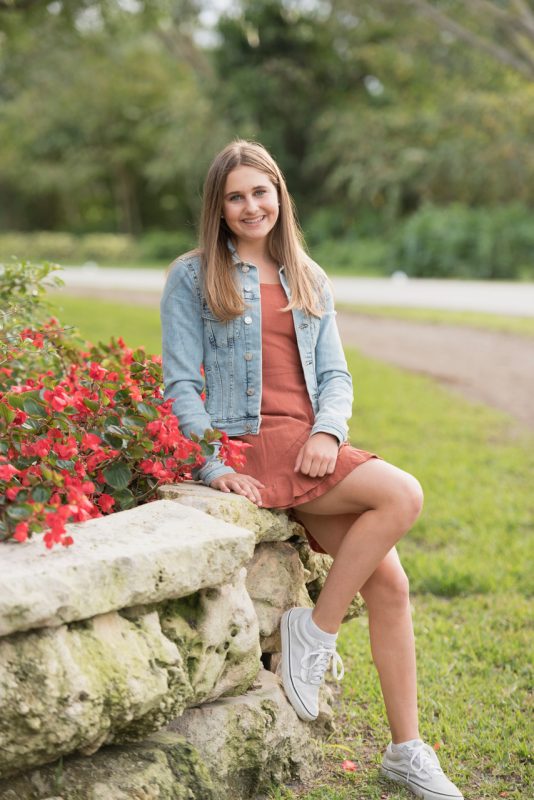 Jordan loves the challenge of the equitation ring as it's a constant quest for perfection, each round requiring hours upon hours of training. "On social media you see all the success the riders have in the equitation ring and it looks easy, but you don't see the hard work behind it all. I've witnessed how hard Dominic worked to get to the top of the equitation ranks," Jordan said.
In June, Jordan had the opportunity to start showing Dana Vollbracht's Five Star in the 3'3 Younger Large Junior Hunters. "We've been champion every time out. At the East Coast Junior Hunter Finals, we were Reserve Champion," Jordan said. "I'm so excited for this fall's indoors with him!" 
Jordan is learning the ropes in the jumpers on Douwe. "I recently moved up to the Low Junior Jumpers on him. Douwe blows me away every time I walk in the ring and I'm so grateful I get to ride him," she said. "I love doing the jumpers because you go fast, turn tight and it feels like there is less pressure because it's just you against the timer."
In August, Jordan competed at the North American Youth Championships (NAYC) held in Traverse City, Michigan, in the Children's Jumpers both as an individual and on the combined Zone 8, 9, 10 team. Jordan walked away from her first NAYC winning both the team and individual events.  
"Representing my country and Zone 8 and winning the team event was absolutely incredible. I'd never really had a chance to compete on a team before, other than at IEA shows, so this was a different and amazing experience for me," Jordan said. "The atmosphere of NAYC was electric and international with a lot of culture and language on display."
Jordan's experience at NAYC is just one step in her future goal of representing Team USA at the highest level of the sport. "I am building a foundation I can build on. At a lower level I have learned how team events work, how a single rail or time fault may cost the team a gold medal," Jordan said. "Most importantly NAYC gave me so much confidence that I'm on the right track." 
To reach her goal, Jordan plans to keep working hard in and out of the saddle. "I want to go to college so I have the business skills necessary to run my own training and sales business. In fact, Dominic and I often talk about starting our own business someday," Jordan said.
At this point, Jordan can't imagine a future without horses. Much like her first Big Eq horse, Jordan believes her opportunities in the sport are limitless.
 Photos by Melissa Fuller, msfullerphotography.com, unless noted otherwise
Double D Trailers Info