Del Mar, CA – August 30, 2012 – Leave it to Michelle Parker to outdo herself by not only posting the fastest clear round time of the day, but the second fastest as well. Today's $32,000 Showpark Jumper Classic was a race against the clock as thirty-six horse and rider combinations gave it their all in the one-round speed competition. Many riders were preparing their mounts today for this Saturday's $50,000 World Cup Grand Prix, however with only four clear rounds posted, numerous riders became aware that a new level of performance would have to be met to earn those valuable World Cup Qualifying points.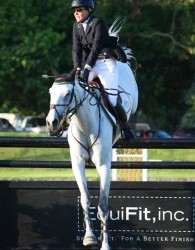 Read more at the source: Michelle Parker Is Uncatchable in the $32,000 Showpark Jumper Classic
Article excerpt posted on Sidelinesnews.com from Show World.
Double D Trailers Info