Editor's Note: Pony riders from all across the country have descended on the Kentucky Horse Park for 2012 Pony Finals. Sidelines Magazine has some "on the scene" pony kids who are reporting about all of the events at the exciting show, while photographer Emily Allongo takes great photos for us! Our Pony Tails "reporter kids" are going by the initials P.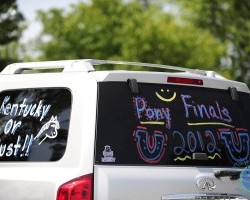 Read more at the source: Pony Tails: Warm-Up Day by P & R Pony Kids
Article excerpt posted on Sidelinesnews.com from Show World.
Double D Trailers Info