18-year-old Rocketman readies for exercise on the treadmill. I've had some interesting dinner conversations with my fellow professionals about extra exercise for our horses, more specifically whether to use a treadmill or a walker. The general consensus has come back in favor of the treadmill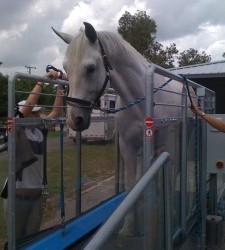 Read more at the source: The treadmill.
Article excerpt posted on Sidelinesnews.com from In The Irons.
Double D Trailers Info