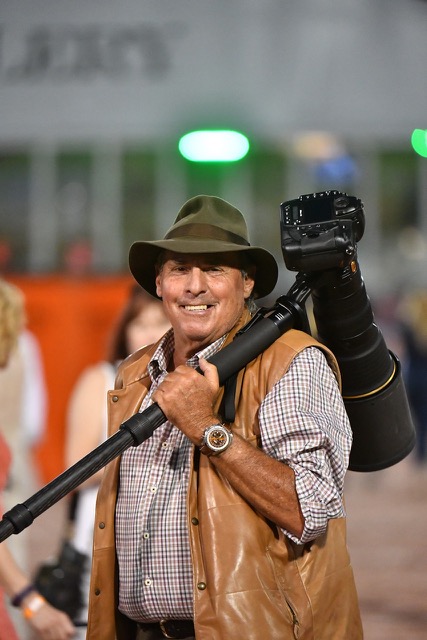 By Lisa Engel
James Parker is the founder of James Parker Photography, which began in 1982, as well as founder and owner of The Book LLC, created in 2008. The Book is a photographic group that creates coffee table books chronicling the bond between horses and their riders made up of photographs spanning circuits and prestigious finals competition, sometimes even over a two-year period. They currently follow over 100 riders. The Book not only captures beautiful jump shots, but also includes photographs that illustrate the bond between horse and rider as well as family and friends.
Why did you choose photography as your vocation? 
I was an investment banker, but as a child there were always cameras around our house. I liked to tinker with the cameras and I rode every day. After 15 years as an investment banker, I took a camera to a horse show and took some pictures. Someone asked me if they could buy the picture and at that moment, my decision was made. I was in business.
What's your favorite photo you've taken?
While I don't really have one favorite, it would be a shot I did of seven puppies. I was at Old Salem and going to pick up a puppy. We went to look at them and they were in the back of an SUV. As we approached, all seven pups put their heads out of the back of the SUV and their paws were entwined as if they were holding hands. The timing was sheer luck and I shot the picture.
Name one piece of clothing that defines you.
My photo vest — I have 200 of them.
If you weren't involved with horses, what would you do?
I don't know because horses have always been the constant in my life.
What's your favorite food or drink?
I drink TAB — that's my favorite.
Who has inspired you the most?
All the people in photography who went before me. Many of their mistakes taught me what not to do.  Like anything else, my job is 10 percent photography and 90 percent being a good business person.
What three traits do you value the most in a person? 
Honesty, consistency and then more honesty
What three things are most important to you?
My family, dogs and honesty
What one phrase would you want to be remembered by?
It's what you learn after you know it all that really counts.
If you could change one thing about your past, what would it be?
Nothing
Which horse was or is your favorite?
George, I got him as a gift from someone. I hadn't had a horse in 10 years and when I walked into my empty barn on my farm in Connecticut, there was a horse there and that was George.
What's your biggest life accomplishment?
My son, daughter-in-law and two grandsons.
What's your most embarrassing moment?
I shot a whole Zone 2 Finals with the wrong setting on the camera. But I was smart enough to have a backup and no one suffered.
If you could be anywhere right now, where would it be? 
I'm good where I am now … doing what I do and I enjoying it.
Double D Trailers Info