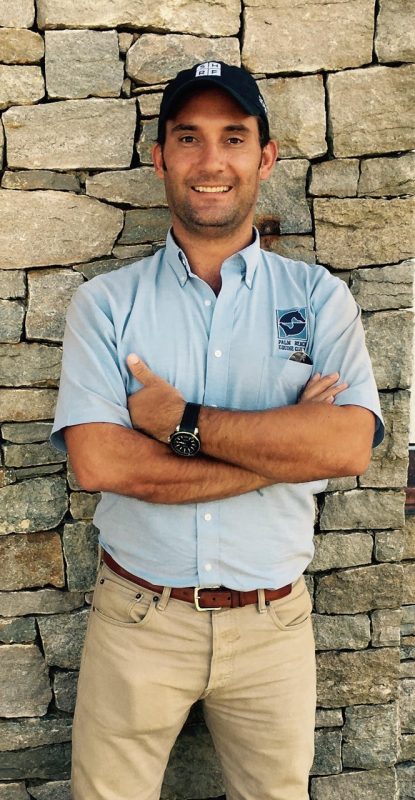 Richard Wheeler, DVM, was born in the U.K. and graduated from the Royal Veterinary College, London, in 2002. Dr. Wheeler then completed a two-year internship at Greenwood, Ellis and Partners (now Newmarket Equine Hospital) in Newmarket. In 2005, he moved to Wellington, Florida, to join Palm Beach Equine Clinic and he became a partner in 2009. Dr. Wheeler's primary concentration is equine sports medicine. He is an FEI Veterinary Delegate for show jumping and dressage and has authored several published articles on the topic of equine sports medicine. Dr. Wheeler has served on the board of the USHJA Horse and Rider Advocates Committee. In 2016, Dr. Wheeler became a founding director of the Sport Horse Research Foundation. Dr. Wheeler and his wife, Jessica, have two children. Do you have a question you want Dr. Wheeler to answer? Send questions to editor@sidelinesnews.com.
What research has the Sport Horse Research Foundation been associated with during 2018? What plans does it have for the future?
The Sport Horse Research Foundation has awarded grants for several studies during 2018.
Jennifer Symons, Ph.D., compared distal limb nuclear scintigraphy (bone scan) images of sport horses versus racehorses. This project is important as it may emphasize the difference between these two groups of equine athletes. Sport horses engaged in disciplines such as show jumping and dressage are required to perform at different gaits, collect and extend their stride lengths and negotiate tight turns in both directions. Conversely, American racehorses gallop with larger stride lengths in straight lines and left turns. This leads us to believe there will be significant differences with regard to both biomechanical stresses upon their skeleton and injuries sustained during training and competition.
Specifically, the purpose of the study is to examine differences in sites and incidence of increased uptake and injury between these two groups. Nuclear scintigraphy was selected as the modality for this study due to its high sensitivity (i.e. likely to identify pathology) and ability to image large areas of the skeleton. Our hopes for this study are to examine similarities and differences between the two populations of equine athletes both in location and severity of injury. This will enable us to predict what research can be extrapolated from previous studies in either group and what areas of research are required in the future specifically for the benefit of the sport horse. This project has been submitted for publication and results will be available on the SHRF website in the near future. As practitioners having worked with both Thoroughbred racehorses and Warmblood sport horses, our hypothesis, or prediction, is that we will find these groups of horses will have different patterns of uptake and discretely different areas of bony remodeling. This is important as it will justify and direct further research specifically for the sport horse. Of course, we have to wait for the results to be published, but I'm excited to see where this takes us next.
Pablo Espinosa-Mur, DVM, DACVS, DECVS, and a group of California-based researchers examined radiographic and ultrasonographic findings of the caudal cervical (lower neck) region in warmblood show jumping horses. The equine veterinary profession is becoming increasingly aware of the lower neck region as a potential source of poor performance in sport horses. This can result in pain, lameness and in more advanced cases, ataxia. Early in my veterinary career, the diagnosis of lower neck arthritis was relatively uncommon and mostly detected in severe cases. More recently, mainly due to advances in diagnostic imaging equipment, it's much more common. More accurate diagnosis and treatment of these more subtle cases has greatly improved the welfare and performance of many competition horses.
The purpose of this study is to describe the prevalence of cervical osteoarthritis in a normal population of medium- to upper-level show jumpers. In addition, the correlation between radiographic changes and joint effusion and/or capsulitis observed with ultrasound will be described. The horses selected in this study were clinically sound and performing well.
This study is very important and exciting on many levels. It will help us learn more regarding the prevalence and nature of arthritis of the lower neck, which will allow us to more accurately diagnose and treat clinical cases. I believe the most exciting information will be regarding the prevalence of findings in these horses without clinical signs and the implications at prepurchase examination where neck radiographs are becoming more common.
Michael Myhre, DVM, and a group from Palm Beach Equine Clinic will describe a technique for computed tomographic (CT) myelography in the standing horse.
A myelogram is a type of radiographic examination where a contrast dye is injected into the spinal canal to allow the examination of the spinal cord and spinal canal surrounding the spinal cord. In most cases, it is used to visualize spinal cord compression. The current standard technique for performing an equine myelogram involves general anesthesia and plain radiographs. Risks include those typically associated with equine anesthesia, compounded by the fact that the horse may be ataxic (experiencing loss of body control), as well as seizures. Plain radiographic images are significantly inferior to the far more detailed and three-dimensional images provided with CT. In human medicine, the use of CT has long replaced plain radiography for myelograms.
This study will describe a technique of performing a standing spinal tap, injection of contrast media and use of a standing CT scanner to obtain diagnostic images of the spinal column.
This study offers so many benefits for horses suffering from suspected spinal cord compression in the neck region: the ability to produce higher-quality images allowed by CT versus plain radiology, the reduction of risks inherent with general anesthesia and the ability to image the horse in its normal orientation. This technique will offer a better understanding and I believe will lead us to better medical and surgical management of these challenging cases.
SHRF has several projects in the planning stages, and we plan to continue work investigating the lower neck, back and distal limbs. We hope to add to several large groups who are evaluating and comparing training and competition surfaces throughout the world.
The Sport Horse Research Foundation is grateful to all of our donors and researchers for their continued support. To learn more, visit www.thesporthorseresearchfoundation.org.
My older horse is going blind. How can I help him continue to lead a happy, safe life at my barn? He knows the routine, but I can tell that losing his senses is affecting him.
Just as with an aging relative or pet, we have to make adjustments as our equine partners get older. One significant difference is their size and the potential safety issue this poses to both them and us. A horse with impaired vision may become anxious, and you need to be very careful and have an open discussion with your veterinarian, as well as anyone else who may be taking care of the animal. It may be useful to attach a sign on the horse's stall to remind people to be careful with the horse.
Fortunately, while there are many reasons for horses to lose sight, most are gradual processes, which allow for gradual adaptation. It has surprised me how well many horses tolerate a significant reduction in vision.
You mention the word "routine" in your question and that's very important. It will be very important to keep your horse's surroundings familiar while making sure they're as safe as possible. I would recommend removing anything that might cause injury and making sure his stall and fencing is solid, but smooth. Keeping the environment consistent is going to be important, and I believe all horses do well with a consistent daily routine. Make sure the horse has easy and consistent access to clean water and food, and check that he's drinking the required amount.
As with other species, as a horse's vision becomes impaired, they'll rely more on other senses. Be careful not to startle the horse with loud noises and make sure you approach slowly, while making sure they can hear you coming. I would advise against clipping around the muzzle and eyes as these hairs will become more useful in allowing the horse to feel the environment.
Some horses will benefit from having another horse in close proximity, while others will be more comfortable without. This is very case-specific, and requires thought given your barn setup and the temperaments of the horse losing its vision as well as its barn mates.
Double D Trailers Info