Mornings. You either love them or hate them. For parents of young children, and equestrians in general, it doesn't really matter if you like mornings or not. The kids are up early, the horses are up early—parenthood and horse show life often run in parallels, the largest being that the days are long no matter how you look at it.
In the Welles household, through a carefully planned and practiced routine, Alex and Andrew rise between the hours of 5 and 6 a.m., packing lunches, packing bags for the horse show, maybe even squeezing in a quick workout—all before their daughters rise to start their days at 7 a.m.
This morning dance routine has been perfected by Andrew, an international show jumper and head trainer at Team Welles, and his wife, Alex, an equally accomplished equestrian. The couple has been married for almost six years, and they're parents to two beautiful girls: Anderson, who is 3 years old, and Adeline, who is a year old.
The routine remains relatively the same no matter where the family is showing. Whether it's in Wellington, Florida, at their home base, or on the road in the summer months in places like Traverse City Horse Shows or Spruce Meadows, mornings remain a time where Andrew and Alex find themselves fulfilling their roles as show jumper and parent side by side.
But something will be different for the 2023 show season, and the future beyond it—Alex Welles is going pro.
Going Pro
The decision whether to remain an amateur or go professional is something that all equestrians deliberate at some point in their career. The set of rules for amateur riders differs from that of professionals in any situation, but enter 'wife of professional' and the rules become that much more complicated.
Alex, who has ticked boxes in her amateur career that many can only dream of, became frustrated with the amateur rules that limited her to only riding horses that she fully owned. Not only did the couple feel that strained the advance of Alex's riding skills, they began to feel like they were also depriving their clients' horses.
"I've always known that Alex does such a great job with her horses and giving advice for mine," Andrew said. "We really began to feel that other horses in our barn that we don't own 100% of should also have access to what Alex has to offer and what she does such a great job of—both from a riding and training standpoint. I think horses thrive off of diversity and a change of pace, so being able to go from my riding to a day of Alex riding really is good for them. I think the amateur rules sometimes constrict what's really in the best interest of the horses."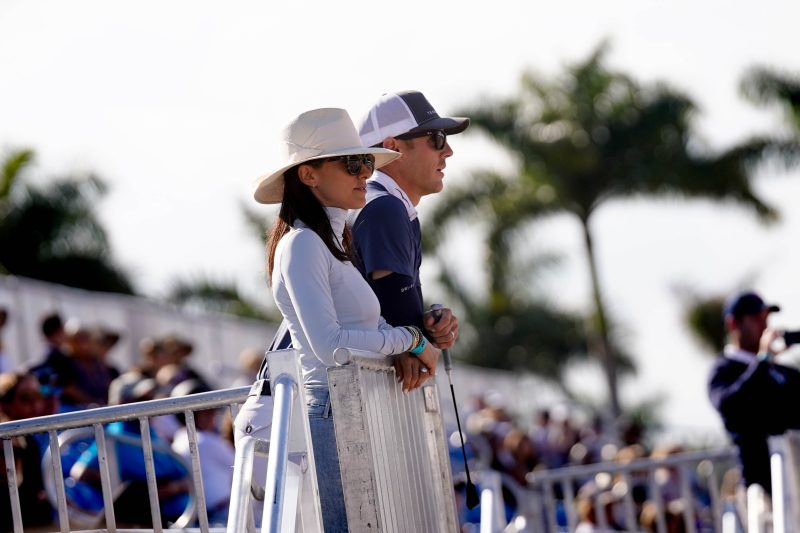 After years of discussing making the switch, Andrew and Alex finally decided the timing was right, not only because of the constraints of the amateur rules, but because it was simply the natural decision for them and their business. "It's something that we've always discussed in theory—both as a couple and then doing the business together. It's sort of the dream, right?" Alex stated. "We've always worked together, and I've always been behind the scenes helping Andrew with the big classes. Now that I'm finished having children for the time being, I feel like I have the time and head space to spend on this every day and really do it the right way."
Alex has amassed a number of accomplishments to her name in the Amateur division. Competing and placing in Grand Prix classes in Traverse City, tackling the U25 division, and having her longtime and notable partner XM earn the title of US Equestrian Horse of the Year in the Amateur Owner Jumpers in 2015 and 2017—she lived her amateur years to the fullest. Now that she is turning professional, her goals aim to get her back into FEI competition and continue to develop the exciting string of young horses they currently have at Team Welles.
Andrew, who competes internationally while acting as head trainer, couldn't be more excited for his wife to step into this new role.
"While she hasn't been an active part of the training program for our students, we will go home and I'll be watching the students' videos at night, and she has always had such great insight for them as we talk to each other at home," Andrew said. "A lot of times, I've felt like I'm speaking on her behalf when I go back the next day into a lesson based on our discussions at home. I'm really looking forward to our students being able to get that directly from her now."
From setting jumps in the schooling area to walking a course with their students, Alex is eager to share her big ideas with their team in a hands-on way. "I'm so excited to work with more horses and to teach," she said. "We have a really good group of people at the moment, and for us, it's really important to have quality over quantity. It's important to keep it that we can do a great job on the number of people and horses we have in our wingspan, and I can't wait to be able to contribute to that in the bigger picture now."
The Farm
Another reason the timing made sense for Alex to go pro was the completed construction of their new farm in Wellington, Florida. After renting facilities in various locations around Wellington during the busy seasons, the couple decided it was worth it to design and build their own farm—a place to permanently call home.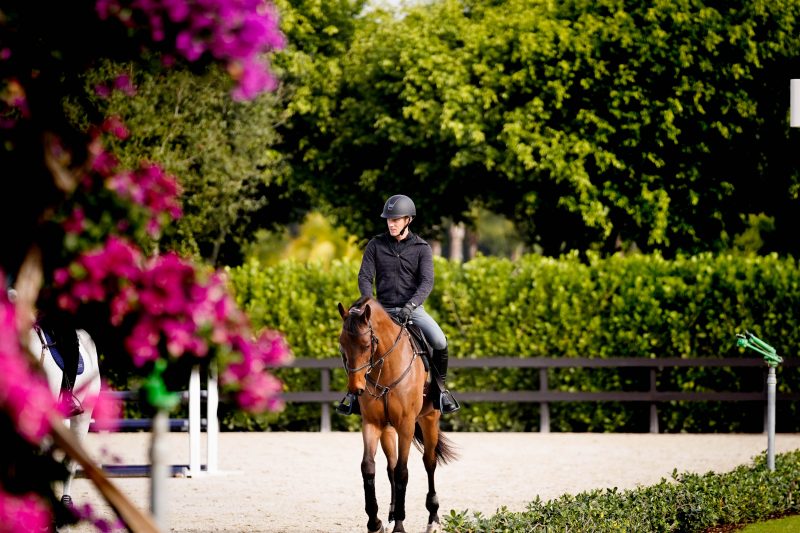 Andrew, well known for his meticulous planning, put his heart and soul into creating their home base. Having rented out of various facilities, they knew what worked and what didn't, and with the goal of servicing high-level sporthorses, they wanted to make sure they had all the resources necessary. From a water treadmill to an equine scale and the best quality footing, health and safety of the horses was at the forefront of the design.
"We tried to build it to have an inclusive atmosphere so students and their families can come be involved in the training even when they're off their horses. If you're there for the day, a student can learn so much just from being there at the barn and watching the other lessons, training and care that happens day to day," Andrew said.
After creating an ideal space for the clients and the horses, the Welles family feels they accomplished everything they wanted to get done in their new home. Their one possible oversight? Hedges built too close to the horses' outdoor windows, making it far too easy for them to snack on.
Family First
In the Venn diagram of work and life, Andrew and Alex are striving to put their two daughters right in the middle—the most important part. Growing up with parents that are both professional show jumpers is unconventional. Life on the road, long days at horse shows and the general unpredictability of the sport is a far cry from two-hour-long soccer games on Saturday morning with your dad as your coach, but the Welles family is already making it work.
"The girls are a huge priority for us," Alex said. "When Andrew gets home from the barn at 5 or 6 p.m., whatever is on his mind stops and he goes into 'Dad mode.' We're so grateful for that. Now that Anderson is getting older, too, we really like to include the girls at the barn with us. She's starting to ride, which we really enjoy as a family. I've always spent a lot of time with our team and business; now I'm just moving into a more active role and I'm excited for the girls to be a part of that and see Andrew and I run this business together."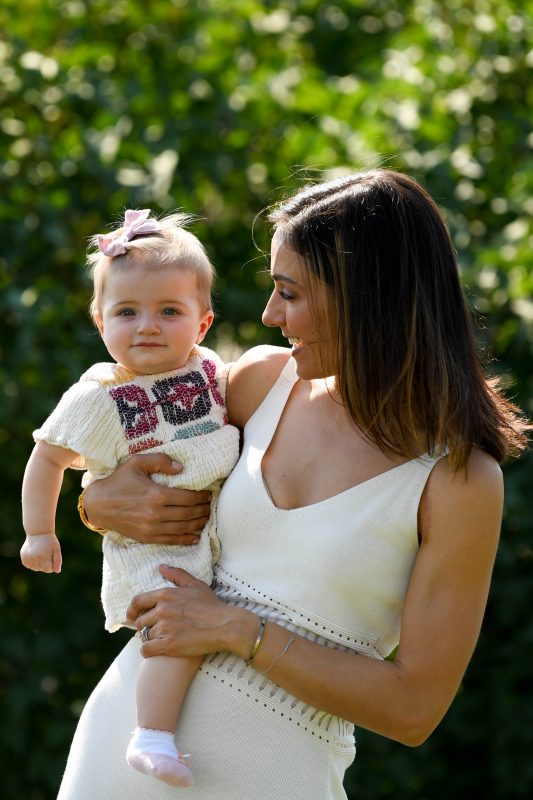 Anderson, now 3 years old, has quickly caught the horse bug. Enthusiastic about her parents' horses and her first pony, Mello, Anderson made her leadline debut during the Great Lakes Equestrian Festival in Traverse City last summer, and clearly cherishes her time around her family at Team Welles.
It's too soon to tell what the future will hold for their newest member of the family, Adeline Rose, a year old, but if there is one thing that Andrew and Alex will tell you, it's that their girls can pursue whatever passions they choose, even if it has nothing to do with horses.
"It's really neat for us that our kids can be doing this with us for the time being. First and foremost there is no pressure for them to ride, but it's cool that they can grow up traveling through the summers to some great places and be brought up with the responsibility that comes along with horses," Andrew said. "For me, that is an upbringing that is well spent."
For more information, visit www.teamwelles.com
Photos by Four Oaks Creative
Double D Trailers Info