By Ruby Tevis
Portraits by Melissa Fuller
To a spectator on the sidelines, Amelia Fucito is just another horse-loving kid taking her trip around the ring, but to her parents and her trainer, every jump she clears is symbolic of the challenges she's overcome in life. At 15 years old, Amelia has gone from a shy, anxious girl battling several disorders and struggling in school to a confident young woman, thriving in the classroom and capturing championship titles in the hunters — and it's all because of a special horse named William.
Amelia was born in December 2004 at Wurzburg Army Hospital in Wurzburg, Germany, the daughter of two Army Family Medicine physicians stationed there at the time. As an infant, Amelia always had a smile on her face. Amelia moved home to Elmira, New York, when her parents, Chris Fucito and Heidi Hodder, left the military three years later. Though Amelia was always happy, her parents began to notice alarming delays in her development.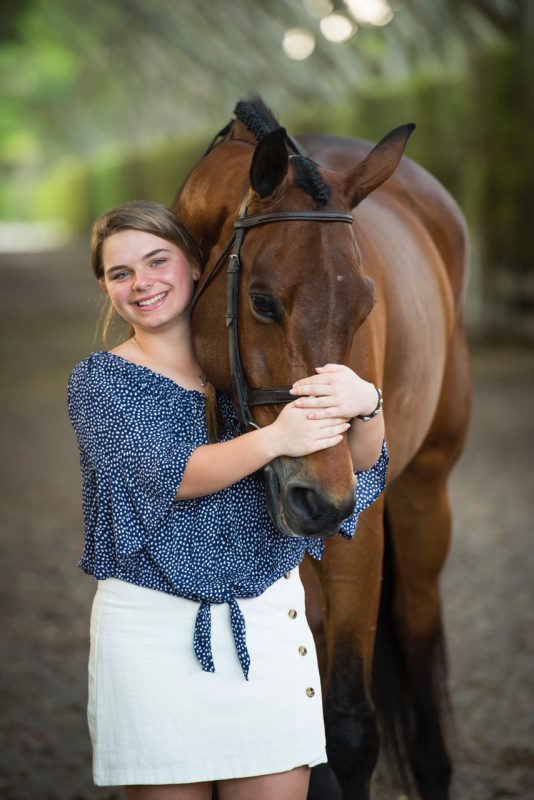 "As physicians, my wife and I realized, as she grew, that Amelia lagged tremendously in speech and reading," Chris said. "We feared for her future. As she progressed towards school, she had a hard time making friends due to her difficulty appropriately responding to people and questions."
After intensive speech therapies and interventions from school psychologists, Amelia showed little improvement and underwent extensive testing at Johns Hopkins University. Amelia was diagnosed with dyslexia, generalized anxiety disorder and expressive language disorder.
Though Chris and Heidi were relieved to have a diagnosis, they recognized the long road ahead of their daughter. "We kept trying to tell her she was beautiful and normal. How do you believe that as a child, when you continually see another doctor or therapist trying to help you every month?" Chris said. 
Getting a Leg Up
As Amelia moved through elementary school, she had a difficult time fitting in with her peers, and her parents recognized their daughter's beloved smile fading away as the days passed. "We decided to get Amelia involved in riding as a last attempt to help her after many interventions failed," Chris said. "When she rode I saw her smile, so I went to her lessons as often as I could. It was rough for me in the beginning, trusting an animal not to throw her or cause her harm. But she looked forward to her lessons — I looked forward to seeing her smile."
Amelia took her first lesson at age 9 and hasn't looked back since. "It was so fun being on a horse for the first time," Amelia said. "I like horses so much because they're so beautiful and peaceful — I just fell in love with them."
Though Amelia loved to ride, it took some coaxing to encourage her out of her comfort zone. "Amelia's self-confidence was quite low during her grade school years," Heidi said, "and her riding also stalled. She had enjoyed riding but was always scared to push through to the next level, whether it was starting to trot, canter or jump."
With the challenge of middle school looming ahead, Chris and Heidi put their faith in horseback riding to help Amelia come out of her shell. Through the recommendation of a friend, they chose to take Amelia to train with Mimi Penfield, a trainer based out of Cold Spring Farm in Binghamton, New York, about 60 miles from their home.
"Amelia was a quiet girl with a cute smile," Mimi said. "She was very nervous riding so we took it slowly. She clearly loved the horses, though, and really wanted to ride." After months of searching, Mimi helped find Amelia her own horse to lease, an older schoolmaster named William — Amelia's miracle horse.
A Friend With Wings
Mimi found William through her friend and fellow trainer Amy Hughes. She'd known William throughout his show career, and knew he was a solid citizen at age 20. "I wanted a horse that was dependable and safe that I knew would take care of her," Mimi said. "When I found out he was available, I knew he was our guy."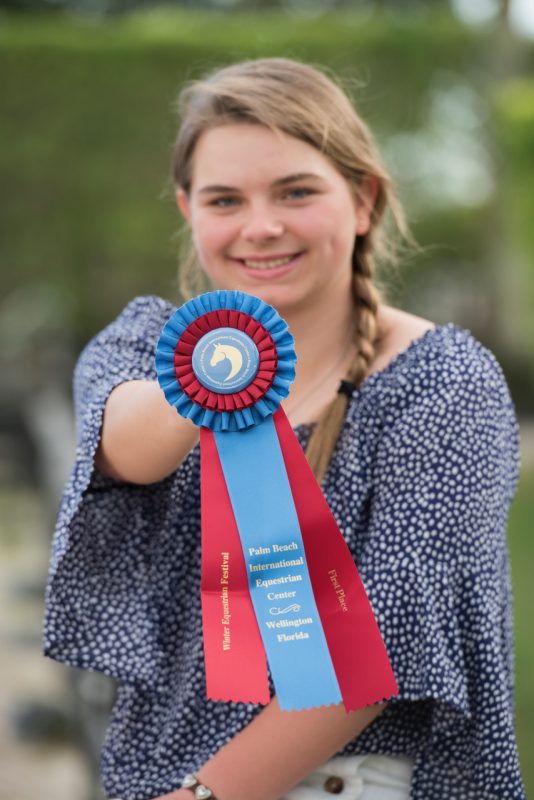 When Amelia tried William, she felt an immediate connection to him. Amelia said, "I felt when I first met him that he was something special and he would take me a long way." Her parents also recognized their instant bond. 
"She got on him and walked him around, trotted and even cantered some," Heidi said. "She was very comfortable with him from the beginning, and William seemed to sense that she needed him, too."
Within months of leasing William, Amelia had built up the courage to go over her first crossrail. She was instantly hooked on jumping, and with William leading the way, the sky was the limit. "What I like about jumping is how it makes me feel free and light as air," Amelia said. "All the bad things or frustrating things just fly away over the fence."
The pair's progress was steady, and in 2017 they were ready to compete in the beginner division of the Chensego Hunter Association. Amelia and William won show after show. "William always seemed to know when they were at a show and he would turn on his charm," Heidi said. "His confidence helped support Amelia and carried her through to multiple blue ribbons. As she continued to show and trust William, her confidence began to improve." 
Amelia's once-skeptical father was thrilled to see the progress his daughter had made under Mimi and William's expertise. "William gave her what counselors and medicine and therapy couldn't: He gave her confidence," Chris said. 
"When I was winning with William, I felt like I wasn't different from others anymore, and felt I could accomplish more than I even knew myself," Amelia said. "I had such a strong bond with William because he filled in the piece I was missing for a long time."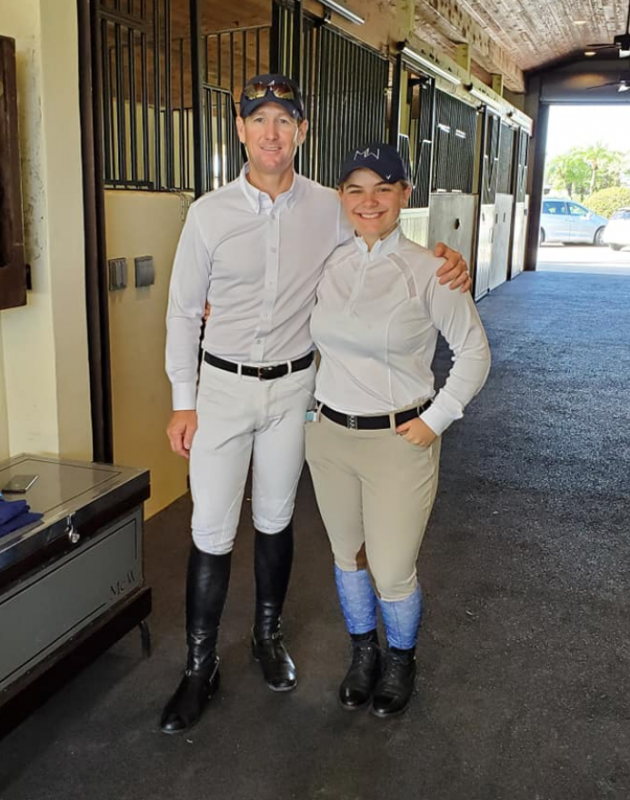 By the end of the season, they found themselves grand champions of the beginner division. Their success continued the following season as William and Amelia were grand champions again, this time moving up to the 2' division. "The winning was always a positive reinforcement for her," Heidi said, "but it was her connection with William that helped improve her confidence in the ring — and that started to translate to improved confidence in school."
New Confidence
Within two years of leasing William, Amelia's reading level improved dramatically, and she was moved from a small-ratio class to a mainstream classroom. By the end of her 8th grade year, she was inducted into the National Junior Honor Society — including having her induction essay about her partnership with William chosen as the best of the class. "In front of a packed auditorium, Amelia, who only years earlier struggled to read a simple sentence, stood proud and read her essay to a round of applause," Chris said.
Now a rising sophomore at Thomas A. Edison High School in Elmira Heights, New York, Amelia is thriving in school and continues to share her passion for horses with her friends. "She has become an advocate for her herself at school and thus has become a natural leader in her classes," Heidi said. "Amelia has made many friends at the barn. She loves supporting her fellow equestrians. Often during shows she will compliment other riders on a good ride and always tells them congratulations when they win. She is most definitely at home at the barn."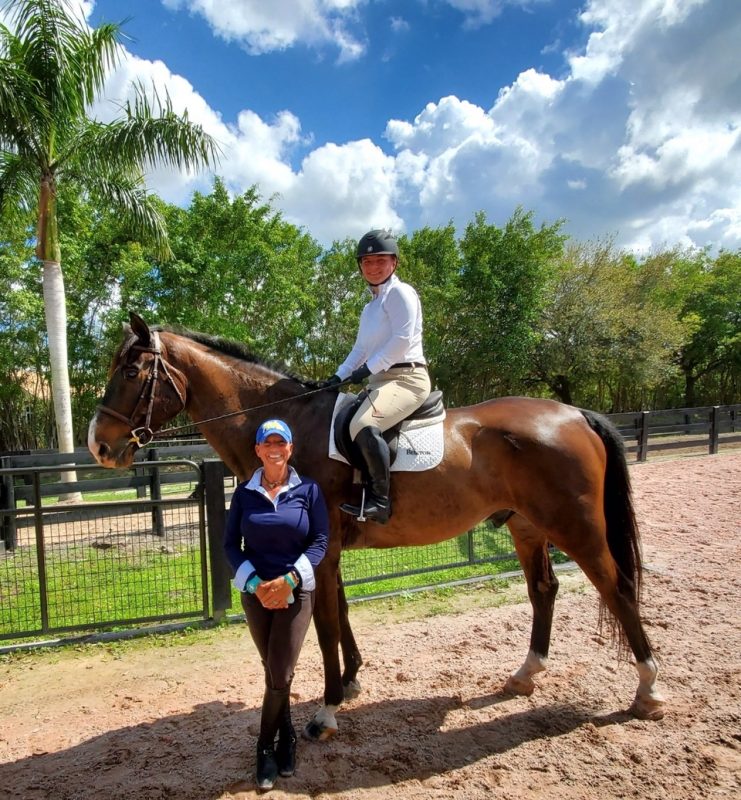 Over spring vacation to Florida in 2019, Amelia and her family met trainer Victoria "Tori" Lando and watched classes at the Winter Equestrian Festival (WEF), in Wellington, Florida. Amelia made it her goal to return the following year and show. The confidence Amelia gained riding William enabled her to not only ride but win at the 2020 WEF, on Sassoon, a bay warmblood owned by Julie Burton, after riding him for only two weeks with trainer Victoria's support. 
Though her lease on William has come to an end, Amelia is excited to have a horse of her own: Coco. While Coco isn't as seasoned as William, the Quarter Horse gelding has proven to be a perfect mix of sugar and spice. "William taught me how to jump and how to be stronger, and Coco is teaching me how to be the leader and help him around a course," Amelia said. "They're similar because they're both teachers and they've helped me through the rough days — and they love me very much."
As the parents of a first-generation equestrian, Chris and Heidi have also enjoyed getting to know the horses. "I have literally gone from a person who would not stand within 10 feet of a horse to an absolute horse lover," Chris laughed. "Each Tuesday, I pick Amelia up from school and drive her 60 miles to Cold Spring Farm so she can train with Mimi. It gives us two full hours together once every week."
"Amelia has come a long way in her riding and in her general confidence as a person in our years together," Mimi said. "I think that riding and the responsibilities of caring for a horse and preparing for shows gives a child a lot of independence and makes them goal-oriented. It has kept her reaching for that next level."
Chris never expected he would become a horse show dad, but he takes on the role with pride. "It has become a tradition that the night before every show, I polish Amelia's boots," he said. "I'm good at it due to my time as an Army officer! It's my tribute to the work she puts in every day both in school and in the ring."
Life will always be full of challenges, but Amelia has unlocked her remedy to happiness — horses. "There are always ways people find peace for themselves, like art, music, movies, taking care of their animals at home or doing different types of sports inside or outside of school," Amelia said. "Horses make me feel better because even though they can't talk, I feel like they understand how I feel and know how to comfort me. They've changed my life, by making me feel better and more confident, and helping me become a stronger person."
Photos by Melissa Fuller, msfullerphotography.com, unless noted otherwise
Double D Trailers Info