By Doris Degner-Foster
Deborah Ettenger knows firsthand how the power of horses can help people, as she dealt with both physical and mental challenges. When her late husband was battling cancer and subsequently passed away, Deborah credits horses and riding with helping her persevere. "Going to the barn and focusing on me and the horse got me through it," she said. "I learned to never give up; to try and stay positive."
However, riding presented challenges on its own. After a serious fall, Deborah had decided to quit riding and sold her horse, but she couldn't stay away from the barn and was soon leasing another horse. The experienced horse that she leased gave her the confidence she needed, and in 2018 she was ready to be a horse owner again.
Deborah searched for a horse that would help her maintain her self-confidence, and found a horse that exceeded her expectations. That special horse also helped to change her son's life. 
Early Equine Influence
Deborah's son Devon was diagnosed at age 10 with Asperger Syndrome, a mild form of autism that is characterized by an inability to understand how to interact socially and also may include clumsy and uncoordinated motor movements, in addition to problems with processing thoughts. 
At about the time of that diagnosis, a skiing accident tore Devon's anterior cruciate ligament (ACL) in his knee. Surgical repairs had to be postponed because the surgery could damage the growth plates in his bones. Until those repairs could be made, a type of exercise was needed that would avoid any side to side movement of his knee.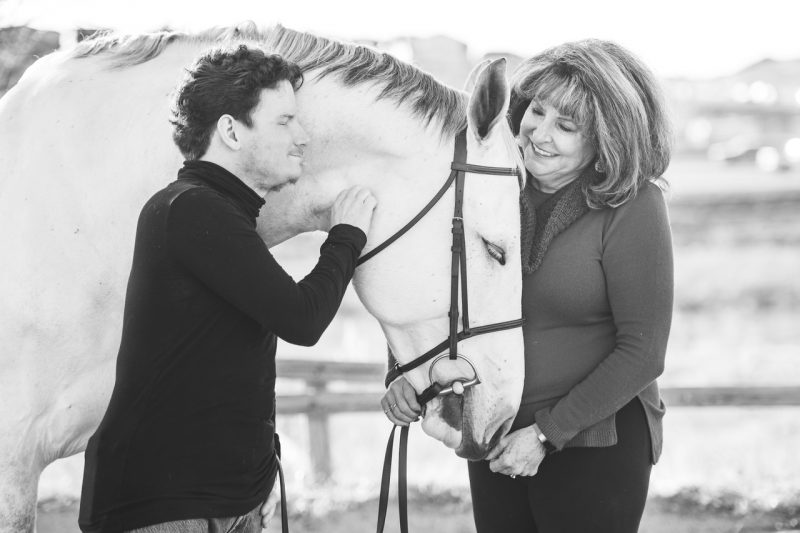 "Since I had a horse, I asked the doctor about riding and was told it would be a good form of exercise for him, so he started riding and taking lessons," Deborah remembered. "He liked the activity and the interaction with horses so much that we soon got him a horse he named Got Milk."
Devon made good progress in his lessons and was soon competing in the local schooling shows near their home in Centennial, Colorado. "Riding seemed to help him with his thought processes and it appeared that the movement of the horse helped him make more connections to what was going on around him," Deborah said. "It was not only physical but mental therapy for him."
When he outgrew Got Milk, Devon moved on to other interests and became very involved with the Boy Scouts, achieving Eagle Scout rank. He graduated from high school and although he has some limitations, he works in a job that he enjoys. 
Finding That Special Horse
Deborah had ridden successfully in amateur owner hunter competition before her serious fall. After taking some time off and starting back slowly with the experienced horse she'd leased, Deborah had regained her confidence, and it helped that she scaled down to the lower jumps in the stirrup hunter division when she returned to showing. At that point, she was ready to be a horse owner again but she needed a special horse that could help her maintain that confidence. 
The Colorado Horse Park near her home has shows during several weeks of the summer, as well as during the spring and fall, and Deborah wanted a horse that could be competitive in that type of company. She and her trainer, Karen Cranham of Cobblestone Riding Club in Parker, Colorado, had kept in touch with Mindy Coretz of Tulsa, Oklahoma, whom they met when she came to the Colorado Horse Park. They reached out to her and made plans to go to Oklahoma to try some horses at Mindy's farm. 
After riding a few horses, Deborah rode a beautiful dapple grey Zweibrucker mare named Casina. Mindy explained that the mare was available only for lease since her rider had gone away to college and the family loved the mare and wasn't interested in selling her. "I said that I really was afraid of leasing because I knew just from being on her that I would fall in love with her," Deborah said. "Mindy called the owners and spoke on my behalf. She said that we would be the perfect place for Casina to go, and they changed their minds and sold her to us."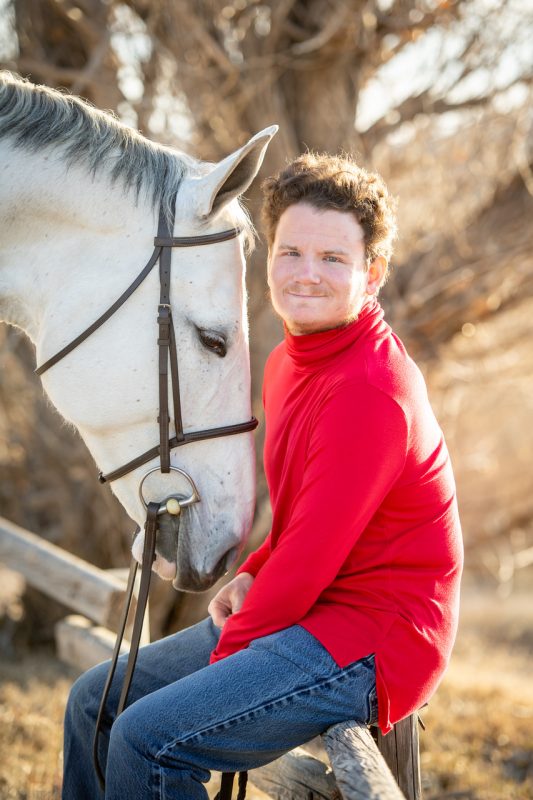 Deborah had come full circle moving away from riding then back again, so she decided to change Casina's show name to Full Circle. Showing in stirrup hunters in 2019, Deborah won the Colorado Hunter Jumper Association Stirrup Hunter Champion and the USHJA 2'6" Hunter Champion.
A Special Connection
When Devon met Casina, the mare had a strong reaction. Karen was on hand and saw their meeting. She remembered, "It was an immediate bond for sure, she just put her head right in his chest. Devon has such a soft way around the horses; he's a very soft spoken person and they just go to him. He's very gentle and Casina just loved him right off the bat." 
Although Devon hadn't been interested in riding in over 10 years, he wanted to ride Casina. The mare seemed to adore him and packed him around happily. "I was concerned that she might not like being ridden by more of a beginner," Deborah said, "but she didn't care. She was absolutely fine with him." 
Devon began jumping lessons on Casina and improved physically from riding with better muscle control and stronger legs, and also mentally as he could follow more complex directions. With his increased concentration levels, he is able to jump courses without going off course.
There was another benefit to coming back to the barn for Devon. "Since returning to riding, he seems to have an improvement in his overall well-being," Deborah said. "He just adores 
Casina and smiles and grins from ear to ear when he sees her, rides her and spends time with her. We kid him that he has to stop smiling all the way around the ring in his lessons!"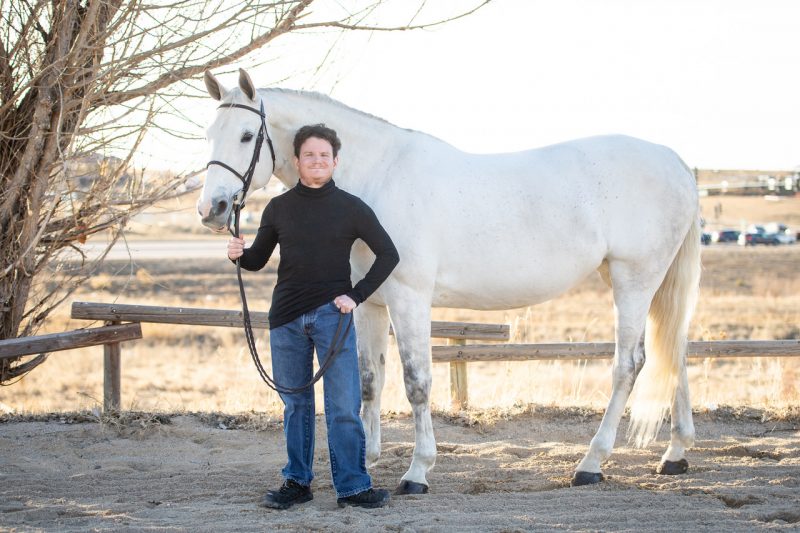 Proving that horses can change lives, Devon says Casina makes him feel good and gives him incredible amounts of confidence, and that he loves her and trusts her totally. Plans are underway for Devon to show at schooling shows in Colorado.
Devon is truly in his element with Casina and Karen, who is also Devon's trainer, said, "He doesn't feel any pressure, and he doesn't get nervous. He's just out there doing his thing."
Photos by White Fence Equine Photography
Double D Trailers Info