By Britney Grover
Portraits by Shawna Simmons Whitty
When the pandemic hit, Harrie Smolders began staying home much more than usual — just like billions of people around the globe. Though some had few lifestyle changes to make, for Harrie, it was very different.
"Last year I was able to see a different side of life — for the first time in five or six years, I was home longer than 14 days," he said. Harrie lives with his wife, Inge, and two sons, Pim and Siep, in a small village in the Netherlands called Lage-Mierde. Normally, Harrie spends most of his time training in nearby Belgium and the U.S., and traveling to top world competitions.
"With my children and homeschooling, I was realizing that my wife was doing a wonderful job in the way she's raising our kids. I was also suddenly responsible for that process myself," Harrie shared, laughing at himself.
Harrie has been ranked in the world's top 25 riders for 10 years, including eight months at the top. He's competed in the most prestigious competitions around the globe, including the 2016 Rio Olympics. In August, he competed in the team finals at the Tokyo Olympics. But amidst conversations of horses and Olympics, Harrie's voice slows and fills with wonder when he talks about his family — it's clear they're closer to his heart than any Olympic aspirations, and that spending more time with them in 2020 was an experience he cherished.
"I really enjoyed it," he said. "I saw things that I normally don't have time for, or we don't make time for. That was very nice — but I believe they really appreciated when the shows were starting again!"
Harrie made headlines multiple times throughout this year's Winter Equestrian Festival circuit in Wellington, winning two five-star classes and coming in third in the $500,000 FEI Rolex Grand Prix with 2021 Olympic mount Bingo Du Parc. Whether training horses through the levels, riding at the top or balancing life as a husband and father of two young boys, one thing remains the same: Harrie enjoys each phase of the journey.
Learning to Ride
Harrie wasn't the first person in his family to be involved with horses — just the first to make a profession of them in sport. Both of his grandfathers had horses to work the fields of their agricultural farms in the Netherlands. Harrie grew up on his parents' farm in Lage-Mierde, where his parents bred some horses as a hobby.
When his older sister first began riding and competing, Harrie was more interested in soccer. "My sister was really obsessed with riding, but I was more involved watching from the sidelines," he said. "I was 8 or 9 years old, and my sister got too tall for her first pony. My parents said, 'OK, we need to sell that one,' and I said, 'No, no, no, no — I will start riding.' That's what triggered me."
Harrie began riding with his sister once or twice a week at the local pony club. At first, it may not have looked as though national pony jumping championships — let alone representing the country at the Olympics — was in his future. He was terrified to jump: Before he would even try, he insisted a pole be dug into the ground. But starting slowly worked for Harrie.
"When you went to a show, you did dressage, a jumping class and a team dressage class with four or eight on a team, all on the same pony, all in the same day," he recalled of his early showing days. "Once I really started showing, I was very competitive. I think I won more titles in dressage than in show jumping, though; I also did some eventing."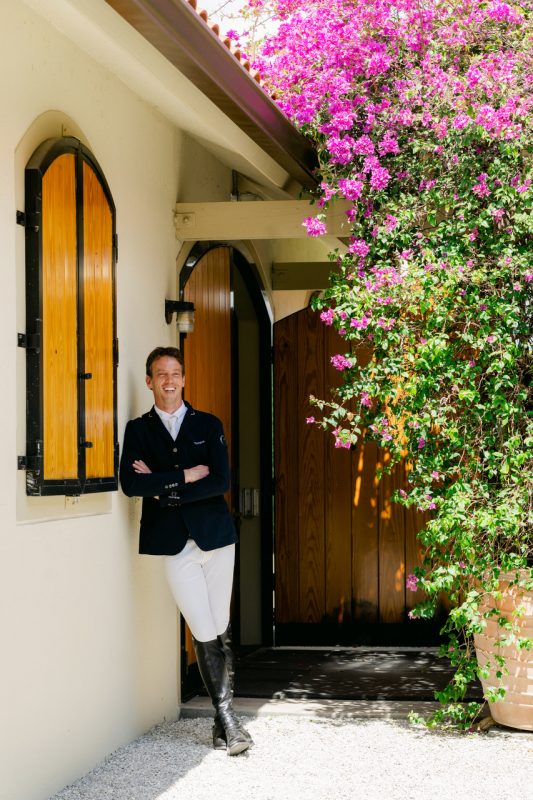 Winning national championships in all three disciplines, Harrie gave up eventing after a fellow rider had a tragic fatal accident and decided to focus on his favorite phase: show jumping. By the time he was 16, Harrie had several owners and 10 horses to show. As he finished secondary school, he faced a big decision.
"I wasn't sure what to do next," he said. "I was a bit hesitant over whether to go to business school or to try my chances with riding. At the same time, there came a job opportunity to be a stable rider with Johan Heins."
Harrie took the opportunity to ride with Johan, the former European champion who topped world leaderboards in the '70s and was then chef d'equipe for the Dutch team. "After a few months at his place, I was sure I wanted to do it professionally," Harrie said. "I didn't know yet if I would be good enough at the sport. I had no idea, but I liked it very much."
Grand Prix to Olympics
As he rode with Johan, Harrie also began teaching students at a low level. "Just in case I wouldn't be good enough to make a living as a rider, I was developing my coaching skills as well," he said. "I wanted to develop myself as widely as possible to give myself the best chances, but also to be the most complete package as a rider."
By today's standards, Harrie calls himself "a little bit of a late bloomer" because at 20, he had never jumped higher than 1.30m classes. "I did many of those, but it was always with young horses and they would get sold, and I started over again, and over again," he said. "I think I did my first three-star Grand Prix when I was 23. These days, people get to that level way earlier than when I got there!"
His early 20s was also the first time Harrie made the transatlantic flight to visit the United States — and Wellington. "That was a real eye-opener for me," he said. "I'd never seen hunter or equitation classes in my life. All those farms in Wellington, and all those horses — when I came back to my family, I didn't know how to explain what I had seen! It was something totally different that I'd never seen before in my life."
Late or not, Harrie's steady and well-rounded approach set the stage for his success in both Grand Prix and Wellington. Harrie rode with Johan for over four years, learning the ins and outs of bringing young horses along — including Authentic, described by Harrie as the first "special horse" in his career, who went on to earn three Olympic medals with Beezie Madden. 
In 2002, Harrie began working out of Axel Verlooy's stable 45 minutes away from Lage-Mierde in Grobbendonk, Belgium — a commute he still makes today. Since then, Harrie has been able to develop horses like Emerald and Don VHP Z to top championships and earned his longstanding place among the world's top riders. But success is so much more than winning for Harrie.
"I don't know what the biggest moments of my career are — I enjoy the journey to get to the success," he said. "Winning something, that's just the final part. There's also satisfaction in the earlier stages, if you feel a horse is developing and getting better because of your training, when the horse wants to learn and wants to develop. You know then that the success will come."
Teaching and Training
Enjoying all stages of the process extends far beyond his own riding. Since 2003, even if he wasn't competing in the Olympics himself, he's had at least one student there or winning top European championships. For years he trained Axel's son, Jos Verlooy, but Harrie has moved into a more supervisory position. "With Jos, sometimes I hear myself talking, like when he's analyzing his round," Harrie said with a laugh. "So I don't need to say much anymore. But when he's facing a problem or I notice something at the show or in the warm-up, we help each other."
Now, Harrie's primary student is the founder of Evergate Stables, Jennifer Gates. "Harrie has played a monumental role in my riding career," Jennifer said. "He's taught me to develop confidence in my own skill set, and tries to teach me skills that I can then take with me and use in the ring so I feel confident in my own riding even when he's not there. Harrie has made me believe in myself more, and I think he's made me more patient with the horses. He's just an incredible horseman."
With both students and horses, Harrie's goal is to help them reach their maximum potential by getting a feel for their character, and how to adapt his teaching or riding to develop them. "I always enjoy working with people and with horses that want to reach goals in life, that have the spirit and determination to get there," he said. "It doesn't matter to me where they are in the process; if it's a young horse or a little older, a rider that's starting their career or someone that is already halfway to the top. As long as they really want to achieve something, and are willing to do anything to reach their goals, that gives me satisfaction."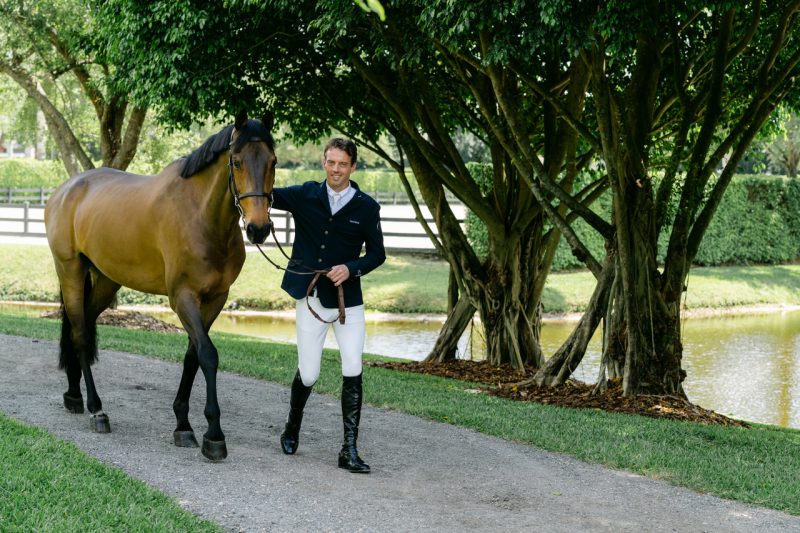 With his passion and longtime experience in developing young horses, Harrie has partnered with the team at Evergate Stables for the last three years, with goals to make it a sustainable world-class show jumping stable. "You can discover very good horses using statistics that are competitive, have the right brain, have the right drive," he said. "With that philosophy in mind, I think the journey to the top level is already very satisfying, to see these horses developing and getting better."
Evergate Stables owns five horses that Harrie rides, including Dolinn, Harrie's top Olympic pick whose injury weeks before the Tokyo Games gave the spot on the Dutch team to the greener Bingo du Parc. Harrie says they're both special horses coming along, and was thrilled to compete again in the Olympics — even when it meant jumping with broken ribs after he fell a month before the Games. "I realized even more in Rio de Janeiro that when you compete at the Olympics, your whole nation is following you, even people from outside our horse world," he said. "That's something you don't have at the World Championships or the European or Pan American Games. It's only with the Olympics; it's such a wider audience. It's the biggest level of our sport, I think, and something you want to have on your list."
The Best Journeys
Especially in partnering with Evergate Stables, Harrie travels extensively back and forth to the United States as well as within Europe. At home in Lage-Mierde, Harrie enjoys a different type of journey — with his family. Siep is 9, and Pim, 11. "Siep is riding a bit; Pim is more into gaming, which is also fun, of course," Harrie said. "They're getting very tall already, very quick. It's wonderful to see them growing up — I think every age has its charm."
When Harrie is home, he helps Siep with his pony and gives Pim attention with his schoolwork, gaming and guitar. Harrie says it's not always easy to balance family with his high-performance career, but they're planning more and more to make time for each other. "I've always had fantastic support from my family and know that they are very proud of my achievements," he said. "Even when sometimes you're away from home and you don't have the results you would like to have, they're always standing behind you."
Whether at home or around the world, for Harrie, it's all about enjoying the journey — both literally and figuratively. "That's the beauty of our sport, and I think we're very lucky to explore and travel the world, meet different cultures and be in fantastic places," he concluded. "Keeping the horses fit mentally and physically, that is the same anywhere in the world — and then success will come."
Photos by Shawna Simmons Whitty, www.sasequinephotography.com, @sasequinephotography
Double D Trailers Info