By Shya Beth 
Jackson Graves' story is full of self-discovery, a love of horses and never-ending creativity. Although Jackson has been riding since he was very young and has shown and trained his own horses up to the two-star level in show jumping, his art endeavors have only recently become a center focus of his life.
"I started painting about a year and a half ago," Jackson, 21, said. "After the COVID-19 lockdown started in the United Kingdom, I had more time than ever, and I was finally out of the repressed state of mind that I had been in for a while. I say 'repressed' because up until my move to the UK from my home country of Canada, I was living a huge lie as a straight guy!"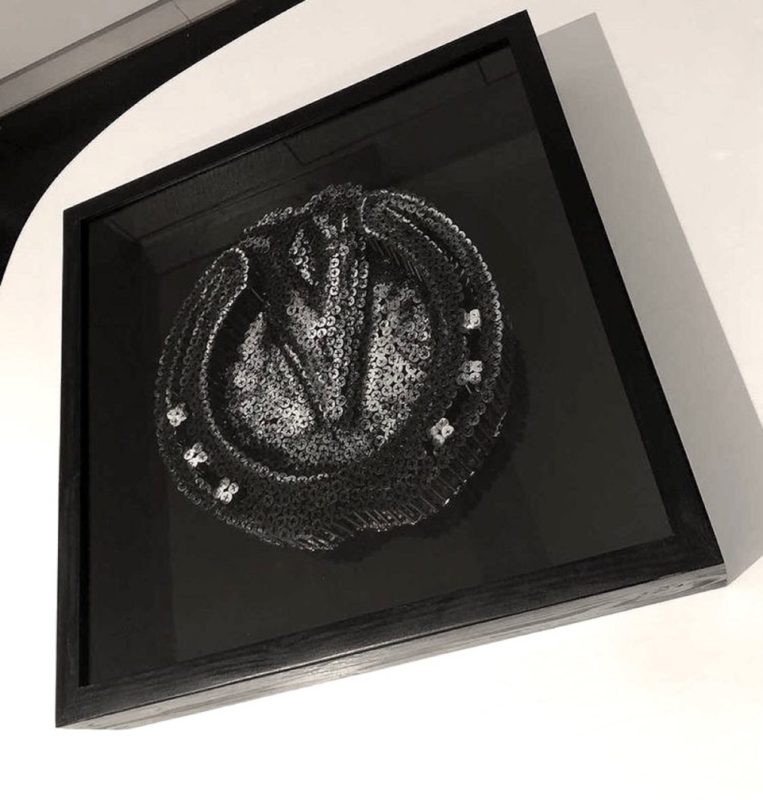 Embracing his whole self after coming out, Jackson started to explore his creative side on his own terms. "Funny enough, before heteronormativity started to impact my choices and the way I behaved—I'm talking kindergarten to grade four—I was super artistic, always drawing and doodling, sculpting, making music and the like. My teachers would always say how they saw lots of creative potential, and that I should pursue the arts … I should have listened sooner."
Jumping Into the Saddle
Before his art career started in 2020, Jackson's future plans had always been to continue his show-jumping career. Growing up with parents who enjoy riding, Jackson learned to ride when he was 7 years old on his parents' horses but didn't start training seriously until he was 11 at Foxtrail Farms North in Okotoks, Alberta. From there, he continued to advance and learn the ins and outs of riding, training and running a professional stable.
A life-changing opportunity came in 2018 when Jackson was showing his own self-made 7-year-old at the Royal West Horse Show in Calgary. After watching Jackson compete with his horse in a night class at the show, Tani Zeidler reached out and asked if he would be willing to ride a few horses for her since her rider was away at the time.
"After I had finished riding three of her horses, she offered me a job. It felt unreal to be recognized, and I couldn't have asked for a better opportunity," Jackson said. "I worked six days a week, riding four to eight horses per day from ages 3 to 8. They were all homebreds out of Tani's championship mares, so you can say I was spoiled rotten with beautiful quality horses and an excellent facility."
At the Crossroads of Life
Jackson had an incredible time working and learning along the way at Zeidler Farm, which made his decision to leave all the more difficult. "Deep down, I just knew that I needed a fresh start. I have to say, I feel like this last year I came to a crossroads in my life, and I really had two amazing options to choose from. If I hadn't started painting, I would probably be riding full time for somebody. However, I'm happy that I decided to pursue the arts and architecture, because horses are not going anywhere for me. Some of the greatest riders are in their 60s!"
After spending 60 days in the UK as a test run, Jackson applied for and received his five-year visa in March 2020 and moved to the UK. "It's a lot of fun," Jackson said. "I really enjoy the humor, the quick British wit, and of course the architecture and history."
The last six months have been a time of personal and artistic growth. "I feel I have really started to come into myself more as an artist. My personal work tends to be quite dark, which is completely unintentional. Painting allows me to let out some of my icky past in a way that isn't attention-seeking or overwhelming for people. I feel grateful to have that outlet."
Since Jackson began painting seriously, he started to think about post-secondary education. After taking some time to think long and hard about what he enjoys doing and analyzing his strengths, he ultimately came to the conclusion that studying architecture at the Arts University Bournemouth in Poole, England, was a perfect match. "I have an open mind going into architecture as a career, but I'm definitely drawn to a more entrepreneurial route in custom homes and large-scale residential projects."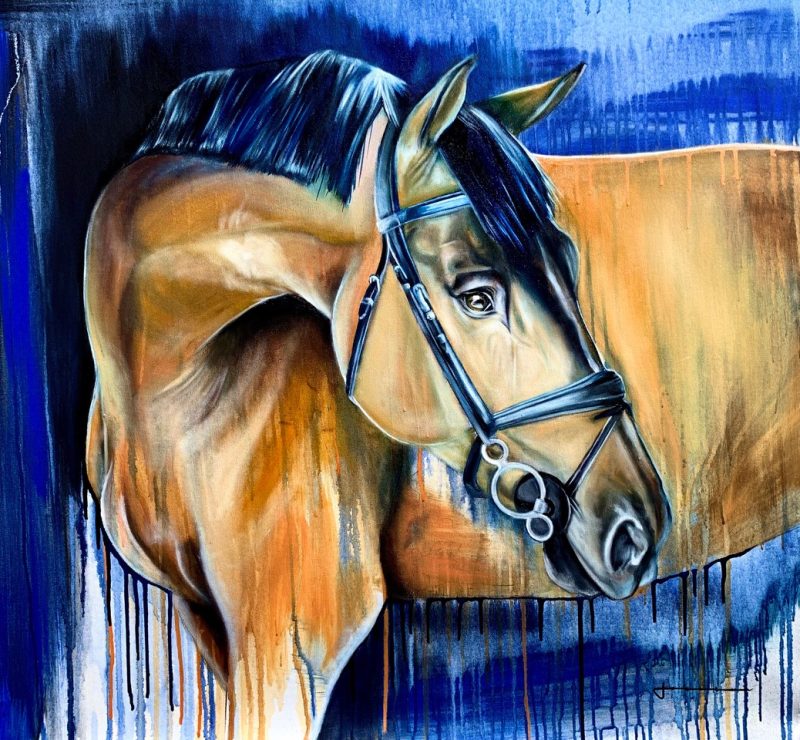 Besides his mixed media paintings, Jackson has another artistic style all of his own—using screws. Aptly called "screw art," this unique medium involves thousands of screws screwed into a dark wood background at various lengths to give a sense of depth and shadow. "I really love the industrial look: screws, bolts and a bit of rust. The idea of turning something bulky, non-malleable and generally unattractive into something organic and beautiful really inspires me—hence my interest in pursuing architecture."
Between school, art and riding and training in between, Jackson is hopeful for the future. "Within the next five years, I hope to be very close to being a licensed architect. I would love to have my artwork in a gallery in London and to be show jumping competitively again. One can dream!"
For more information, visit jacksongravesart.com.
Art Of The Horse is the world's first equine art platform and is the premier source for all things equine art. artofthehorsegallery.net
Double D Trailers Info