By Haylie Kerstetter
Jessica West always rode any horse that was available to her throughout her Junior career, so she knew she had an advantage when she decided she wanted to ride on an NCAA team in college. Now a senior at Auburn University and majoring in psychology, Jessica has enjoyed everything about the equestrian team and is ready to move on to her next adventure. 
Jessica started riding at 4 years old after she was inspired by her older sister, who started riding after watching the movie "Spirit." Jessica's mother, Nancy West, owns a training barn, and was one of her first trainers, helping to get her started on the show circuit. Throughout her Junior years, Jessica had many ponies, from her first pony in walk/trot to the pony medals and derbies. The pony that gave her the most confidence, Ace, was originally a jumper, with a successful career in that ring before Jessica started taking him in the hunter and equitation divisions. In 2016, the pair finished seventh in the medal at USEF Pony Finals.
When she made the move to horses, Jessica started out with her sister's Children's Hunter who was her first equitation horse, and took her to all of her first equitation finals. She then traveled to Wellington, Florida, to ride with Alan Korotkin at Castlewood Farm. There she got the ride on Aribo, who was one of her most influential teachers. At the time, Aribo was green and gave Jessica the experience of giving a horse confidence in the show ring.
Now, Jessica has a small string of green horses that she's bringing along. After graduation she plans to continue working with them and give them experience in the show ring. In her last months at Auburn, she hopes to continue making memories and having a successful season with the team, while also looking back at the team's success over her four-year career. "I have six rings from my time on the Auburn team, three are SEC Championship rings, one is a National Championship ring from my freshman year and two are rings from having an undefeated season my freshman and sophomore years," Jessica said. "Auburn is actually the first and only team to ever have an undefeated season in NCEA history."
How did you choose your major?
I originally started in animal sciences, specializing in equine studies—which is a great program at Auburn but wasn't quite directed towards what I wanted to be learning about. Going into my sophomore year of college, I was already thinking about getting a minor in psychology—I've always tried to focus on the mental aspects of my sport, as well as had some struggles myself with anxiety throughout my Junior career. I decided to change my major to psychology in hopes of being able to help other young riders be successful in the show ring. I also minored in business, which has given me a better understanding of what it's going to take in order to have my own barn.
How do you think your major will be helpful to you in your future career?
After college I plan to become a professional in the equine industry. I think psychology is super applicable in many aspects of the industry, the first being a rider's mental state and how sports psychology plays a role in that. Someone could have all the talent in the world, but if they're not in the right place mentally, talent doesn't mean much. It's also great to understand how people learn, and both of these will be helpful for me to become an effective and supportive trainer. Much of psychology can be applied to animal behavior and learning, so I'm able to use a lot of what I've learned to train young horses as well as do my best to better any of the horses I interact with.
What made you decide to choose NCAA riding?
It was very important to me that I continue to ride while at school. I've been around horses basically every day of my life before coming to school, and I knew I wouldn't be happy unless I could do the same while in college. I wanted to make sure that I stayed fit, so when I went home during breaks, I could still go compete successfully. I loved the National Collegiate Equestrian Association (NCEA) format. I liked the idea of it being head to head—meaning both riders compete on the same horse—because it shows the skill level of the rider, rather than the quality of horse that a person rides.
How did your prior riding experience help you to get recruited?
As a Junior rider, I never had what you would call a "made" horse; I just rode any horse that was available to me at the time. So I was already used to riding a variety of horses, which is something you have to be able to do in college. Another factor that helped me was that I'm a very hard worker. My family owns a farm in North Carolina, Compass Pointe Farm, where I did the majority of my riding on a daily basis. We are a small, family-run operation, so it was normally just my mom, sister and myself that took care of the horses every day. Growing up, doing all my own horse care at home and at shows really instilled a very solid work ethic, as well as good horsemanship knowledge. I think that part of my resume probably stood out more to the coaches than my riding achievements, as there is always work to be done around horses wherever you go. 
What horse would you say has been the most influential on you and your riding?
Every horse I've had the opportunity to ride has contributed and influenced my riding in some way, shape or form. There are a couple that really stand out to me. The first was my large pony, Orion's Diamond Ace. He introduced me to my first derbies, medal finals and ribbons on a national level. He truly inspired my love for competing. A fun fact about him is that he is one of few ponies that has competed in the hunters, jumpers and equitation classes at the USEF Pony Finals and helped me take home a seventh place in the Pony Medal in 2016. The other horse that has been the most influential on my riding would have to be my Junior Hunter/Big Eq horse, Aribo, a 16-hand bay Zangersheide gelding by Arko III. At the time, in 2018, he was owned by Sandalwood Farm and trained by Alan Korotkin. I was lucky enough to get the ride on him because my horse needed to step down from the 3'6" and Harry, as he is known around the barn, was quite green and in need of some experience in bigger classes. Getting to work with him and taking him to all his first indoors solidified my desire to work with and train young horses as a future career.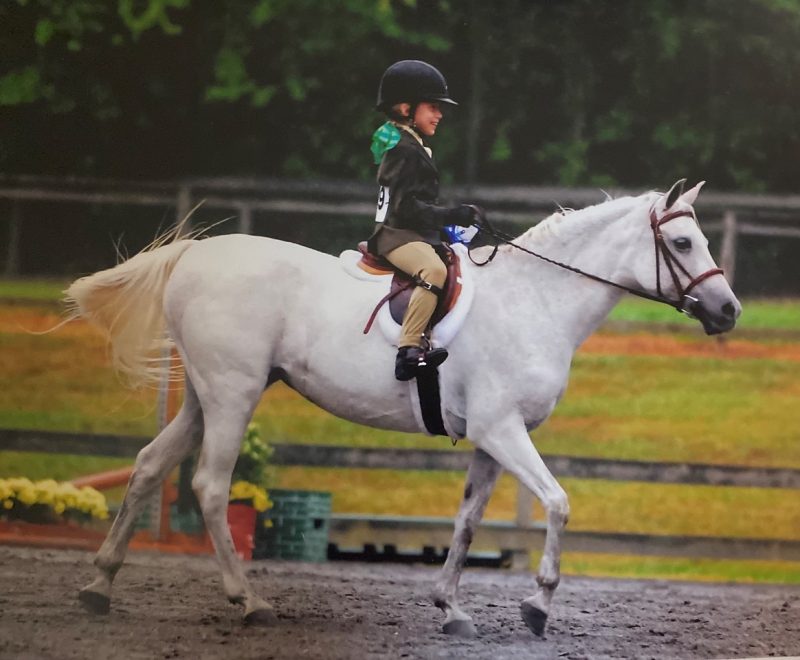 What advice would you give other equestrians looking to ride in college?
I would say that riding as many horses as you can and learning how to adjust to a different ride is a very important thing to learn in order to be successful in college riding. Most importantly though, be a hard worker both on and off the horse. Spend extra time in the barn grooming your horse, cleaning tack and helping others if you can. Horsemanship is something that I find to be key in making a great equestrian, and it doesn't go unnoticed in college riding either. 
What's your favorite thing about Auburn and the team?
My favorite thing about Auburn is how friendly and inviting it is. It's a great place to go to school because it feels almost like it's in its own little bubble, but it's still part of a larger community. This has made it a great place for me to transition into being an independent, responsible young adult. And there is always something fun going on, so that is a big plus. One of my favorite things about the team is that you get to meet so many different people from all over the country and I've really enjoyed getting to learn different ways of doing things around the barn, as well as learning about different disciplines other than my own, like reining and horsemanship. 
What does your typical day at school look like? 
A typical day starts at 5:30 a.m. with strength and conditioning workouts. After workouts, I run to Starbucks to grab my morning coffee (a very important thing to get me through my day). Most of my classes are scheduled between 8 a.m. and 12 p.m. Once I'm done with class, I go out to the barn for practice (practice is scheduled from 1 p.m. to 4 p.m., everyone has a 45-minute block for practice to ride, and then we also spend time doing some work around the barn, tacking up and caring for our horses). When I'm done with practice, I normally go study and/or spend some time with my two cats, Pumpkin Pie and Barnaby Wallace. Sometimes I'll join my friends for dinner and do something fun around Auburn, and other evenings I will just relax in my apartment and unwind from a busy day. I also try to fit in a time to go do yoga a few times a week. 
Where do you see yourself after college? 
Immediately after I graduate, I'm planning to go home and ride at our farm in North Carolina. I have a small group of young horses that I will be working with and getting ready for shows. In five years, I plan to be a riding professional, hopefully starting up my own business by then. I currently have two babies that my family got from Keystone Farm in Ontario, Canada. Both are by Arko III and by then they should be competing at bigger shows. I'm really looking forward to seeing what they are going to be capable of. In 10 years, I'm going to have established my barn where I can train young horses for myself and others, as well as share my passion with other young equestrians.
For more information, visit auburntigers.com/sports/equestrian
Photos courtesy of Auburn University, unless noted otherwise
Double D Trailers Info