By Doris Degner-Foster
Portraits by Kim Chason
Some of the greatest horse stories in history tell the tale of horses that have fallen down on their luck: Black Beauty, War Horse and Snowman, to name a few. Now add a bay mustang named Cobra to the list.
Cobra's story is nothing short of amazing. He was a $125 Bureau of Land Management mustang reject who'd never even worn a halter until he was 6 years old. After being adopted he went on to win an FEI Championship and become a Breyer Model horse just four years after being brought in from the wild.
Cobra had been offered for adoption on three different occasions by the BLM, but hadn't been chosen by anyone. Because of that, he was declared un-adoptable — a three-strikes horse. He was unceremoniously branded "4057" on his left hip to permanently mark him as such.
Just as in the other great horse stories in which a person never gave up on their beloved horse, Cobra also had someone who knew he mattered: Marsha Hartford Sapp, a Florida-based trainer, had faith in the little mustang and life changed for the better for both horse and rider.
A Hint Of Promise
Marsha saw something promising in Cobra so she placed a bid to get him to train for the Extreme Mustang Makeover in 2010. In the Makeover, trainers are given 100 days to prepare a previously untouched wild mustang before competing against each other in several events. As a trainer who specializes in starting young horses, Marsha liked the idea of working with a wild horse that hadn't had any association with humans, a blank slate.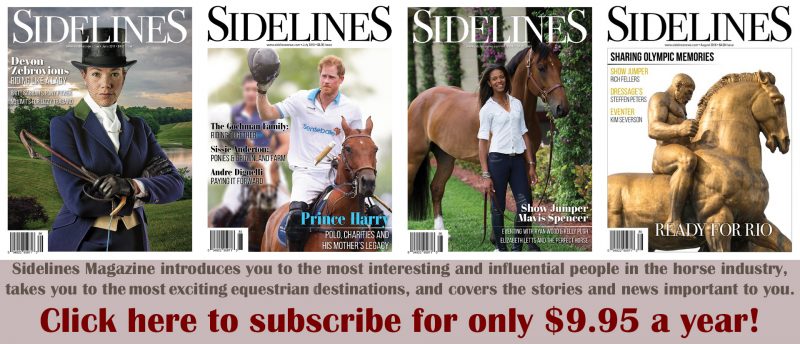 Although Marsha is well experienced in starting horses, she was aware that training a scared, wild horse would be more difficult, but was impressed with how willing Cobra was to become a partner.
"When you have a horse that has no preconceived notions about people or training, and when you train in the systematic manner that's tailored to that particular horse's needs, learning can be so much faster than with a domestic horse," Marsha said. "It blows the imagination to know what horses are capable of and it made me think about training horses in a different way — I think I was underestimating horses before I met mustangs."
After placing a respectable 24th out of 200 mustangs in the rigorous Mustang Makeover competition, Marsha took Cobra home to Florida and gave him some time off. His trainability at the Makeover was evident, but the full extent of his remarkable talent became clear only after Marsha started him back in training after his break.
"I took him to a local dressage schooling show and showed him in training level and intro and he scored in the 70s," Marsha said. "He won a high-point award for the local dressage association that year, just six months out of the wild. That kind of planted a little seed in the back of my mind and I thought maybe we could do some dressage with this horse."
Perhaps it was that thought that influenced Marsha's decision to begin to earn the scores she needed for recognition from the USDF. "I got to the point in my business where I thought I'd really like to get my bronze and silver medals. Since I'm a young horse starter, I don't have that many horses in my barn that are finished enough to go and do third-level dressage," Marsha said. "I realized that I have this mustang that knows how to do flying changes and lateral work because I taught him all these things for the Mustang Makeover. So I decided to work with what I had." 
Learning To 'Join-Up'
Working with what she had was what Marsha learned to do as a child growing up in rural Maine. Her family ran a dairy farm where everyone had a part in running the business, so Marsha was used to getting things done when necessary with what was available.
As a horse-crazy girl, she did what she could on her own with a pony of questionable training. "We got her for free because she was probably not the most well-trained horse that I've ever sat on," Marsha said. "It didn't matter what the pony knew or didn't know; I went out to ride her every day and play with her. I remember being so jump-crazy that I dragged hay bales down to our lawn and set them up and jumped the pony over them. That's just what you do in Maine: You use your imagination."
Marsha's habits of responsibility and self-discipline proved to be beneficial when learning valuable fundamentals in horse training. In exchange for helping Karen Clukey of Half Moon Farm with grooming and stall cleaning, she learned about training. "This wonderful lady gave me my first lessons," Marsha said. "She was the person who introduced the theory of 'join-up' to me that I still use today."
Marsha explained that an important part of the "join-up" method is for the trainer to have the calm, confident attitude of a leader with clear and consistent expectations, which is very reassuring to a horse. All horses have the need to be part of the herd, and this method creates the feeling in the horse to want to be part of the human "herd." Marsha stressed that it is important to establish that acceptance with the horse and with the horse's cooperation — instead of making the horse do things with force — the training goes much faster.
Marsha also learned from Carolyn Sharpe Rose in nearby Dover, Maine, who developed the Aspirant Technique, which teaches a sophisticated balance and timing of the aids. The horse is asked to balance in self-carriage from the very beginning with light use of the reins and to go forward through the back from the use of the seat aids.
"We use our bodies to create balance in the horse instead of force, with minimal use of the reins," Marsha said. "To be able to ride in this manner of self-carriage makes it an easy transition to eventually be able to ride the horse bridleless." 
Moving On Up
With Cobra's talent at dressage becoming apparent, Marsha sought help from friends. Sandra Beaulieu, an accomplished dressage rider and judge who is a lifetime friend of Marsha's and stays at her Tallahassee, Florida, farm during the winters, created the beautiful freestyle that Cobra performs which features music from the original "Spirit: Stallion of the Cimmaron" movie. Cobra and Marsha earned a personal best of 82% at the 2018 World Championship for Western Dressage performing Sandra's freestyle.
Marsha received further training with Iris Eppinger Eppinger who teaches at Valhalla Farm in Florida, for Cobra's first introduction to recognized showing. Iris has her gold medal from the USDF, and shows and trains at the FEI level. Although Iris works at Valhalla Farms in northern Florida, a breeding farm for Warmbloods, she also trains other breeds.
"Sandra and Iris are amazing women who don't care if you have a warmblood or a mustang or whatever," Marsha said. "To me it was a little daunting because the dressage world is full of warmbloods and high-dollar horses and I didn't know what people would think of Cobra as I'm trying to make a name for myself as a trainer. But they gave me a lot of inspiration to show this horse in recognized dressage."
Marsha's concerns about Cobra were unfounded. He proved to be so well-suited to dressage that when she started showing him in recognized USDF shows in 2013, she started showing at first level, then moved up to second and third that same season. Within six months of showing, she had her scores needed for the bronze medal. Also in 2013, Cobra received the Reserve National Championship for the Adequan/USDF All Breeds award at first level. The next year, he was the Adequan/USDF All Breeds National Champion for the third level.
"In 2015, I showed Cobra in his and my first FEI class at Prix St. George and I got my silver medal riding a previously wild horse. He was also the 2015 Adequan All Breeds Champion at Prix St. George," Marsha said with pride. "And 2015 was also the introduction of the USEF recognized Western Dressage, which seemed like a good fit for him because the whole point of USDF Western Dressage is to give Western-trained horses the opportunity to benefit from classical dressage."
In 2015, Cobra was one of five at five different levels of the very first USEF Horse of the Year award for Western Dressage and won a Western Dressage World Championship title. Also that year, he was a National Champion for the All Breeds at Prix St. George and was the first mustang in the world to receive a USEF Horse of the Year award.
And the achievements aren't slowing down. Cobra was nominated for the 2018 USEF Horse of Honor award and will be presented with a special award in Wellington, Florida, in January.
Cobra Becomes A Breyer
The icing on the cake, however, was when Breyer approached Marsha about Cobra. "A favorite memory I have is the day I got the email from the Breyer Horse company asking to make Cobra a Breyer model horse," Marsha said. "It was an imagined dream from childhood that turned into reality. I now have this Breyer model horse sitting on my mantle and it's actually a model of a horse in my barn."
Even more important than her model horse, Marsha hopes to model horsemanship for her students. "At my farm we use showing as an avenue to work on things, but showing is not the point of horses," she said. "Showing is the way to help us learn more about our horses and be better horsemen."
Marsha's Inspiration
Marsha was inspired by Karen Clukey, who taught her the join-up method, and Carolyn Rose, who taught her the Aspirant Technique, the combination of which has become the core of Marsha's own method of training. Like her mentors, Marsha wants to "pay it forward" to help other aspiring trainers. She said of her mentors, "They're wonderful people who really had an interest in sparking the imagination of young people in order to make compassionate, capable professionals."
At Southern Oaks Equestrian Center, Marsha's farm in Florida, she maintains an average of 20 horses in training with the help of three working students. "A lot of working student positions are just staying at the barn, taking care of things while the trainer is away showing," Marsha said. "But my students go to shows, they watch me train horses and they're able to meet people in this industry who are really important and who can help them later on as they progress as trainers, too. I hope that we're providing really valuable things to all our students that will carry them over for a lifetime."
Although Cobra wasn't a horse that one would think of as an ideal FEI-level dressage champion, his success has helped Marsha give encouragement to other hopeful riders. "What I've been trying to do with the whole story of Cobra is show people that we can have success with our horses just through training," Marsha said. "We don't have to go out and buy the best horse — not all of us can afford to do that — or spend a million dollars burning up the show circuit in order to be successful. What we do have to do is spend quality time with our horse and get help from people we are inspired by in order to fulfill our goals."
For more information, visit www.southernoaksequestrian.com
Photos by Kim Chason at chasonphotos.com
Double D Trailers Info