By Doris Degner-Foster
Portraits by Kristie Nichols
When 16-year-old Natascha Gates and a friend went to visit a fortune teller in her home country of Germany, she was told that she would go far away to find happiness and her life's love, but she didn't actually believe it and promptly forgot about the experience. Natascha had other things on her mind. She was about to leave school and begin training for a career in the horse industry.
Natascha had fallen in love when she met her aunt's horses as a child. Her older sister had begun riding lessons, but at 6 years old, Natascha was so small that it was decided that basic vaulting would be a better way for her to start riding: She wouldn't have to learn to control the horse but would still get some time on horseback. "I was so little the riding school didn't want me to ride their big warmbloods," Natascha remembered, "but I was probably the least talented person that was ever out there vaulting. I persevered until I was 8 years old, when I got to take actual riding lessons and I just never quit."
In addition to her lessons, Natascha began to ride for owners who didn't have the time to ride their horses. In spite of her low self-assessment of her talents at vaulting, the time she spent on the lunge line was beneficial and because of her talent and willingness to work, new opportunities came her way.
"I was always into jumping and I did my first .90 meter jumping when I was 9 years old on a 17.1 hand Hanovarian gelding," Natascha said. "I learned so much from that nice horse. He belonged to someone else who only rode on Sundays so I got to groom and ride him during the week. I was about 12 when I did my first 1.20 meter competition on him before he moved to a different barn, but then I went on to ride other horses that were competing at 1.40 and 1.50 meters."
Natascha had always loved to jump but an unfortunate turn of events pointed her in another direction. "The owner of the farm got injured and I got to ride his 1.50 meter stallion," Natascha said. "He was way too much horse for me and the owner was a very grumpy guy who screamed at me during schooling sessions, and the combination of this horse and the horrible training sessions made me a little scared of jumping."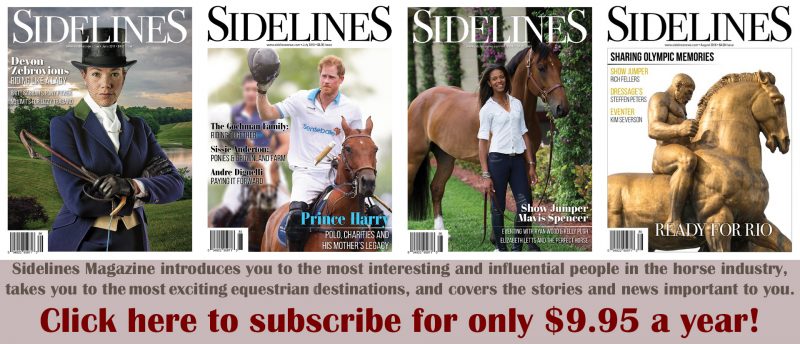 A New Course
Natascha knew she needed to get out of that situation but wanted to continue to ride. Although she was only 16 in 1992, she left school to begin focusing on dressage full time. She apprenticed for three years with international grand prix dressage rider Thomas Schmitz, a holder of several German equestrian awards of high distinction. Natascha rode grand prix dressage schoolmaster horses under Thomas' tutelage and developed an excellent base in her skills to ride one-tempe changes, pirouettes, piaffe and passage.
During that time, Natascha also prepared for her exams to successfully reach the title of Bereiter, the degree of professional rider that is overseen be the Federation National, which is similar to the USEF in the United States. In order to reach this prestigious title, a candidate has to meet the riding requirements in dressage and jumping, teach lessons and pass several written exams.
"My dressage apprenticeship with Thomas actually defined my career because even after three years and doing my exam to reach the title of Bereiter, I went back into the jumping world," Natascha said. "Now when I train young horses, I do all the correct dressage moves. I think it's very important for jumping."
Back in the jumping world, Natascha's first position after her apprenticeship was as a professional for Richard "Pico" Hanover. It seemed like a good fit for her goals since Pico's vast experience included eventing as well as dressage and show jumping. Pico had been the head jumper trainer and barn manager at one of the largest enterprises in Germany, Stall Ramsbrock, and he was self-employed in the town of Vechta when Natascha went to work for him in 1995.
While there, she met Nancy Gooding of Colorado, who had horses in training with Pico and was a frequent visitor to Germany. Natascha became friends with Nancy, and had visited her at her farm in Colorado in 2000.
"Seven years later, I'd just gone through a breakup and was reevaluating my personal and professional life when I was having dinner with a mutual friend of Nancy's and mine," Natascha remembered. "Just as I was saying that I needed to make a change, coincidentally, Nancy called our friend and told her that she was looking for someone to come over to Colorado and work at Plum Creek Hollow Farm. So my friend told her, 'I have Natascha sitting right here and she was just telling me she needs a change of venue!' So that's how it all started."
Going Far Away
Within two months of that decision in 2008, Natascha was in Colorado at Nancy's Plum Creek Hollow Farm, a training facility near Denver with a small breeding program. Three or four foals are born yearly and they grow up outside on hundred-acre pastures. The young horses are introduced to the saddle at age 3 then go back out for another year before they're brought back in and begin work, but they aren't worked hard or shown until they are about 5 years old.
"I've learned to give every horse the time they need," Natascha said. "It's important that they get a good start and very good basics. There shouldn't be a set schedule; the horse should tell you the schedule."
In a way, the horses dictated her schedule, too: Natascha originally came to the U.S. for only 18 months, but ended up staying. But it wasn't just her job that she enjoyed.
"There was an equine dentist who was floating teeth at Plum Creek about a month after I came here and I thought, Who is this cute guy?" Natascha remembered with a smile. "I found out that he was Steve Gates. I began talking to him and we started going out, and now we've been married 10 years! He's a team roper and he has nothing to do with the English riding world, but that's okay."
Natascha's parents came to her wedding in Colorado, and she was surprised when her mother told her she knew that Natascha wouldn't return to Germany when she left for Colorado. "I told her that I wasn't planning for all of these things to happen when I left, so I asked her why she would say that," Natascha said. "She answered, 'Remember the fortune teller? That's exactly what she told you.'"
Meant To Be
Psychic or not, Natascha did find her life's love in a faraway place, both in Steve and in the job she's so passionate about. Natascha has two assistants who help her at Plum Creek Hollow Farm and she's also the barn manager, overseeing the daily operation of about 50 horses on the farm.
"The best thing about working here is that Nancy gives me the freedom to do what I think is in the best interest of the horses; she doesn't have the attitude of pushing horses too quickly," Natascha said. "I've been told that in our industry in the U.S., it's not the norm to have owners that let the trainer develop the horses on the horses' own terms. That's what I feel is one of the really nice things here; there's no pressure on me to in turn put pressure on the horses."
The success of Natascha's patient training practices was proven in her own horse, an Oldenburg gelding named Quickie whom she imported from Germany. "I broke his mother to saddle, and her breeder was a friend of mine," Natascha said. "I bought the foal when he was a few weeks old, imported him to the U.S. when he was a 3-year-old and started him myself. He was my first grand prix horse and I developed him myself."
Natascha and Quickie competed throughout the western United States and won the $30,000 Hildebrand Fund Grand Prix at the Pin Oak Charity Horse Show and the $40,000 Grand Prix during the Summer in the Rockies Series, not too far from home at the Colorado Horse Park. But their journey had a premature ending: In 2017, Quickie passed away at just 11 years old. "He colicked and during the second surgery, we had to let him go," Natascha said. "I don't think there's ever going to be a horse that can really, truly replace him in my heart."
Despite the heartbreak, Natascha is looking to the future. "I'm still sad about losing Quickie, but I'm moving forward," she said, adding that she has a group of talented young horses she's focused on moving up the levels.
"I'm living the moment I'm in right now," Natascha concluded. "I think that makes for a happier life: to look forward with a good attitude and enjoy what will happen today."
For more information, visit www.plumcreekhollow.com
Photos by Kristie Nichols, moonfyrephotography.com
Double D Trailers Info