By Ruby Tevis
Portraits by Melissa Fuller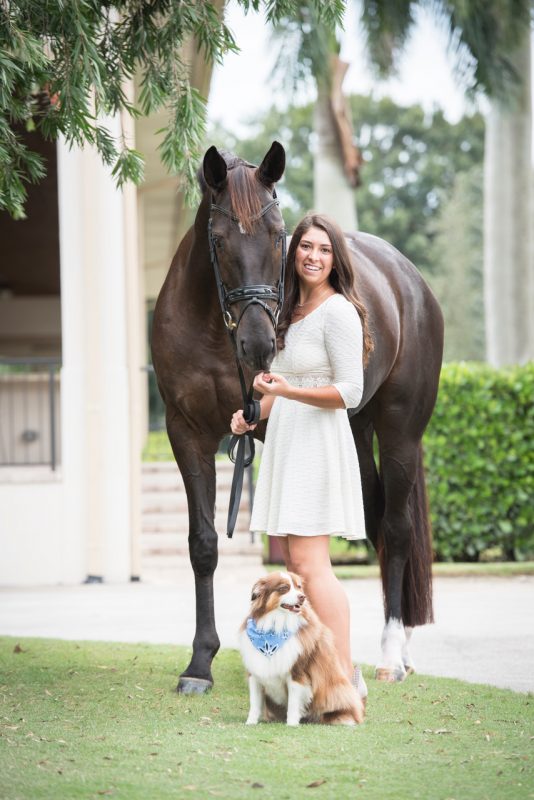 Dressage rider Quinn Iverson has a lot in common with her trainer, Olympian Adrienne Lyle. Both were Pony Club riders from the Pacific Northwest, both are card-carrying members of their Native American nations, and both were discovered by Debbie McDonald. Now, Quinn is following in Adrienne's footsteps toward Grand Prix success — and she couldn't be more excited about the future.
Quinn grew up in Roseburg, Oregon, just west of the Umpqua National Forest. Her mother was an avid equestrian who grew up team penning in rodeos. "My dad and brother are unfortunately very allergic to horses, but nonetheless they supported me," Quinn said. She inherited her first pony, Snickers, from her aunt. "Snickers liked to leave me in the dirt every single day," Quinn laughed. "He taught me a lot about not giving up! I ended up selling him when I was about 12, and that was the hardest thing for me to do." 
As a child, Quinn got involved in Pony Club and fell in love with jumping. After she sold Snickers, Quinn found herself horseless but still eager to compete in the sport she loved. "My trainer at the time, Cindy Sanders, gave me the choice to ride any horse in the barn after her son went to college. Out of the all of those horses, of course I picked the gigantic 17-hand off-the-track Thoroughbred!" Quinn said. 
"We were a lot more competitive in the jumpers than anything else. We attempted to do dressage, but I called it 'speed dressage' because he was always ready to go on to the next thing!" Quinn explained. Soon enough, Quinn would redeem herself in the dressage ring — and that journey started at a clinic with Debbie McDonald.
Chance of a Lifetime
In 2014, Quinn signed up to ride in the First Level clinic at Devonwood in Sherwood, Oregon. She was riding Black Diamond, better known as Coal, a KWPN gelding owned by Bille Davidson. "We weren't much of a partnership — he was Bille's horse," Quinn said, adding that she had only ridden him a few times before, but was able to practice more consistently leading up to the clinic.
"I remember on the second day of the clinic, after my ride, Debbie mentioned that I should get into her program," Quinn explained. "At the time, I just thought she was being nice. I didn't realize it was an actual offer. Then my trainer, Cindy, went up to her after and asked if she was serious. She was!"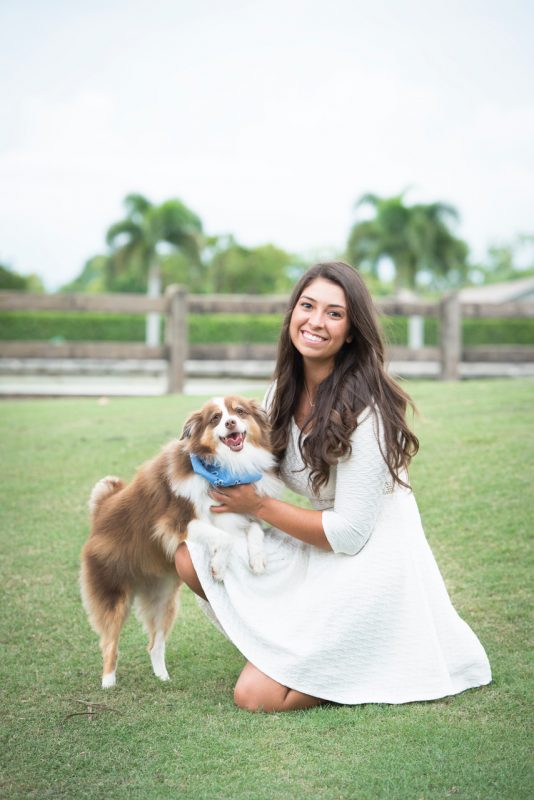 With an offer too good to refuse, Bille graciously allowed Quinn to take Coal. With Bille's blessing, Quinn packed her bags with a week's worth of supplies and headed east to Idaho. "Once I got there, I started helping out right away, and by the end of the week it was decided — I would stay. I had to get my parents to drive the rest of my things to me!"
Quinn settled in as a working student for both resident trainers at River Grove Farm: Debbie McDonald and her assistant trainer, Adrienne Lyle. "I bounced back and forth helping both of them, for whoever had time to help me and Coal! I also had two weeks of training with Laura Graves when I first got to River Grove, so that was really special for me," Quinn said.
While Quinn immersed herself in dressage training, she didn't leave her love for jumping behind.  Bob McDonald, Debbie's husband, offered to give Quinn jumping lessons. "I was so excited when Bob let me ride the jumpers. Karen MacMillan was the owner of all the horses I jumped, and I was also very grateful that they gave me the opportunity," she said. "It was nice to be able to still jump since that's what I had been so used to doing."
Sunny Florida and Young Rider Success
As winter approached, Quinn made the decision to follow Debbie and Adrienne to Wellington. "My first season in Wellington was a shock," Quinn said. "I had never been in a place that was solely built around horses." She enjoyed watching the Friday night freestyles and show jumpers on Saturdays. Best of all, she enjoyed showing Coal.
For her first show season in Wellington, Quinn took Coal out at Third Level, and by their second winter season they were showing at Prix St. Georges. As they found success in the FEI ring, they were encouraged to pursue the Young Rider division together.
In her final year of eligibility as a Young Rider, Quinn rode Coal to a reserve championship in the 2019 Young Rider National Championship at the Festival of Champions. Unlike some of her Young Rider competitors, Quinn wasn't aboard a schoolmaster. Instead, she was riding one she trained herself — and just that fact alone made the experience rewarding for her.
"To be able to say that I had brought him from First Level in Debbie's clinic to here where I am now is so special," Quinn said, "especially since he hasn't been the easiest horse to bring along. Coal is quite the opinionated guy. He's always right, so as a rider I have to make him think it's his idea. It's a game with him!"
Quinn is appreciative of Coal's quirks, and attributes her tactful riding to them. "He has taught me patience, determination and compassion. He's such a ham in the barn; he will smile at anyone walking by begging for someone to give him a treat."
Last year, Quinn rode Coal through the Intermediate 1 and 2, and they're preparing for their Grand Prix debut.
Enjoying the Training Process
Now as Adrienne's assistant trainer, Quinn is enjoying the training lifestyle. She spends her winters in Wellington and summers in Colorado, often joined by her friends and fellow students Natalie Pai and Christian Simonson. 
"We're the three musketeers," Quinn said. "It makes for a completely different dynamic at the barn. Our grooms are our best friends, too. It's so much fun to go in and laugh and joke instead of being serious all the time."
When she isn't training or stirring up trouble with her friends at the barn, Quinn enjoys adventuring outdoors. "Since I grew up in Oregon, I love hiking and camping. I spend a lot of time with my dog and my roommate, and we'll go hang out at the dog beach on the weekends or try to go find something we haven't done before."
Quinn has her mind made up about training — it's what she wants to do for the rest of her life. She is grateful to have both Debbie and Adrienne as such close mentors. "I'm really big on not giving up," Quinn said. As she approaches her goal of competing in the U25 Grand Prix with Coal, she's always chanting Adrienne's mantra: "Just keep swimming!"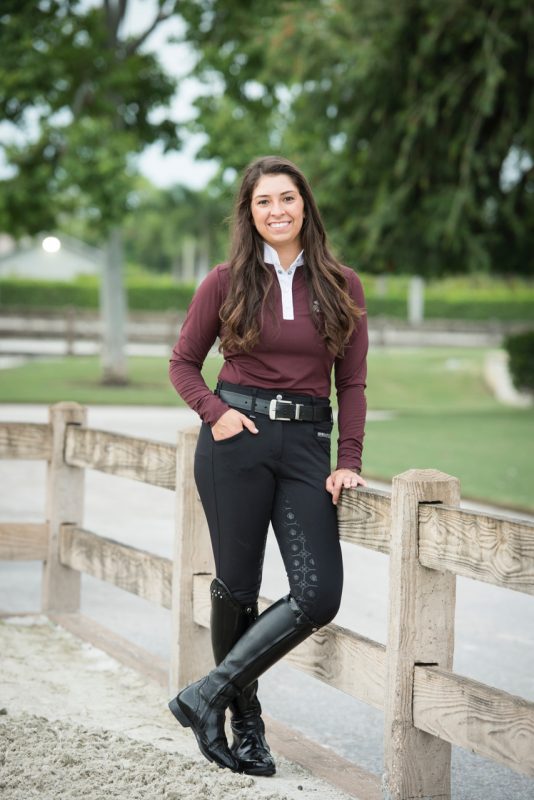 Along with achieving her goals with Coal, Quinn is developing another horse for the future: Sakari, a 7-year-old Oldenburg mare, also owned by Bille. In November, Quinn made her show debut with Sakari at Third Level, and has high hopes for their future together after Coal retires. 
"Bille has made every single step of the way possible for me. If it wasn't for her, I wouldn't have Coal. If it wasn't for her, I wouldn't have ever met Debbie — if Bille didn't offer to let me ride in the clinic," Quinn said. "Ever since that day, she has been behind me 100%. It makes things easier when you have a sponsor behind you pushing you to be better. I am so thankful for her!"
Photos by Melissa Fuller, msfullerphotography.com
Double D Trailers Info