By Laura Scaletti
Portraits by Melissa Fuller
Medal Finals winner, trainer, professional rider, wife, mother, grandmother and judge. These are just some of the figurative hats Sue Ashe has worn over the years. Today, if you see Sue at a horse show, whether she's judging or cheering on her family, she's likely to be wearing a literal hat — her signature straw visor.
One of the most recognizable hunter judges in the United States, Sue has spent a lifetime learning about, loving and giving back to the sport she loves. Sue was recently honored for this dedication with the 2020 United States Hunter Jumper Association Lifetime Achievement Award. Born to parents who were passionate about horses themselves, Sue first sat on a pony at 3 years old.
"When my dad was overseas in World War II, my mom leased a horse and pony when we were at my maternal grandmother's farm in Chatham, New York. I got to ride every other day. My sister, Judy, rode the first day then I rode the next," Sue said. "And that's how it all began."
Not content with riding every other day, Sue longed for more saddle time. As both her parents had ridden, their saddles were stored at home. "Judy and I would take their saddles out of the garage. We had a small split-rail fence where we would put the saddles and 'ride,'" Sue said. 
From riding the rail, Sue and Judy moved on to ponies with Marion Schotter. Marion would send ponies to the sisters with instructions on which pony would suit each girl best. "Back then we only had one real riding saddle between the two of us, and these ponies were unbroken. So of course, Judy always got the saddle and I had to ride bareback," Sue said.
Lucky Lesson
Unbeknownst to her at the time, one of Sue's dear friends and classmates gave her an invite that would forever shape her life. "I don't know how she pulled it off, but she was able to arrange for me to have a lesson with Otto Heuckeroth at Ox Ridge," Sue said. "I was so excited about the lesson; I went to school in my riding clothes."
Sue's dad was also curious about the lesson, making a special trip from Wall Street to Ox Ridge for the occasion. Little did he know, Otto was about to discover the sisters' shared saddle wasn't quite up to snuff.
"Otto pulled me into the center of the ring, put my leg over the skirt, picked the skirt up, yanked the billet guards and they came right off the saddle. My father jumped up wondering what was happening. Otto announced, 'It's rotten; do you want to kill your child?'" Sue said. "That's when our eyes opened and we purchased better tack."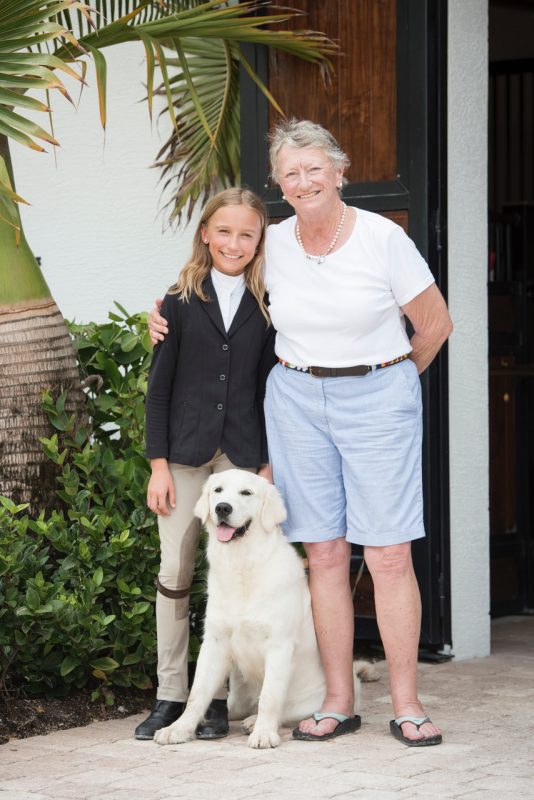 From that lesson with Otto, Sue was fortunate to work with some of the most prominent equestrians in the hunter-jumper world. "I was a very lucky child. George Morris took me under his wing and I was his first student ever. I trained with Gordon Wright as well," Sue said.
Otto, George and Gordon taught Sue the importance of sportsmanship and work ethic. "If you wanted to be a winner, you had to work. I worked very hard," she said.
In 1958, Sue's work ethic paid off as she won the AHSA (now US Equestrian) Medal Finals at Madison Square Garden. Sue still remarks on what an unbelievable day that was. After stabling over at the Armory, because there weren't enough stalls at the Garden for the equitation horses, horses got shuttled over to the Garden the day of the finals — much different than today's finals schedule. 
"To be in Madison Square Garden was so special. When you walked up 'that ramp,' as we called it, it just put goosebumps on you," Sue said. "There was nothing you could do as a junior that compares to the thrills and nerves you felt when they opened the gate and it was your turn."
White Horse Farm
Once it was time to settle down and start a business, Sue started White Horse Farm in Knoxville, Tennessee. "When we first started, in Knoxville if you paid $500 for a horse you'd better win," Sue chuckled. 
Sue's father and husband built the barn at White Horse Farm for her. With only seven stalls, the barn on the farm was relatively small. However, the number of stalls didn't reflect the level of success at White Horse Farm.  
"We became so successful, many people sent us horses that my children, Neil and Molly, showed. Three years in a row we won Pony Finals and numerous high-score awards, and both kids went to indoors. It was wonderful," Sue said. "Even more special was watching both my children compete at the Garden like I had done years earlier."
In fact, White Horse Farm was so successful, they ran into a stall availability problem. "We had one client call and say she wanted her daughter to ride with us. When I said we didn't have a stall, she came out, looked at the facility and paid to build a stall and wash stall," Sue said.
As not everyone could come build a stall, Sue met many customers on the road. Terry Brown, Cindy Van Helden, Ashley Brown and Kristin Hoffman were just some of the students Sue had over the years.
Training Her Own
Sue's pride and joy are her two children, Neil Ashe and Molly Ashe Cawley.  Growing up around horses, both kids were exposed to Sue's passion on a near-daily basis.
"Molly, like her daughter, Taylor, could never get enough of horses. At a very early age she could muck a stall to my four when we were doing barn chores," Sue said. 
It took Neil a little bit longer to warm up to the sport. "With a boy you have really have to set them up to have a chance to win at the sport, because if they don't win they'll gravitate towards team sports like football or basketball," Sue said. 
Sue trained both Neil and Molly from their first pony rides to their equitation days, then sent them to Frank Madden and Bill Cooney of Beacon Hill for equitation finals.
"It was too much pressure to get them ready for finals. It's very hard to train your kids, because you're with them 24/7. We had some battles as they grew up and I trained them, but in the end everything worked out," Sue said. "I'm so proud of both of them, I can hardly stand it."
One of Sue's most rewarding moments with the kids was watching them succeed at the USET Talent Search Finals – East. Neil was Champion in 1986 and then Molly came back the following year and was Reserve Champion.
Following in their mother's footsteps, both Neil and Molly became professionals. However, after getting his MBA, Neil never looked back toward the saddle. "He just kept marching forward. I would love for him to ride again, but I don't think that will happen. Now he gets his horse time with the racehorses he owns," Sue said.
Meanwhile, Molly works with her husband, Chris Cawley. "She's such a fantastic horsewoman," Sue said. "It was amazing to watch her develop Kroon Gravin from a 5-year-old into the top Grand Prix horse in the world. Aboard Kroon Gravin, Molly was the first American and woman to win the Grand Prix of Berlin. To see my little baby from Knoxville become world famous gives me such a thrill."
Giving Back
After her own success in the show ring and before she had children to carry on the tradition, Sue took on another role — horse show judge. Two big-time judges back in the day, Norman Hall and Red Frazier, encouraged Sue to get her judge's card.
"My dad was the chairman of the Ox Ridge Horse Show and Norman and Red had judged for him. They both told me I owed it to the industry. Red told me he didn't care if I only judged one horse show a month, I had to do it," Sue said. "That was a long time ago; I'm glad they both pushed me to start judging."
Sue started judging before Neil and Molly arrived and then took a hiatus before returning to the judges' booth. "My first show back was at CW Post and I thought to myself, Are you crazy? You've been out of this for a while," Sue said. "Once I climbed up into the lifeguard stand that held the judging booth, I knew I was back where I belonged."
From that first show back, Sue has flourished in her role as horse show judge and truly enjoyed the journey it's put her on. 
"I'm one of the luckiest people in the world, because I get to travel all over the country and Canada doing what I love the most: watching horses jump. How fortunate am I to sit there and watch horses jump five days a week, three weeks a month?" Sue said. "I think pretty darn lucky."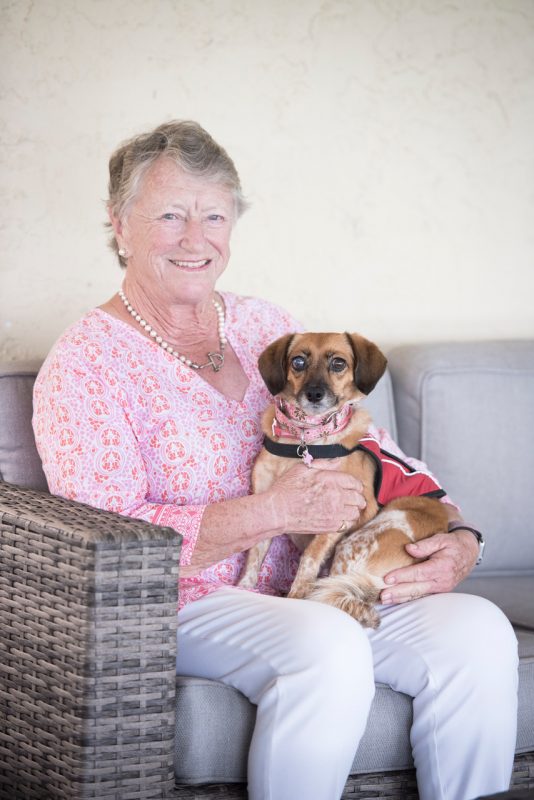 Just like Red and Norman encouraged Sue, she believes all professionals should consider sitting in the judges' booth. "I think it's vital that every pro sits in the box once, even if they aren't going to get their card. You see an entirely different aspect from what you see at the in-gate or from the side of the ring," Sue said.
While some judges only want the high-profile judging jobs, Sue knows there's more to life than just judging classes like the International Hunter Derby Finals. "I laugh because one year I came from Devon and John Roper came from Upperville and we went to a show in Ohio where we judged a class jumping rails on the ground. I thought, This is perfect, it's exactly how it should be," Sue said. "You have to give back."
Photos by Melissa Fuller, msfullerphotography.com
Double D Trailers Info