By Britney Grover
Born and raised in Pennsylvania, Sherry Robertson always loved horses. She grew up riding alongside her three sisters after her family bought a farm in Newtown Square, Pennsylvania, and her father purchased Sherry's first horse from Haycock Stables. From the very beginning, Sherry was fascinated with every aspect of horses, reading every book she could get her hands on and quickly developing a passion for proper horsemanship that would last a lifetime.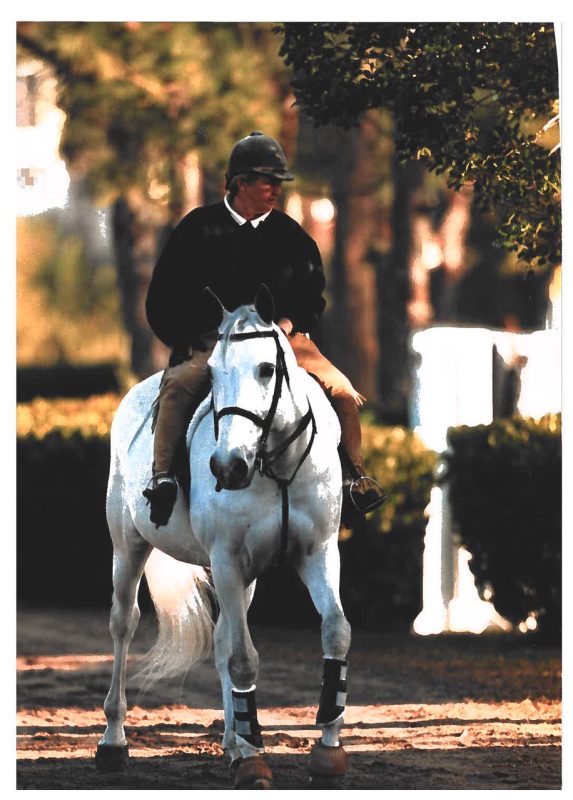 Sherry trained her first "show horse," Pinkie, herself, reading books and then figuring out how to teach the horse, originally from the New Holland sale. With her mother as groom, Sherry won her first class at Devon as a child on Pinkie, starting a long career training, trading, showing and selling horses. She worked with trainers only at shows, but those influential trainers included Rodney Jenkins, Debbie Stephens and Katie Monahan Prudent. Through the years, Sherry rode in the amateur hunters and jumpers, including at Madison Square Garden, where she won a class and was reserve champion on Pacific Trade the first year she ever rode there. The pinnacle of her career came with her horse Lyphard Cay. "He flunked the vet so badly that I bought him for a song," Sherry said. "He was champion at all the major shows, including indoors, Devon, Southampton, WEF and more that I can't remember. I was very lucky to have him; he was the real deal, and once I started to show him, no other person ever rode him."
Along the road to winning many Florida circuit championships, Sherry met Harry Gill, who was inducted into the Show Jumping Hall of Fame in 2002 for his contributions to the sport as an owner and advocate. Sherry and Harry were married for about a year before Harry passed away in 2015. Though she no longer rides, Sherry continues to enjoy horses and living on her small farm in Edgemont, Pennsylvania.
What are your best early memories of riding?
I'm amazed that my sisters and friends ever lived through our early days! We would take off and ride for hours, swim our horses at Hope Scott's farm, explore everywhere. I really loved foxhunting and the local hunt was a five-mile ride, which I used to do in the dark during cubbing season. Radnor Hunt Pony Club taught me a lot about caring for my horse early on.
What's your favorite thing about being part of the horse show world?
First and most importantly, meeting Harry Gill at the horse shows. He was a gentleman, such a wise horseman and later my husband. I was very lucky to have met him. I also really enjoyed knowing good trainers—each was different and brought something different to the table.
If you could tell every rider one thing, what would it be?
The most important thing is never try to put a square peg in a round hole: Give the horse every opportunity to do what he can do best and always know when to get off. Horses cannot do what is expected of them every day and sometimes you just need to get off and put them away.
If you had a week off, what would you do?
Most likely I would do the same thing—feed, muck out, and help in the barn. Mow the fields.
Where is your favorite place you have been? Where would you like to go but haven't?
I used to love going to look at horses with Harry. It was fun to study each one and decide which one to buy. I haven't been to the National Finals Rodeo.
Have you had a funny horse moment that still makes you laugh?
The first time I ever went to The Garden with Pacific Trade, I was so nervous that we wouldn't be able to lunge him enough. Bernardo Mendoza, who has worked for me for nearly 40 years, lunged him for the allotted amount of time and was met at the outgate by his friends who ripped off his black polos, replaced them with red polos and a red halter and Bernardo changed his shirt to a red one and walked right back into the ring and lunged him some more. No one knew the better and he was reserve champion.
Who inspires you?
Really, really good horsemen—Katie Prudent, Jimmy Lee, Rodney Bross, Kenny Wheeler, Debbie Stephens, Carlton Brooks, Rodney Jenkins, Ralph Caristo, Bernardo Mendoza and Sam Nutter. Each helped me at one time or another. Each one so different. Each for being an excellent horseman, putting in the time it takes to succeed and each having extreme attention to detail.
What talents do you feel you have?
Patience with the horses
What's your favorite item of clothing to wear?
Used to be my riding clothes. Now it's just jeans.
Favorite type of pizza?
Mushroom, pepperoni with black olives
What three things can always be found in your refrigerator?
Bottled water and pork chops. Chocolate chip cookie dough in the freezer.
Something people don't know about you?
I am a Quaker.
What would be the best gift in the world?
To have Harry back
If you could have a superpower, what would it be?
Turn back the clock—I can't imagine how much better I might have been as a horseman if I had known then what I know now. Wouldn't it be fun to get to hit the reset button!
What's something everyone should try at least once?
Starting a good horse all by yourself. Then you really know how good a horseman you are.
Photos courtesy of Sherry Robertson
Double D Trailers Info