By Carter Anderson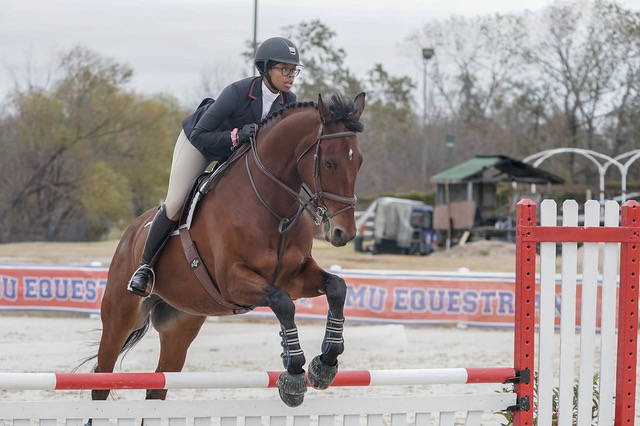 Jordan Allen hopes to match her academic and athletic experience at the University of South Carolina to the success of her junior career. She's currently studying exercise science and pursuing a career in the medical field like both of her parents. Although her education comes first, horses are a very close second. Her passion for the sport led her to South Carolina, where she balances a hectic team and academic schedule. Jordan took a gap year after high school to focus on sharpening her skills; she credits her ability to readapt to going to school to her working student role at Ashland Farms with Ken and Emily Smith, as well as the welcoming environment that her coaches and teammates have created at South Carolina Equestrian. Jordan rode to a fourth-place finish in Maclay Regionals and is now riding on the collegiate team while balancing a full college schedule. 
Why did you decide to ride in college instead of becoming a professional?
A degree is very important to me. I love riding to the ends of this earth, but as we know, anything can happen. It's important to have an education as a foundation due to how dangerous this sport can be. Also, ever since I was young, I've been excited to go into the medical field. I've been fortunate enough to be riding for 12 years, so I feel as though I can take four years to pursue my other dream and have a college experience. 
How has being a working student affected your initial experience of a team?
I can hardly put into words how beneficial it was for me. I learned so much about how to manage my time: It prepared me so well for balancing all of my responsibilities in college. Some students complain about not getting sleep due to workload, but being a working student at Ashland Farms gave me the initiative to get my assignments done days in advance. 
What's one thing that has surprised you about collegiate equestrian?
The team aspect surprised me the most. Riding is such an individual sport, and I've never competed on a team platform. I came on the team and immediately had 39 sisters, who didn't know me yet but welcomed me with open arms. There is so much support and so many people who want to see you succeed and lift you up. Whether it's Coach Boo or Coach Kristen being mother figures or my teammates guiding me through my first year at the university, we're a family and that was an amazing surprise. 
Why did you choose the University of South Carolina?
I visited a couple of other schools and they just didn't give me the feeling that South Carolina did. It's like what they say: I stepped on the campus and knew it was the right fit for me. Everything from the horses to the people made me feel right at home. They also have an amazing exercise science major that I'm now involved in. Lastly, my uncle lives in Columbia, so that's a bonus as well. 
What's your major, and why did you choose it?
Both of my parents are in the medical field. I grew up seeing them in scrubs every day and getting to shadow some complex surgeries. The thought of helping people drew me to medicine, and I'd love to help children in the future. Medicine is in my blood and the pediatric field specifically excites me. 
What advice would you give to a rider who wants to pursue being on an equestrian team in college?
It's important to work hard. Coaches have many connections in the horse world and go to more horse shows than you may think. They're always watching! No matter how well you ride, you could lose this amazing opportunity by being a bad team player or a bad loser. Also, if possible, try to ride as many different horses as you can. The ability to adjust quickly to a new horse is a big part of college riding. 
Do you see riding in your future after graduation?
I cannot imagine a day going by that I'd want to leave riding behind. I'm not sure if I'll stay an amateur or become a professional, but no matter the route I choose, I will always have horses in my life.
Double D Trailers Info