By Laurie Berglie
Portraits by Isabel J. Kurek
While horses have always been a part of Amanda Steege's life, it wasn't until her last year of college that she realized they would become her life. Armed with a psychology degree she admits would later come in handy, Amanda set out on a path that would lead to her current role as owner and operator of Ashmeadow Farm.
Horses are in Amanda's blood as she was raised in an equestrian family. Though Amanda was too young to remember the first time she ever sat on a horse, she enjoys the story her father tells about the momentous occasion. "When I was born, my parents were working in Sterling, Massachusetts, at Saddle River Farm for Hank and Marion Hulick. Their son, James, was a very famous rider, and he is also my godfather. When I was just a few months old, my dad had me out at the farm while James was on his grand prix horse, Tiny Thoughts. My dad handed me up to James while he was on Tiny and said, 'We want her first ride to be on a really great horse.'" Tiny Thoughts would be the first of many great horses yet to come.
Power of Positive Thinking
Throughout her childhood and teenage years, Amanda could regularly be found in the show ring. She started in lead line and went all the way through the junior hunters and the Medal/Maclay Finals. By the time she went off to college, however, she was content to leave her success in the show ring behind and create a different life for herself — one that didn't include horses. "I went to Boston College where I was a psychology major with a concentration in business. I graduated magna cum laude. When I left for college as a freshman, I did not want to be a professional horsewoman, and during my four years at school, I really didn't ride very much."
Horses have a way of creeping back into the lives of those with horses in their blood, and Amanda was no exception. Every summer, she went home and would ride for her father. These summers would become central to her life and by her senior year of college, she had decided to enter the horse industry after all. "My college friends were so surprised when they were all writing their resumes and starting job interviews and I was kicking back and relaxing. They would say, 'You graduated at the top of your class and spent all this time doing all this work — and you're going to ride horses?'"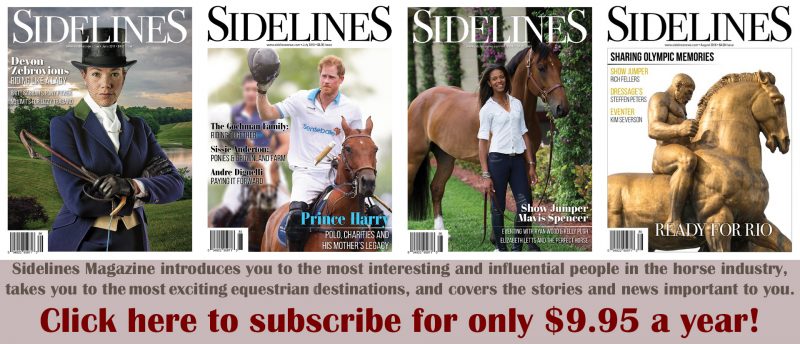 Shortly after graduation, Ashmeadow Farm was born. Now Amanda spends half of her year in Ocala, Florida, and the other half in Califon, New Jersey, where she rents a beautiful property called Pinnacle Farm. Amanda's day-to-day is consumed with the rhythm that is horses. "I'm very involved on a daily basis with the care and riding of my horses. My boyfriend, Tim Delovich, is also my barn manager, and he and I are extremely hands-on — we even do night check ourselves every night that we're home in New Jersey. We have some beautiful fields at this farm, and I like my horses to spend a lot of time in turnout. We also spend a lot of time riding outside of the ring on the trails and trotting through the fields."
Amanda credits her many successes to more than just her riding skills and training techniques. She believes the education she received at Boston College has played a huge role in her ability to stay relaxed and focus on the task at hand while showing. "I use my psychology degree every day to help battle my own performance anxiety as well as to help my amateur clients control their nerves. Visualization and the power of positive thinking are two techniques I learned in college, and I use them as often as I can. I have also taught these techniques to my students, so this is something we practice before big classes."
Now Amanda puts all her positive thinking and energy into her current string of horses, all of which have bright futures. "MTM Self Made is owned by Niki Holtzman. Selfie was champion earlier this summer at the Upperville Colt & Horse Show. Balou is owned by Lisa Arena Davis. I started Balou as a pre-green hunter. One of the most exciting moments of his career was when he and his owner, Lisa, were champions at Devon in the amateur owner Hunter 3'3" division and grand 3'3" champions. Lafitte De Muze, owned by Cheryl Olsten, is a 7-year-old showing in the green 3'6" division with aspirations of being a top derby horse. Also, Cheryl and I have recently partnered up with The EQUUS Foundation and she is donating all of Lafitte's prize money to EQUUS!" The EQUUS Foundation is the only national charity in the United States 100% dedicated to ensuring the welfare of America's horses.
 Find Your Inspiration
With a barn full of beautiful horses loaded with potential, it's no surprise that Amanda is pretty happy with where she is in life. In the next five years, however, she'd like to continue to find quality young hunters and develop them through the ranks. As an instructor, she'd like to continue helping her amateur students fulfill their riding goals.
Amanda is proof that sometimes you need to step away from something you love in order to find your way back and give it your whole heart. She would also like to encourage others who are considering a career as professional riders to go for it. "First and foremost, take your time and get as much experience with as many different people as you can. Spend time working in the barn and really learning all the horsemanship skills that you can. Go to college. I know at the time it seems like you're stepping away from riding but there's time to come back to it, and I really learned so much in college, even beyond the formal education, that's helping me run my business and be the person that I am."
Amanda describes herself as "soft, still, precise, forward and connected," and she believes her diverse riding and training background, as well as her college education, have allowed her to become the rider she is today. And at the end of the day, no matter how many horses she's owned or ridden, Amanda finds inspiration in the animal itself. "They are such individuals with big hearts; I think it's truly amazing what they do for us and how giving they are. I'm inspired by my horses — plain and simple!"
Double D Trailers Info