By Kimberly Gatto
Portraits by Melissa Fuller
When Cassandra Lorusso-Smith finds herself having a difficult day, she draws inspiration from a reference to her favorite Bible verse from 1 Corinthians, which is embroidered on her saddle pads. The lifelong equestrian and current Grand Prix rider—known as Casey to her friends—derives strength from the words of the apostle Paul, who wrote "the greatest of these is love." She applies those words to her interactions with both horses and people.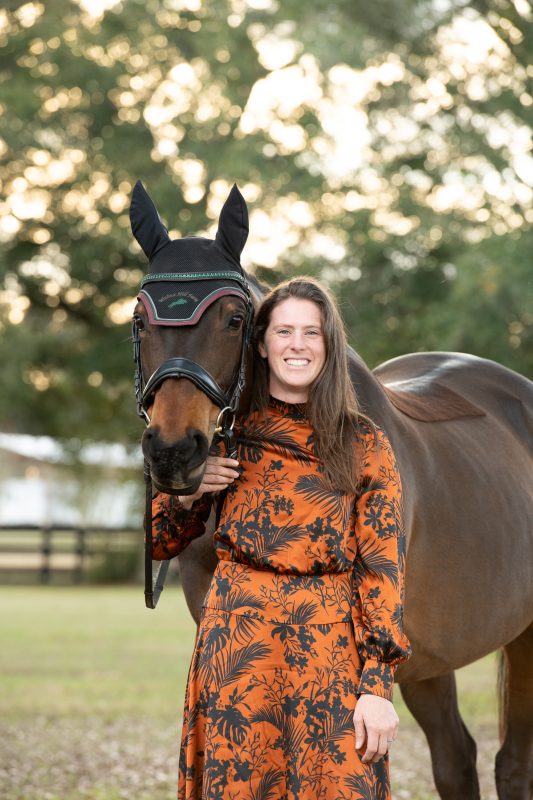 "I once heard someone say that 'our calling on earth is to help others,' and I really took that to heart," said Casey, who works as a licensed mental health counselor at her Walnut Hill Farm in Plainville, Massachusetts. Having discovered at an early age that horses have the power to ease emotional wounds, she incorporates various forms of equine therapy into her work with clients. With her own animals—including a former show jumper—as facilitators, Casey utilizes equine-assisted therapy principles to help both children and adults heal from trauma and find new hope. For some clients, therapy may include saddle time; for others, simply standing alongside a horse is enough to soothe a troubled soul.
"My horses were so helpful to me throughout my own struggles with depression and anxiety as a teen," Casey said. "Since the horses were at my home, it did not matter if I was having a bad day or did not feel like getting up in the morning. They depended on me for their daily care. The horses became the motivation I needed to work through my own emotions so that I could be present for them."
Loving Horses
Growing up in a family of four girls and one boy, Casey's passion for horses developed at a young age. After begging her parents for lessons, she began riding at the age of 6, along with her siblings. Much of her early saddle time took place at a local Morgan farm, where she rode both Western and English and began competing at area horse shows.
Casey's parents, Gerry and Leslie, were highly supportive of their daughter's newfound passion, with Gerry driving the horse trailer to competitions and serving as the ultimate "horse show dad." "It was so nice to go to horse shows and spend the entire day together," Casey said. "My dad has always been so positive about everything, even though his background is not in horses. He has always supported my goals—no matter how unrealistic they may have been—but also helped guide me in the right direction."
When she was 10 years old, Casey became the proud owner of I Spy, aka Spyder, a light bay Quarter pony with a white stripe and two blue eyes. The pair competed in the 3' jumper classes at local shows, with her dad serving as groom, coach and cheering section. "We really were complete novices at the time," Casey said. "Spyder had a chronic rearing problem, which I thought was fun, and she basically had two speeds—so we would either win the class or I couldn't even get her into the ring."
Spyder lived to be 26 years old, eventually being retired at Walnut Hill Farm. "That pony taught me so much," Casey said. "But the most important lesson was that I had to manage my own emotions if I wanted to do well with horses. Spyder was highly sensitive and would pick up on my feelings if I was nervous or upset. She helped me realize how in tune with our feelings horses really are—and how I could help her to be calmer by managing my own emotions."
As Casey continued to progress in the sport, she was invited by a family friend to ride some of his homebred warmbloods. "At that time, I had never ridden anything over 15 hands, and these horses seemed huge," she said. "I was absolutely terrified. But from the first time I jumped one of those horses over a big oxer, I was obsessed."
The friend suggested that Casey take some lessons from his own coach, who happened to be a big-name hunter, jumper and equitation trainer. "I had only been at local-type barns, so this was a huge step up," she said. "He had told me to 'dress nicely' for the lesson, so I wore my full show outfit. I think they all got a laugh out of that."
Upon arrival at that first lesson, the trainer quizzed Casey about the various parts of the saddle and the horse. "I actually loved that because I had been memorizing all of those things," she said. "Then, when we started the lesson, he told me to drop my stirrups and start posting while he went inside the barn for a phone call. He kept looking out the window to make sure I was still trotting. I didn't want him to see me give up, so it made me really determined to work harder and prove that I could do it."
Casey competed in the Big Eq classes for a year, but found that she preferred the thrill of the jumpers. She also enjoyed riding in the Interscholastic Equestrian Association (IEA) during her high school years, where she served as captain of her school's team and won the inaugural sportsmanship award at the zone finals. "IEA was a really great experience for me," she said. "I really liked the team atmosphere, and it was exciting to ride all different types of horses and try to bring out the best in each one."
Horses as Healers
It was around this time that Casey discovered how healing horses can be for all types of people. "One of the trainers who leased the large barn on our property had a couple of students who were on the autism spectrum," Casey said. "It was incredible to see these kids—who were once non-verbal—opening up, talking and becoming more confident just by being around horses. It really piqued my interest in teaching therapeutic riding." As a result, Casey decided to become a psychotherapist and incorporate horses into her career.
Casey's desire to work in the mental health field was inspired by the therapist who had helped her during her own struggle with depression. "I had seen other counselors in the past, but none had challenged me to get better like this one did," she said. "It made me want to devote my life to helping others as he had helped me."
Casey obtained her bachelor's degree from Stonehill College, where she rode on the equestrian team and was named Cacchione Cup high-point rider during her junior year. She subsequently earned a master's degree from William James College, choosing a school that would allow her to balance her schoolwork with riding. After earning her license and beginning her psychotherapy practice using traditional counseling, she found that bringing clients into the barn atmosphere had a distinct positive result. "If a person was not responding to traditional therapy, I brought them out to the barn for a change of scenery and to meet the horses," Casey said. One of her beloved equines, a dark bay Swedish Warmblood named Calypso, seemed particularly adept at connecting with her clients.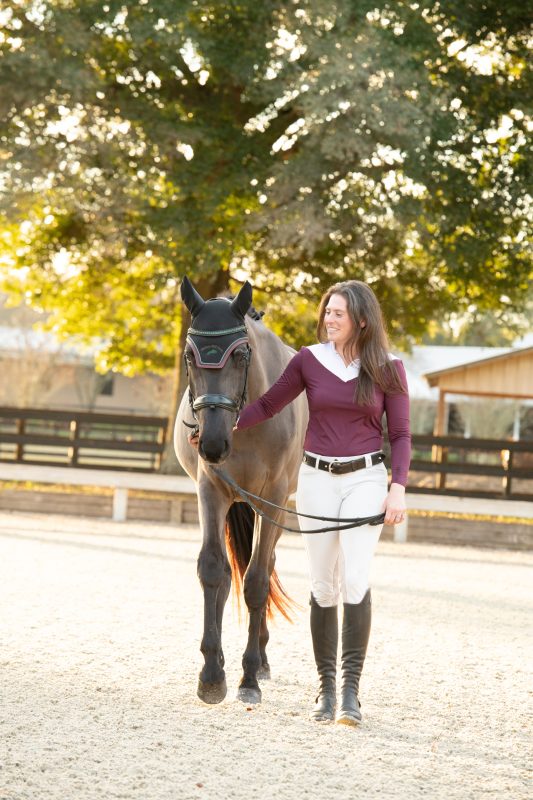 "It was incredible to see, because Calypso was a 1.25m jumper and could get pretty 'hot' in the ring," she said. "But he was very calm on the ground and was highly in tune with people's emotions. One of my early clients was a 6-year-old girl who had autism and struggled with PTSD. We did a lot of natural horsemanship exercises with Calypso on the ground and worked on her forming a connection with him. It was wonderful to see how she could get Calypso to follow her steps just by using positive reinforcement. Seeing this little girl improve and thrive was a huge inspiration for me."
After retiring from the hunter and jumper rings, Calypso spent his remaining years assisting in the program at Walnut Hill Farm as a therapy horse. "Calypso was actually a significant part of my master's thesis," Casey said. "I focused on equine therapy and how forming a close relationship with the horse is essential. Along with my thesis, I submitted a video of me riding Calypso bareback and bridleless to demonstrate how being completely in tune with each other can influence the way the horse responds to your cues."
Calypso recently passed away at the farm at the age of 29. "I still haven't found the right words to express just how much Calypso transformed the course of my life," Casey said. "Without him, my life would be completely different. He was exactly who I needed him to be at different points in my life. He was a fierce competitor, a reliable teacher and a loyal confidante for my clients—and for me. He is the reason I pursued equine assisted counseling."
Upon the advice of her dad, Casey continued her education by becoming a certified therapeutic riding instructor through the PATH Intl. organization and was also certified by the Equine Assisted Growth and Learning Association (Eagala) to provide therapy through its structured programs. Under the Eagala model, a licensed mental health professional and a qualified equine specialist work, along with horses, to help clients heal from trauma and overcome issues such as anxiety, depression, addiction and other struggles. "Clients are able to interact with the horses without feeling judged by another person," Casey said. "I have found that even if someone is just watching the horses, there is a positive therapeutic benefit."
A few years ago, Casey also began integrating equine assisted Dialectical Behavioral Therapy (DBT) into her work with some clients. DBT is based on four modules: mindfulness, interpersonal effectiveness, distress tolerance and emotion regulation. "For some of my clients, I combine DBT skills with exercises on the ground with the horse. I have found that it is a much easier way to strengthen neuro connections for a client when horses are involved and it becomes fun for them.
"My end goal is to combine equine therapy with yoga, Jiu-Jitsu and traditional counseling to heal a person completely, as each of these methods uses different parts of the brain," Casey continued. "When people have responses that cannot be fixed through talk therapy, these other types of therapy and exercise help them to heal more fully."
A Well-Rounded Life
Casey has been studying Jiu-Jitsu, a Brazilian self-defense martial art and combat sport, for the past 10 years. "In April of 2013, I was working at a treatment center for teens in Florida as part of my practicum and a friend introduced me to Jiu-Jitsu. I have trained every single day since then," she said. Casey finds parallels between the art of Jiu-Jitsu and riding. "There are days when you feel strong and feel as if you can do almost anything, and other days when you almost feel like giving up, just like in riding. Jiu-Jitsu teaches you to 'be comfortable being uncomfortable' and only you can decide how much you can withstand."
Casey feels that Jiu-Jitsu has made her become more integrated in her body and has increased her overall level of confidence. To date, she has won numerous Jiu-Jitsu competitions and recently earned her black belt, which represents an expert level of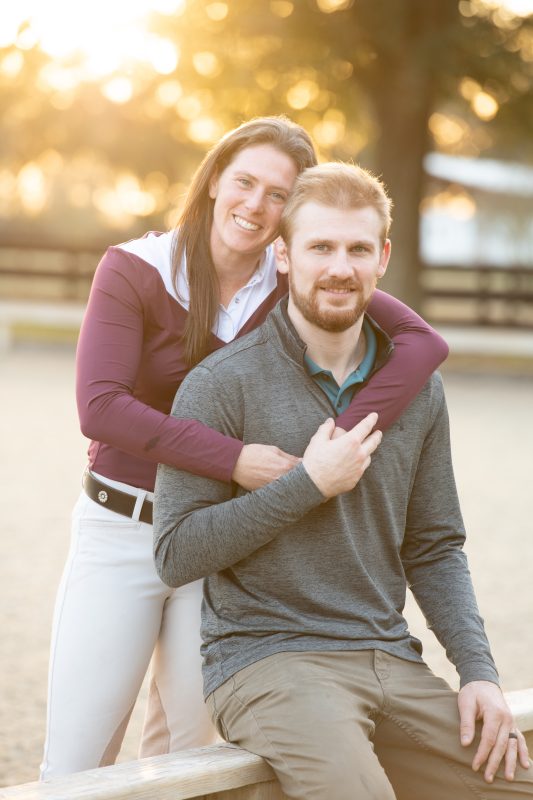 technical and practical skill. She also enjoys teaching Jiu-Jitsu classes to both children and adults.
It was through her journey in Jiu-Jitsu that Casey met her husband, Collin Smith. "We met at the gym and trained together for afew years before we actually started dating," she said. They were married on October 12, 2019—with Casey's Grand Prix jumper, Iceman, carrying her down the aisle, led by her dad, Gerry. "On my wedding day, I braided Iceman's mane, dressed for the wedding and had some photos taken. Then I hopped on him and galloped around while I was wearing my wedding dress. It was so incredibly special. Iceman was a total champ at the wedding; he didn't put a foot out of place."
Casey bought Iceman, a dark bay Belgian Warmblood out of Nonstop (by Darco), several years ago after leasing him for a short time. When she first saw him, the gelding was competing in the older adult amateur hunters with his previous owner. Since then, Casey and Iceman have formed a winning partnership; the jumps progressively got higher, eventually landing the duo in the Grand Prix jumper ring. Together they have already competed in six national Grand Prix. "Iceman is an absolutely incredible horse," Casey said. "In addition to jumpers, he can do anything under saddle—even bridleless riding. He also qualified for USDF regionals at his first dressage show. I am so excited to see where this year will take us." While Iceman is not as comfortable as Calypso was in terms of doing therapy work, he does participate in the program. "Iceman is really great on the ground with some of the kids I work with," Casey said. "But he made it clear that he doesn't love doing therapy work, so he only does a limited amount."
It's important to Casey that all of her horses are content in their jobs, whatever they may be. When one of her show horses displayed unhappiness in the jumper ring, Casey decided to try that horse in dressage and eventing—and found that she loved both. She ended up purchasing an event horse, an Irish Sport Horse mare named Oldcourt Grafen Dance, aka Bean, with whom she hopes to make the leap from Training to Preliminary this season. "I fell in love with dressage and eventing for many reasons," Casey said. "And I have found that riding cross-country has taught me how to really gallop, which was something that I was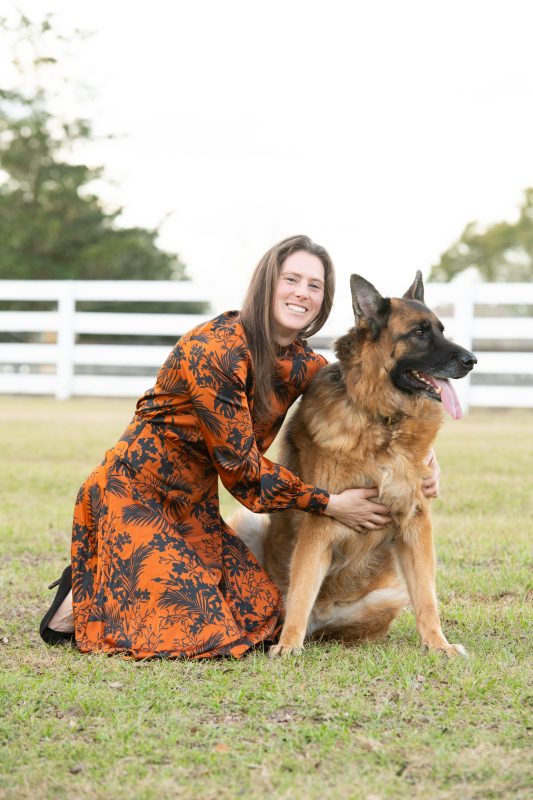 missing in jump-offs with Iceman. I also love the art of dressage and its emphasis on the bond and harmony with the horse.
"It is such a wonderful experience to build trust in a horse and develop a bond that makes them want to do their job," she said. To that end, she values the importance of developing a relationship on the ground first, using such methods as natural horsemanship, liberty work and clicker training. She is grateful to receive support in the training process from her own trainers, David Oliynyk of Oliynyk Show Stables and Jill Swift of October Farm.
"My main goal with horses is to keep learning and be the best horseperson I can be," Casey said. "And attitude is so important. If I
have a bad day or a rail comes down in one of my classes, I want to keep that in perspective. If I find myself having a bad attitude, I remind myself of my favorite Bible verse and what it's really all about. The kindness I show to myself, my horse and those around me is so much more important than any show result.
"I feel so grateful to have horses in my life and to be able to share them with others and help them heal," Casey said. "As I tell my clients, we cannot always choose what has happened to us, but we can choose how to move forward. Horses can help us do that."
For more information, visit walnuthillcounseling.com
Photos by Melissa Fuller, msfullerphotography.com
Double D Trailers Info