By Jan Westmark Bauer
Portraits by Alex Banks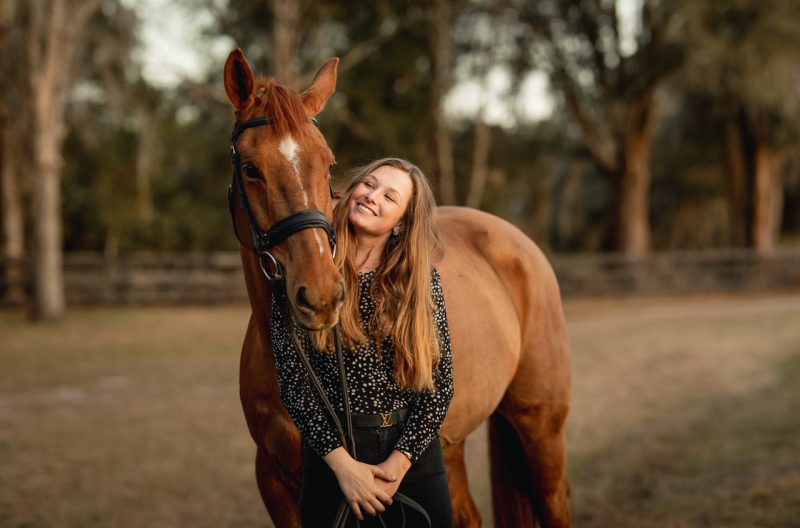 Cosby is a student at the University of Kentucky and was the Advanced Intercollegiate Champion in 2021.
Eventer Cosby Green's propensity for talking about horses developed in early childhood. Although born to non-horsey parents, she was fortunate to have grandparents who owned a Thoroughbred breeding operation, immersing Cosby into a world that gave her plenty to talk about.
Cosby became an eventer because it was all she knew. "Champagne Run in Lexington, Kentucky, the farm I grew up on, was primarily an eventing barn and so I was naturally funneled into doing that," she said. "I also grew up going to the then-Rolex Kentucky Three Day Event, and so when I was very young, I didn't even think there were any other disciplines to choose from. Luckily it has stuck!"
Now 21, Cosby is still talking about horses. She lives in Lexington, where she's a student at the University of Kentucky (UK) and a member of the UK Eventing Team while excelling in the eventing world.
Her success at the CCI3* level includes an individual bronze medal at NAYC in 2019 with Takine de la Barbais, being CCI3*L National Young Rider Reserve Champion 2021, and winning the Jersey Fresh International CCI3*S in 2021.Cosby counts herself lucky to have been named to the 2022 Emerging Athlete Eventing 25 list, and was the Advanced Intercollegiate Champion and overall second-ranked USEF Advanced Young Adult last year. She's competed  Copper beach, owned by Bel Mar Farm, and Highly Suspicious, owned by Edie and Clay Green, at the CCI4*S level and recently moved up to Advanced on both horses.
Sidelines caught up with the talented young eventer to discover what she is talking about when it comes to her horses, her life and her eventing journey.
What do you like about eventing?
I love how challenging it is. I personally don't like predictable activities and I love being faced  with what feels like an impossible task. Eventing is so unique in how it includes three different disciplines in one weekend, and chasing after "mastering" each phase is what gets me up and excited every single day. I love the process of figuring out each horse's needs, and how to bring the best out of our partnership. I view it as a never-ending jigsaw puzzle, but I'm always pleased with the progress I've made. I also enjoy how the three phases tie together and relate so well to one another. I feel like it really paints a clear picture for me and shows any holes in the training I need to work on.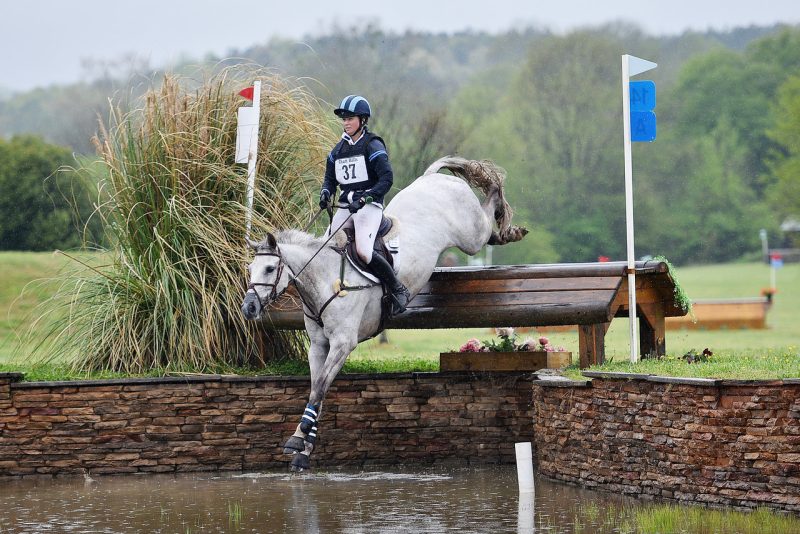 Cosby and Highly Suspicious at the Chatt Hills International where they finished 5th in the Advanced division. Photo by Liz Crawley
What has your University of Kentucky experience been like?
I absolutely love being a student at UK. I've gotten lucky during an unlucky time with COVID-19 and school allowing the majority of my academic experience to be online, although I've spent much time on campus and in person, which I wouldn't trade for anything. I'm technically a senior this semester, as I'm planning to graduate a semester early in December 2022 majoring in general business with a minor in communications. I love being part of the UK Eventing Team, which is a club sport at the university that allows people who love the sport to come together and compete at USEA Intercollegiate Eventing competitions. I've met some of the most important people of my life on the team, and I wouldn't have gotten that experience any other way. I feel so lucky to have such a supportive group of people around me that all have similar situations and goals as me.
Who do you train with?
I currently ride with Allie Knowles and Buck Davidson. Allie is definitely my role model in life. I've never met somebody who loves what she does more than her. No matter if the horse she's riding is being naughty or breathtaking, she almost always has a smile on her face and I strive to be like that one day. She holds herself to an extremely high standard all while enjoying the process, and it's obvious that every horse in the barn feels understood by her. That's my biggest takeaway from her—to create an uplifting environment that makes horses and people want to try for you as hard as you try for them.
Buck has taught me to pay attention to details I never would've thought of, whether it's from standing on my horse during a lesson or jumping through an Advanced line. He has taught me to tap into another level of attentiveness and hold myself to a higher standard in order to be safe and successful at the top levels.
Did you have any trainers growing up who had an influence on your life?
Maggie Wright taught me up-down lessons at age 4, and brought me up to my first three-star. She is the foundation of who I am as she made me fall in love with the sport. She has taught me to stay ambitious and stay kind. She always challenged me in a positive way, and that's something I continue to implement in my everyday life. She has given me countless opportunities and continues to do so. I could not be more thankful.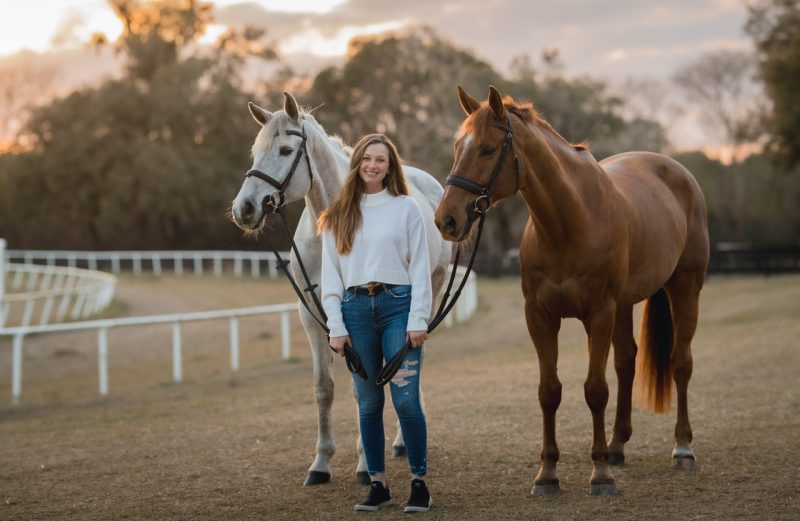 Cosby with Highly Suspicious, left, and Copper Beach.
What are your goals in the eventing world?
My goals are the obvious ones—to go to the Olympics one day, represent my country, win five-stars and achieve things that have never been achieved. However, I've learned that those can't be the only goals; otherwise the sport starts to seem impossible and the goals feel terribly far away. So, that means one of my biggest goals is to bring the best out of any horse I'm able to get my hands on. I hope to be honest to every horse I meet and consistently be able to produce multiple horses to the top level and be successful. I like to believe that by ticking along those goals will lead me to the even loftier goals.
Do you plan to become a professional?
I plan to become a professional and am starting to think about how to best make the transition.
What would you tell your younger self about your life now?
I'm most proud of how I have gone through hard times and still work hard every day toward my goals. If my younger self only knew half of the things I've gone through, I think I would've been slightly scared and not as eager.
Do you have life goals?
My goal in life is to be happy and do what I love. It sounds simple, but I want to always hold myself to this standard as it can be so easy to let those simple words slip away. Especially in eventing, it's so easy to get caught up in everything, but I always want to love what I do and be happy while I train and compete my horses. I also think it's important to prioritize everyone's mental health in this sport to get top results.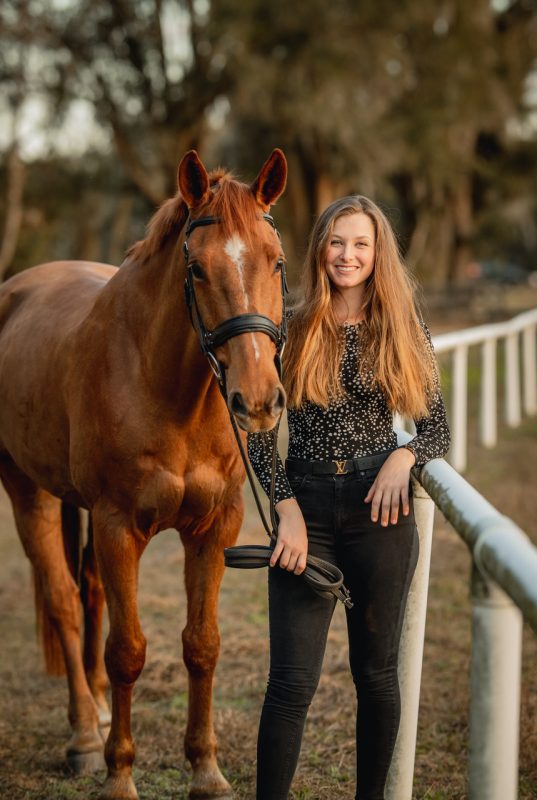 Copper Beach, owned by Bel Mar Farms, and Cosby Green in Aiken, South Carolina.
What's the best thing about your life?
Without a doubt, the best thing about my life is the people around me. I have no idea how I got so blessed to be born in such a loving and supportive family, but I'm definitely glad. My parents and sister are my biggest cheerleaders and have all made so many efforts to make my dreams come true. They have made so many sacrifices for me, and they don't go unnoticed. I also have the best mentors and coaches around me. I think this is a vital part of anyone's success, and I happen to be around the most inspiring ones. My friends, of course, have to be mentioned as well. They are always keeping me laughing and make life just plain fun. I couldn't do what I love to do without the people around me and at the end of the day, they mean the most.
What do you like to do outside of the horse world?
The most interesting thing I've done in my life would be the opportunity to travel. I love traveling to new places and exploring different cultures. One of the most interesting places I've been to is Alaska, where I got to go dog sledding and experience some pretty jaw-dropping views and wild animals.
Do you have any non-horsey hobbies?
In my extremely rare free time, I love to paint shoes. People shoes, not horseshoes! It's my favorite downtime activity, as I love combining art with fashion. It's a great activity for me to outlet my OCD and attention to detail. I can do it for hours on hours!
Follow Cosby on Instagram @ccgequestrian
Photos by Alex Banks, www.alexbanksphotography.com
Double D Trailers Info