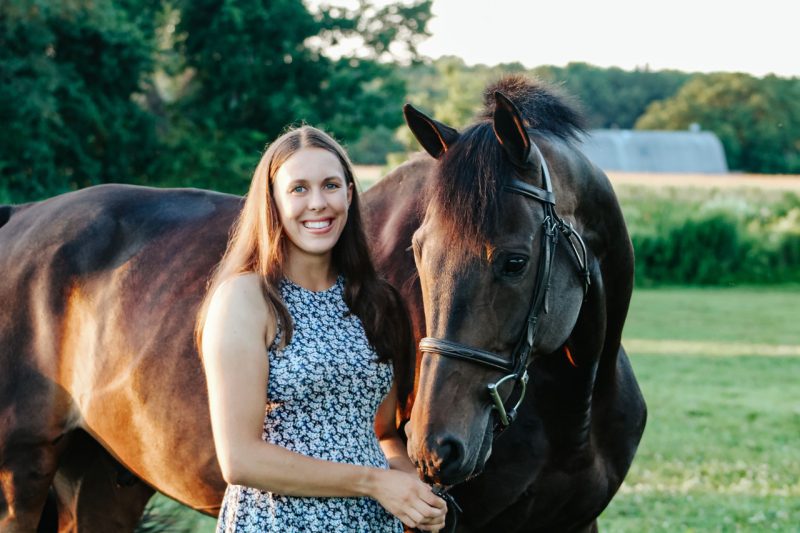 Haylie and Houdini, a horse from Centenary University. Photo by Kylie Dailey
Haylie Kerstetter has always known that horses would be a part of her life, but wasn't sure exactly how they would fit in. Now a senior at Centenary University, Haylie is majoring in equine studies: communications for the equine industry, and hopes to one day own her own equestrian marketing business so she can always stay connected in the field.
Haylie began riding when she was 5 years old at a local barn where she took lessons and helped with chores to learn as much about horses as possible. She dabbled in almost every discipline, and a few years later she and her mom purchased their first horse, Skittles, who helped to build her confidence and solidify her love for the sport. Throughout high school, Haylie leased several different horses and began focusing her attention on the hunters, jumpers and equitation with a passion for the hunters.
During her freshman year at Centenary, Haylie realized a career in the media field would allow her to combine her passions and stay involved in the equine industry. She used her time at school to make as many connections as possible and took every opportunity to intern in the field. And as a member of Centenary's Intercollegiate Horse Show Association (IHSA) team and co-captain of their hunter/jumper team, she has had the opportunity to show the school's horses at USEF-rated horse shows.
Following her graduation from Centenary, she plans to continue riding, especially focusing on her love for the hunter ring, and eventually start her own marketing business.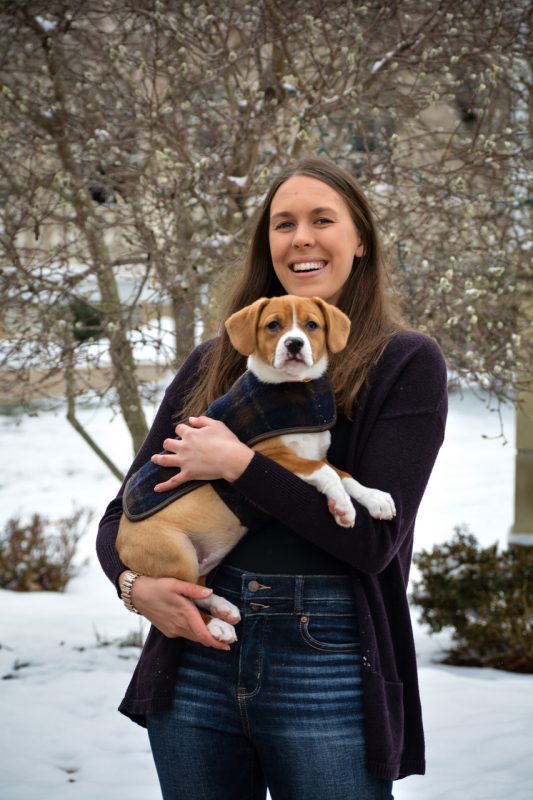 Haylie with her rescue pup Clementine. Photo by Olivia Erikson
How did you choose your major?
I'm majoring in equine studies with a concentration in communications and a minor in social media marketing. When I started at Centenary, I knew I wanted to work within the equine industry, but wasn't sure exactly what I wanted to do. During my freshman year, I took a writing class where my professor helped me realize I could combine my love for writing and my passion for horses, so I started focusing on the media side of the industry.
What's your favorite thing about what you do?
I love that I get to work and connect with so many different people in the industry! Through school and each of my jobs, I've had the opportunity to work with many equestrian professionals from across the country. It's so fun for me to be able to hear their stories and share them with others. I also really enjoy the riding and showing that I'm able to do while at school. At Centenary I have the opportunity to ride almost every day, whether in class for credit, in team practice or hacking during my free time. Thanks to some of my coaches, I've had the opportunity to ride and show very talented horses that I may not normally have had the chance to work with.
What's your biggest achievement in the horse world?
My biggest achievement was training and competing an off-the-track Thoroughbred for the Retired Racehorse Project (RRP) Thoroughbred Makeover in 2019. The horse, Warlander, was incredibly athletic and talented, but needed time and patience to be fully developed. To prepare for the Makeover, I took him on as many field trips as possible, whether it was a show, trail ride or schooling at another barn, and getting him out as much as possible helped him learn to cope in new environments. When I was in school, he would come with me so I could continue his training, and he would come home with me during longer breaks. One of my favorite things about working with him was riding bareback and bridleless, and even though we had a limited amount of time to train for the Makeover, it was always nice to take a step back and work on our connection. When we competed at the Makeover, he finished 13th overall in show jumping and 15th in dressage with over 100 horses in each. I was so proud of how well he did at the Makeover itself, but to be able to work through many challenges and bond with him was the greatest reward.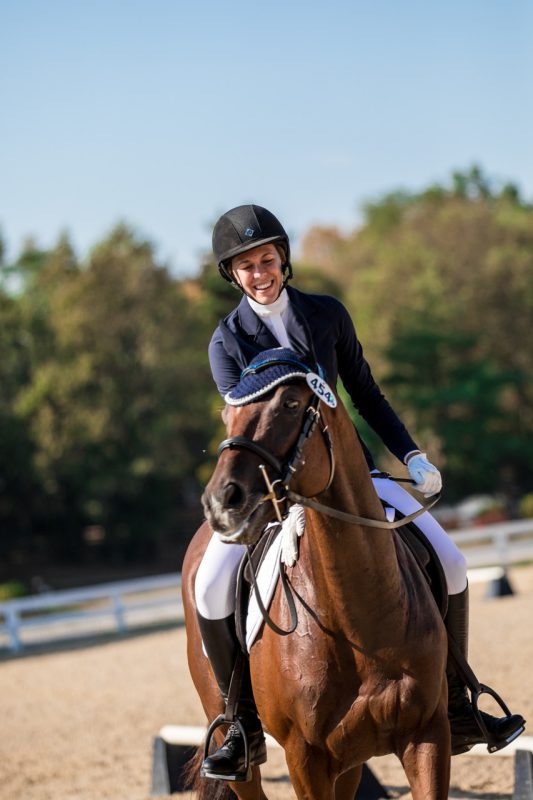 Haylie is all smiles with Warlander. Photo by Bethany P Photography
What are your goals for your life?
My short-term goals for after I graduate in May 2022 are to continue learning as much as I can about both the riding and media/communications side of the industry. I would like to continue to meet as many different people in the industry as possible, and help share their stories and grow their businesses. I know that no matter where my career takes me, riding will always be a part of my life, and I hope to be a lifelong student of the sport.
What advice would you give other equestrians looking to ride in college?
I would encourage anyone who wants to ride in college to make sure that they still consider academics first. Ultimately, that's what will help propel you into the career of your choice. When looking at riding programs, try to watch lessons with some of the instructors and get a grasp of whether or not they'll work well with your learning and riding style. If you can, talk to some students and get their point of view on the program—they'll be able to give you a different perspective.
What does your typical home show day look like with the teams?
With IHSA, our typical show day starts at 4:30 or 5 a.m. We all spend the first hour or so helping to clean the horses and get them ready for the day. Since I don't show with IHSA, I usually help school the horses in the morning, and then I'm either assigned a horse to tack up and hold later in the day, or I help get our riders ready to show. Toward the end of the day, we start wrapping the horses, cleaning the barn aisles and making sure everything is put away, and the day usually ends around 5 p.m.
If I'm showing hunter/jumper, we're each responsible for our own horses, so we will typically start around 6 or 6:30 a.m. with putting the horses on the walker, lunging and anything else that needs to be done to prepare them. We spend the rest of the day helping each other get ready for the ring and showing, and at the end of the day we all work together to clean up and put the horses away.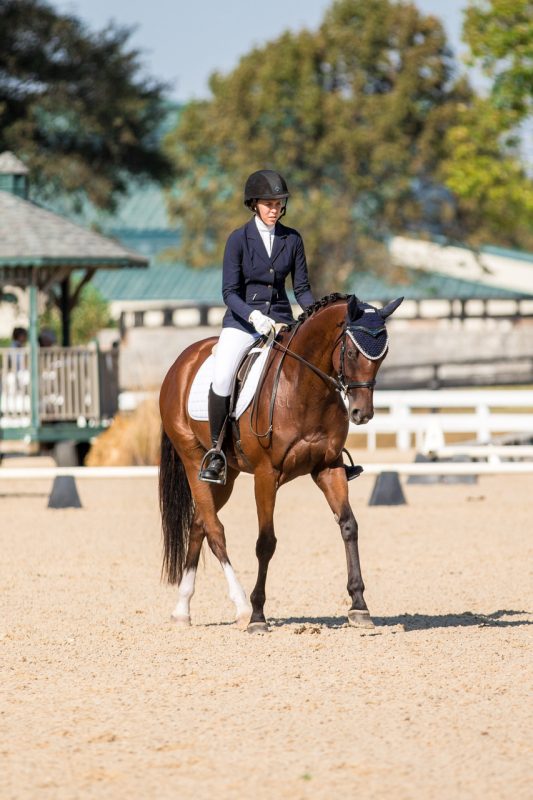 Haylie and Warlander finished 15th in dressage with over 100 horses in the Retired Racehorse Project. Photo by Bethany P Photography
Best kept secret about what you do?
I have three rescued animals! I have two mini horses, a mare and a foal, that I rescued when I was in my freshman year of high school after they were dropped off at an auction. When I got them, the mare was 5 years old and the colt was only 1 month old—he was so small he could be carried on and off the trailer! They are now leased by a therapeutic riding program but will always be a part of our family. I also rescued a puppy in January 2022. Her name is Clementine, and we think she's a lab/hound mix. When she grows up, I'm hoping she'll be a great barn and horse show companion!
For more information, visit www.centenaryuniversity.edu
Double D Trailers Info