By Kathryn McMackin
Portraits by Ann Blaine Davidson
Many young riders are dreamers. In the mind of an imaginative little rider, a gallop across a field on a pony can become a victory lap at Spruce Meadows. But 22-year-old Marissa Degner describes herself as more of a realist, even as a young girl.
"My mother would always say I was born a grown up," Marissa said. "I was never a dreamer; I was too realistic for that. But I loved riding and in the back of my mind I think I always wanted to be a rider, but I would never, ever say it out loud."
She didn't have to say it out loud. Armed with street smarts, a killer work ethic and glimmers of a horse-crazy teenage girl, Marissa had all the tools to gain success as a young professional show jumper.
Now, Marissa is closing in on five years at Apex Equestrian Center, a training and sales barn located in Apex, North Carolina, where she's a rider and barn manager. As the right-hand woman for head trainer and grand prix show jumper Kyle Timm, Marissa hasn't hesitated to dive head first into every aspect of the business from sweeping barn floors to riding national-level grand prix tracks.
Horse Life
Growing up in Tulsa, Oklahoma, horses were always a part of Marissa's life. Her mother, Doris, was a former event rider who dabbled in foxhunting. Doris enrolled Marissa in riding lessons when the budding equestrienne was 7 years old, but her love for horses was already there.
"I didn't know any other way but horses," Marissa remembered. "There isn't one standout meaning or feeling I take from horses; they've just always been in my life. It's how my life was.
"Even when I wasn't riding yet, I remember grooming my mom's horse and watching her ride. I remember playing with foxhound puppies and going to hunts. I remember the first time I cantered — I thought it was the greatest feeling ever. I remember the first time I jumped a box — it was like jumping a mountain."
When Marissa was about 13, she started riding under the tutelage of Libby Barrow at Tulsa's Farewell Farm. Marissa said the program suited her needs: She was too advanced for a school horse, but a show horse wasn't in the budget. Marissa buckled down to learning all she could and working when she had the chance.
It was at Farewell Farm that Marissa met the Coretz family, who gifted her a grey Thoroughbred gelding named Badger. The pair competed in schooling shows around their home state, earning Marissa the confidence she needed to take her riding to the next level. Her hard work and confidence didn't go unnoticed by her barn mates and Libby, and soon Marissa was catch riding regularly.
"I was fortunate to be in my situation with that particular stable," she said humbly. "It's rare to be someone without the funds to ride and show, and still be able to make it happen. I wasn't extremely talented, but I had people who trusted me to ride their horses."
Marissa decided to take a gap year after she graduated from high school to focus on riding. "I wanted to move forward in the horse industry — and to take a step out of Oklahoma," she continued. "I spent three minutes on the phone with Kyle Timm in North Carolina. I flew there, expecting to stay for six months. Now it's 4 1/2 years later."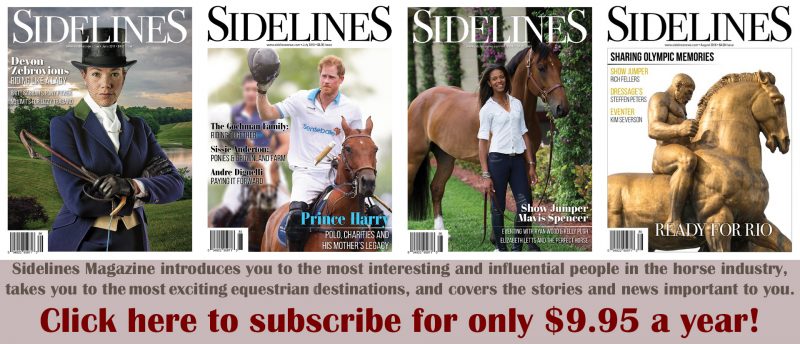 The Learning Curve
Despite a great foundation for her riding, for which Marissa credits her mother and trainer, she said she wasn't prepared for the steep learning curve she faced upon her arrival at Apex Equestrian as a working student.
"I was clueless," she exclaimed. "But I kept my head down and worked. I didn't jump a single rail until I had been here four or five months. But I didn't care, because I had to learn to trot a certain horse properly or clip properly. I've learned so many things, and from so many perspectives."
Now, Kyle counts Marissa as an integral part of his training and sales business. With her deftly handling clients, riding horses and managing the day-to-day of Apex Equestrian USA, she's opened Kyle up to take the business international.
"My business wouldn't be possible without Marissa," Kyle said. "Marissa can fill in any spot we're lacking and make it work. Sometimes that may be building up young horses, preparing the farm for a hurricane, doing paperwork on a Monday morning or riding the grand prix while I'm watching via live stream from across the Atlantic. Riding in the grand prix is the most fun and it's where everyone can see she's becoming a star, but it's her work behind the scenes that allows me to give her the opportunity to ride in those classes."
But it takes more than hard work to earn success as a young professional. Both Marissa and Kyle advise aspiring young riders to combine their work ethic with smarts, patience and a humble attitude. And Marissa encourages budding professionals to stand up for themselves, as not every vacant working student or rider position will align with your professional goals.
"Make sure you know what you're getting into with every job you take," she advised. "You need to be clear on what you want out of a position and make sure you're getting opportunities.
"You need the confidence to power through the ups and downs, but you need to be humble and understand that you will never, ever know everything. And you need to know that's okay. Be smart about it and watch out for your interests, because no one else is going to."
One Good Round
Despite her words of warning, Marissa feels she lucked out becoming part of the Apex Equestrian family. But she admits there are challenges she faces as a young rider working her way up the ranks. As a rider for a sales barn Marissa said it can be hard to consistently progress in the show ring.
"Everything is for sale and the horses always come first," she said. "It's been the biggest struggle for me because the horses come and go so fast, it makes it hard to step up into a bigger class and do well."
One thing that isn't a struggle for Marissa is her motivation to stick with the grind. Despite the ebbs and flows of the horse business, her focus on the basics doesn't waver.
"All I need is one good round," she said. "One good round in the show ring can hold me through months of turmoil. Or I hold on to the feeling of doing night check when all the horses whinny at you. It's the little things that matter so much. If I were to fall off tomorrow and never be able to ride again, I would still love spending time with the horses. The horses keep me going every day."
Ever the realist, Marissa's career goals are practical and well within the realm of possibility. For her, the future is about continuing to better herself and the horses, while also aiming for the world's biggest 5* grand prix tracks and Olympic medals.
"I would love to do those things, but I'm realistic," she said, "It's taken a long time for me to even accept the possibility that this could be my life. I'm happy to do it the right way, to take my time and get there. If I can't reach all of my goals, I'll be happy training horses and making an impact in every way that I'm able."
Photos by Photologia — Ann Blaine Davidson Photography, unless noted otherwise
Double D Trailers Info