DOG AND CAT FOSTER CARETAKERS NEEDED A Second Chance Puppies and Kittens Rescue in Royal Palm Beach, Florida is currently in need of temporary foster homes to care for dogs and cats rescued from shelters and awaiting their forever homes.  Fostering an animal is a fun and rewarding way to earn community service hours or simply to give back and help animals. A Second Chance Puppies and Kittens Rescue provides all necessary food, supplies, and medical care for animals in foster care.  Foster Caretakers simply care for the animals in their homes until they are adopted by their forever families! A Second Chance Puppies and Kittens Rescue specializes in saving pregnant and nursing dogs and cats and orphaned puppies and kittens.  Too often when these animals are left at shelters, they are euthanized because of overcrowding and lack of resources.  These facilities do not have the ability to hold onto animals that are not immediately adoptable and, without rescue many of these animals do not have a chance. With a local network of over 100 foster homes, A Second Chance Puppies and Kittens Rescue has saved thousands of dogs and cats in just under five years.  But with your help we can do so much more!  If you are willing to open your heart and home to an animal in need, please contact us!   ADOPT  *  DONATE  *  FOSTER  *  VOLUNTEER Write Us: A Second Chance Puppies and Kittens Rescue P.O. Box 211924 Royal Palm Beach, FL 33421-1924 Call Us: (561) 333-1100 Email Us: info@asecondchancerescue.org   We are in need of Courtyard Kennels for nursing moms, Microchip Scanners, a 7,500 watt generator for our Adoption Shuttle, and our biggest wish of all is to get a Cargo Van which we can use for animal transport.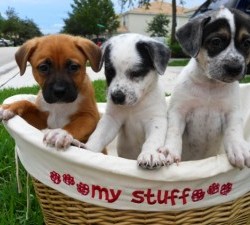 Read more at the source: A Second Chance is in Need of Dog and Cat Foster Caretakers
Article excerpt posted on Sidelinesnews.com from Tails & Trails.
Double D Trailers Info