Harvey and I at the first of two open corners on the CIC 3* course at Burnham Market. I'm sorry but look how sweet his expression is! This past weekend was quite an important weekend for me. I'm not actually sure if I mentioned this in an earlier blog but I had a bad fall at the end of last year in the three star up at Blair Castle in Scotland. Long story short my amazing little Harvey and I were three fences from home after having a great run and we ended up crashing through a ditch and palisade. To this day I have no idea what happened. Some people say that Harvey didn't see the ditch because it was going from light to dark out of the woods and the light was in his eyes.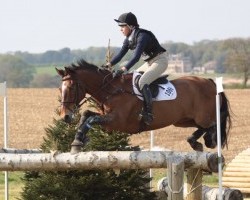 Read more at the source: A Very Important Weekend
Article excerpt posted on Sidelinesnews.com from Onward, Upward.
Double D Trailers Info