North Salem, NY – May 17, 2013 – For the second week in a row, Christine McCrea of East Windsor, CT, won the Friday grand prix event at the Old Salem Spring Horse Show. She and Zerly were fastest to win the $25,000 Grand Prix of North Salem presented by The Hakim Family over World Cup champion Beezie Madden and Coral Reef Via Volo and last week's Sunday grand prix winners, Todd Minikus and Uraguay.   Today's grand prix had 60 entries, and nine of those advanced to the jump-off over a course designed by Anthony D'Ambrosio of Red Hook, NY.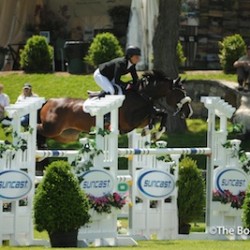 Read more at the source: Christine McCrea Does It Again! Zerly is Victorious in $25,000 Grand Prix of North Salem
Article excerpt posted on Sidelinesnews.com from Show World.
Double D Trailers Info