Lexington, Kentucky – 15-year-old Emanuel Andrade of Venezuela rode a winning streak into Kentucky, scoring four victories and a championship title at the CSI3* Kentucky Spring Classic held May 9 to 13 in Lexington, Kentucky. 15-year-old Emanuel Andrade of Venezuela jumped clear with La Fe Forli in every High Junior Jumper class at the CSI3* Kentucky Spring Classic in Lexington, Kentucky. (Photo by Rebecca Walton, Phelps Media Group) Following an incredible season at the 12-week FTI Consulting Winter Equestrian Festival inWellington,Florida, Andrade continued his winning ways at theKentuckyHorsePark, site of the 2010 World Equestrian Games.  On his way to claiming the Low Junior Championship title with Mikos, Andrade jumped nine clear rounds out of 10 in the $2,500 Low Junior Jumper Classic held Sunday, May 13.  With a total of five horses entered, Andrade jumped clear on all five to qualify for the jump-off where he again went clear with four of his mounts.  His winning horse was Mikos while Casanova Junior placed fifth,Oxfordtook seventh and Luky des Rocquelines finished eighth. Having won Saturday's class as well as the Low Junior Jumper Classic, Mikos earned the championship title for Andrade.  Formerly his mount in the children's jumper divisions inVenezuelawhere Andrade is also an active competitor, Mikos has now joined Andrade's string of top mounts in theUnited   States. "He's a horse that needs to be properly balanced, but he is a very good jumper," said Andrade, who topped a starting field of 32 entries to win the $2,500 Low Junior Jumper Classic.  "It was great to jump clear with all five of my horses, and then have four of them again go clear in the jump-off.  I couldn't have asked for a better day!" On Friday, Andrade won the first Low Junior Jumper class of the week, taking victory with Luky des Rocquelines, a 13-year-old selle francais gelding, while Casanova Junior placed second. In the High Junior Jumper division, Andrade posted clear jumping rounds on all three days of competition with La Fe Forli, a 10-year-old gelding bred by SillaArgentina.  The pair placed third in Sunday's $10,000 High Junior Jumper Classic while Andrade also took fourth on Costa. Andrade extended his success beyond the Junior Jumper divisions by winning Thursday's Six-Year-Old Young Jumper competition with Black Pearl.  The pair had claimed victory inWellingtonduring the final week of the FTI Winter Equestrian Festival in the highly-competitive Six-Year-Old Young Horse division.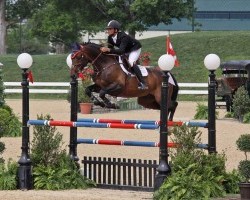 Read more at the source: Emanuel Andrade Claims Championship Title in Kentucky
Article excerpt posted on Sidelinesnews.com from Show World.
Double D Trailers Info