Del Mar, CA – July 20, 2014  – A host of talented equestrians came out to play on a crystal clear afternoon at the Showpark Summer Festival, closing out a busy week of competition. Twenty-seven entries vied for the top prize in the $30,000 Summer Festival Grand Prix, presented by Mary's Tack & Feed, on an intricate course designed by Venezuela's Leopoldo Palacios. Featuring a technical layout with many related distances that covered every corner of the Grand Prix Field, the course required accuracy and adherence to a set track and deliberately short distances.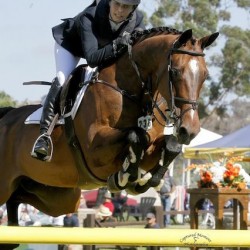 Read more at the source: Gabriella Salick and Centuria 2 Win the $30,000 Summer Festival Grand Prix
Article excerpt posted on Sidelinesnews.com from Show World.
Double D Trailers Info