By Britney Grover
Portraits by Adrienne Morella
They say the most effective way to learn a language is by total immersion. That's how Alex Matz has learned horses.
Horses are a heritage in the family of Alex's mother, DD, whose mother was an avid horsewoman from a family tree going directly back to King Ranch developer Robert Kleberg. King Ranch was responsible for producing 1946 Triple Crown winner Assault, and DD's family has continued to be involved in horse racing. DD herself took up show jumping, earning a position on the U.S. team and earning a bronze medal at the Pan American Games.
Alex's father, Michael, on the other hand, is a first-generation horseman. "His father was a plumber," Alex said. "My dad started riding because one day, at his summer job mowing grass, his boss asked if he could exercise his horse while he was on vacation. My dad had never ridden in his life, but he said, 'Sure,' because he wanted to keep his job—and that's how it all started."
That first ride turned into an impressive equestrian career for Michael, who competed as a show jumper in three Olympic Games and helped bring home team silver in Atlanta in 1996. He later took a leaf from the book of his wife's family and turned to training racehorses—with equally impressive success.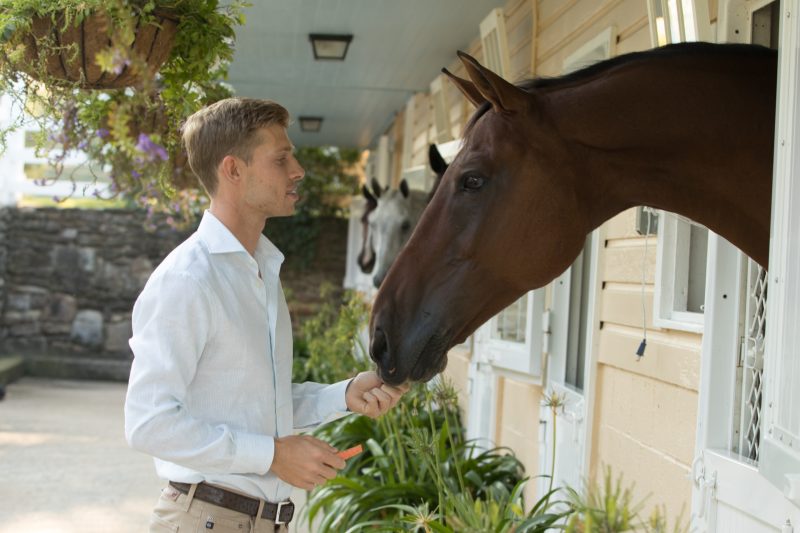 "When my dad won the Kentucky Derby and I got to walk with him and Barbaro from the backstretch to the paddock in front of some 120,000 people, that's something you don't forget. That was really special," Alex said. He was 10 when Michael trained Barbaro to a Kentucky Derby win in 2006, and Michael went on to train Union Rags to win the Belmont Stakes in 2012.
"My dad talks about horses at dinner, and at breakfast, and in the afternoon," Alex said. "They're constantly around. I grew up in a house that is 50 yards from the barn. We had ponies from the day I can remember, and both my parents always preached the importance of horsemanship. I think just by being around, watching and learning, I've picked up a lot of stuff that I consider normal but probably isn't in most peoples' experiences—things that are a lot harder to learn for someone who doesn't come from a horse background and has to learn by driving to a lesson barn and progressing from there. I'm very lucky; it's a huge advantage."
Finding His Own Way
Michael's racehorse barn is 40 minutes away from the Matz family farm in Coatesville, Pennsylvania, but that didn't stop racing from influencing Alex's home life. "We did a bunch of crazy horse stuff as kids. My sister and I used to dress up in jockey silks and race our ponies on an old airstrip we now use to flat our horses," he recalled. "We made replica racing programs, encouraged betting and got everybody that would listen to us to come and watch our match races!"
Alex and his siblings had an all-around equestrian upbringing: They foxhunted when they were young, and Alex enjoyed playing polo with his older brother, Mikey. It didn't take him long to discover he'd inherited his parents' competitive spirit—under the right conditions. "I wasn't good enough for the pony hunters—I could never find a distance," Alex admitted. "The children's pony hunters weren't going well, and I asked my mom if I could get a pony jumper. I think I maybe even threatened to quit! So she acquiesced and got me a pony jumper named Wiseguy, and he was the man. I could not have asked for a better pony!"
With a taste for jumpers, Alex had to choose between playing polo and jumping, ultimately choosing jumping because he could do it more year-round. His senior year of high school and his freshman year of college, Alex added galloping racehorses to his equestrian resume. He worked racehorses for his dad in the mornings before going home to ride his own jumpers—testing the waters but cementing his preference for jumpers over racing for four specific reasons.
"Racing is hard because it's very hard to make a slow horse fast. It's easier to improve a jumper, I think. I also personally like to compete, and so being in the ring and competing myself is important," Alex explained. "A racehorse's career is two to four years, and so if they happen to get injured, a lot of times that's it, whereas you can bring a horse back from a year-long injury in show jumping. And getting up at 4:30 in the morning every day is not so fun. So I'd say those are the four things that steered me to show jumping rather than racing."
After graduating from Vanderbilt with a degree in economics, Alex went to work for Jos Lansink, learning all he could. He then worked for John and Beezie Madden for the better part of a year. "That was also incredible—I can't think of two better people to learn from," Alex said. "Then there were some more opportunities at home, and I thought I might as well give it a go on my own if I could. That was right at the onset of COVID."
Onto the International Stage
Alex founded his own Vintage Farm Sales in 2020, summarizing the experience with, "It was hard." But Alex found welcome resources in the eventers in the area around him—such as Boyd Martin, Phillip Dutton and Jennie Brannigan. "Boyd was really nice; I'd go over to his farm and jump his eventers. I got lucky enough that Jennie gave me an eventing horse to sell as a jumper, and that was one of my first sales horses," Alex said. "I got a few more horses from eventers to convert into jumpers, and then grew from there. As time went on, I've been fortunate enough to ride better and better horses from some very nice owners.  
Alex generally has about 15 horses in his care; he owns a piece of one, but most are owned by clients—including his mother. "Having parents as knowledgeable as my own is definitely an advantage, on all fronts. There is no one that wants me to succeed as badly as they do. Their support is invaluable and even if I feel more pressure riding my mom's sacred 7-year-old than the Grand Prix that day, it's probably a good thing because it prepares me for bigger moments!" Alex laughed.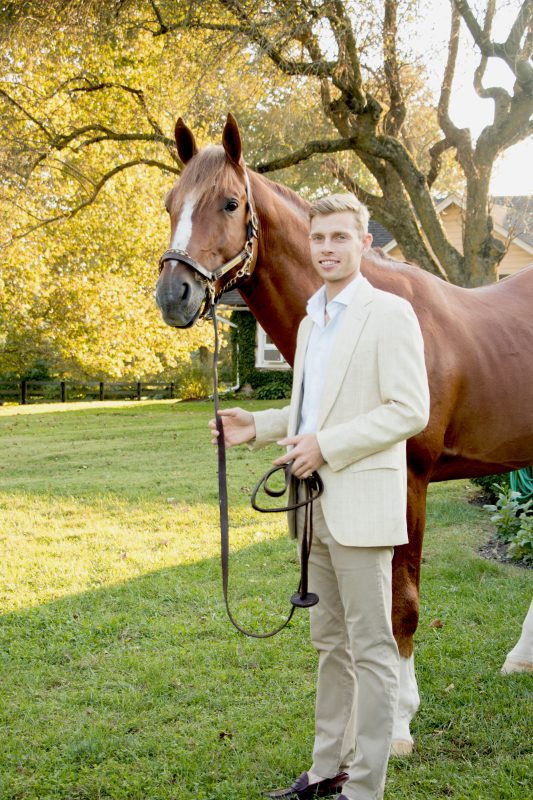 One of DD's horses is the 14-year-old Holsteiner gelding Cashew CR—Alex's top mount, and practically part of the family. "We were riding with Mario Deslauriers at the time, and he found Cashew for us as an 8-year-old," Alex said. "He's been the most wonderful horse for me and my family. I did my first USHJA jumper classic on him, my first U25, first two-star, three-star, four-star, five-star and first Nations Cup. He's just been everything to me."
Alex says Cashew is definitely a pet—the most social horse he's ever been around. "You can walk into the barn and he always comes to see you, walks to the door and sticks his ears forward. I've never met a horse that day in and day out looks excited to see you, even if you don't have a treat. He's just a happy horse," he said. "And he tries his heart out. He's very talented—but probably not as talented as some horses. Because of his heart, his technique and his brain, though, he's done amazing things. I could not be more thankful to have him."
Last summer at Lake Placid, Cashew and Alex rode to their first-ever Grand Prix win. "That was special, to have my parents there and my other siblings, and Gail Caputo who has been with our family in the barn for over 15 years, since we had ponies," Alex said. "It was an amazing moment."
Their success together earned the pair a spot on the U.S. Nations Cup team traveling overseas this May. Alex had never competed in Europe before, but under advice from Chef d'Equipe Anne Kursinski, decided to make the trip to Lisbon, Portugal, and Madrid, Spain. "Anne really pushed me to do it, and I had the best time," Alex said. "The shows were absolutely spectacular. Competing on a team was really rewarding; I had great teammates. And Cashew jumped fantastic for me, as he always does. So it was a great experience that I hope I can replicate."
A Bright Future
Alex hopes to be on several more U.S. teams next year, and ultimately follow in his father's footsteps to the Olympics. "I'd like to win an Olympic medal. I think you have to aim really high, and that way, if you miss, you will still accomplish something pretty good," he said.
He certainly has good advisers in his parents. At least one is at most of Alex's shows. "My dad helps me school a lot at home, and my mom helps at many of my shows," he said. "They're instrumental in everything I do and I try to learn as much as I can from the both of them—not only with the horses, but in how they conduct themselves and their businesses. I couldn't do it without them, that's for sure."
Even with his parents' expertise on his side, building a business of his own has had a large learning curve for Alex: learning to deal with the frustration of a competitive person when things were not going as expected in the early years, plus figuring out how to get horses, how to get clients and how to keep it all going as a business.
"All that stuff is not as easy as people make it out to be," Alex admitted. "And I'm still really figuring it out, and trying to do it all better. It's not an easy thing, and it takes time. Max Amaya once told me, 'You just have to keep going and be there at the end of the day. If you keep going, work hard and do the right things, you'll be noticed.' I think he's right—it's all what you put into it."
Alex keeps his life balanced by playing golf or getting a group together to play flag football or basketball. He's interested in investing, and prioritizes staying in touch with family and friends. His sister, Lucy, has a part-time remote job and is beginning to jump in international Grand Prix. Younger brother Robert is finishing up at Vanderbilt and considering going into horses, and Arthur is studying ranch management at TCU. His older brother, Mikey, plays polo, and his older sister, Michelle, manages a training barn in Connecticut.
"I spend a lot of time with Lucy because we're both in Coatesville, and travel to many of the same shows—the same with Robert. I'd say we're all very close," Alex said. "I'm on the road a lot, so it's important to have people that I can rely on. My good friends and my family are very important to me and will always come first."
With a mix of friends on the horse show circuit and friends from school, Alex always has someone he can call whether it's been a good day riding or a bad one. At home in Pennsylvania, he's also got two Labs and a Norfolk Terrier named Chili. "He's kind of a menace, but he's my guy," Alex laughed. "He's a real worker, and loves to help around the farm. His favorite activity is riding the lawnmower with our farm manager, Aurelio."
Alex is understandably optimistic about the future, with his family and friends supporting him, a business he's continuing to grow and good horses in the barn: In addition to Cashew, there are up-and-comers 9-year-old stallion Ikigai, 13-year-old stallion Erdento Van De Leeuwerk and several younger horses. "I've got a nice group—and every year I've had better and better horses, which has led to more and more opportunities. But you always have to look forward and try to put yourself in a position to compete at your highest level," Alex said. "'I've got a long way to go, and a lot to learn, but I have really good people around me—and that's the most important thing."
For more information, visit www.vintagefarmsales.com
Photos by Adrienne Morella, www.adriennemorellaphotography.com
Double D Trailers Info